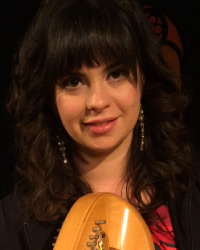 Kristal Barlaan
Music
Applied Harp
---
Biography
Kristal Schwartz Barlaan is an experienced educator, harp entrepreneur, dynamic harp ensemble director, and freelance performer with over twenty-five years of performing and teaching achievements. She graduated with a Masters Degree in Performance (with Honors) from the San Francisco Conservatory of Music in 2007, as well as a Bachelor's Degree in Music Performance from Thomas Edison University in 2005.
Mrs. Barlaan is a dedicated teacher who brings out the best in her students by concentrating on the individual details that produce an excellent performer. Her greatest joy is seeing her students take flight. Mrs. Barlaan maintains a large thriving private studio in the Bay Area with over 30 students from beginner through professional levels. Her students have performed at the 2018 American Harp Society Institute, got accepted to SFCM Pre-College, placed and won competitions, such as the Yvonne La Mothe Schwager, ASTA, SJYS and National Harp Competitions. Many of her students have gone on to work as professional harpists, in addition to majoring and minoring in harp. Mrs. Barlaan presents an annual community harp outreach concert featuring her students collaborating with professional musicians.
In 2008, Mrs. Barlaan began building the first K-12 harp program in Northern California at Valley Christian Conservatory. She fosters harp awareness in local schools, such as Clark Elementary School, Harker, Mitty, Saratoga High School, and many more.
In 2010, Mrs. Barlaan began partnering with San Jose Academy of Music to foster a multi-teacher prestigious school for piano, voice, and strings. She was co-owner of San Jose Academy of Music from 2010-2015.
Mrs. Barlaan is the director and founder of the San Jose Youth Symphony Harp Ensemble, a pre-professional ensemble known for stunning performances, pioneering electric harp with traditional concepts. The ensemble performs Mrs. Barlaan's own arrangements of contemporary and electroacoustic harp ensemble pieces, as well as collaborative pieces of new and emerging composers and arrangers from around the world.
When not involved in teaching, she performing solo concerts, with the new San Francisco Harp Quartet as a founding member.