Winter/Spring 2020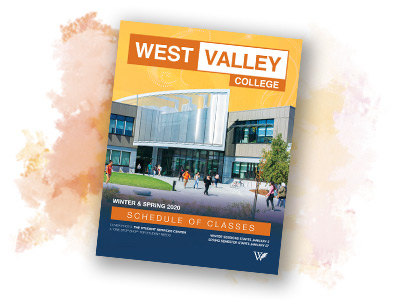 Winter Session begins January 2, 2020
Spring Semester starts on January 25, 2020.
Class Availability
Winter and Spring 2020 class registration for new and returning students who have completed Assessment, Orientation, and an Educational Plan, starts November 19, and earlier for other groups. Please visit Registration Dates for details.
Please note: The use of "R" in the online class schedules refers to classes that are offered on Thursdays. For example TR is a Tuesday/Thursday class, MTWR is Monday, Tuesday, Wednesday, Thursday.
Publications in PDF Format
Many class offerings are available online, allowing students to enroll in these sections while simultaneously being enrolled in classes at UCSC.
Online classes are indicated in the class schedule by an "O".
All West Valley courses are $46 per unit.
Steps to Apply and Register for UC Santa Cruz Students
Congratulations and welcome. Make sure to pay all registration fees by the deadline. Let us know how we can assist you in reaching your goals. Need help? Contact Admissions and Records at (408) 741-2001 or askwvcFREEWEST_VALLEY
NOTE: Class schedules are subject to change. Please check current class listings for space availability.