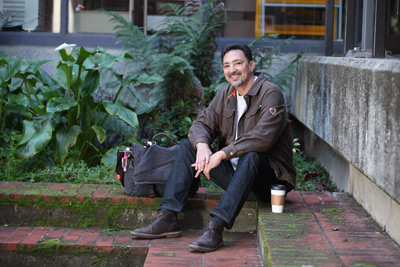 Like his fellow students, Rudy Flores donned his cap and gown in late June to celebrate his graduation, held virtually in the wake of COVID-19. His wife and friends watched along as he was honored among grads completing their degrees or transferring to four-year universities. In his case, this wasn't his first attempt at finishing; the moment was the culmination of an effort decades in the making.
"I came here in the late 80s and early 90s, and I started getting sick," he shares of his first stint at West Valley. A recent grad of Milpitas High School who'd split his early years between California and Hawaii, his focus back then was on pursuing a degree in business, but several bouts with a mystery illness took him away from the classroom. Those visits progressed into extended hospital stays, including one four-year stretch that consisted of multiple months-long visits.
Unable to leave his hospital bed for extended periods of time, Flores began accumulating F's and W's in his classes. Most frustrating, even if he had the energy between stays to make it to campus, his doctor notes didn't specify exactly what his illness was. He had to wait a couple years before even he could get an answer on a diagnosis. He finally found a doctor who identified the symptoms right away: Crohn's Disease, an autoimmune illness with no cure.
"I would get better for a little while, then go [back] into the hospital. That didn't end until I was almost 30 years old," adds Flores, now 56. "I tried a couple semesters here and there, but eventually, I realized I had to work pretty heavy to try to pay off some of these hospital bills."
Needing to pivot to cover his mounting debt, he took a job in high tech that coincided with the start of Silicon Valley's first tech boom. His first gig was with IBM, and that association blossomed into a 20-year career that included work with companies like Jetform and Streamserve. He developed a particular expertise with cloud workflow tools and enterprise resource planning (ERP), which led him to his most recent position with Dimension Data, where he served as Director of Sales.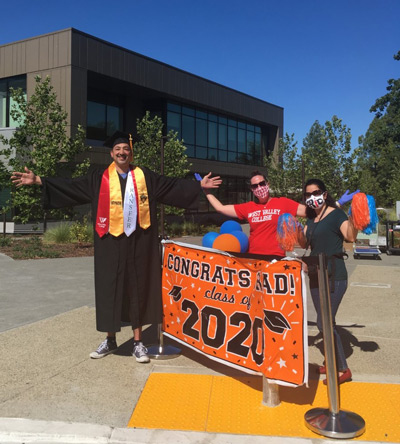 "That turned into a decent career where I could own a home in the Bay Area, get married, and have a decent life," he shares. Yet he admits he still felt the weight of being unable to finish his studies.
Another deep setback brought a new urgency to his concern. His sister was diagnosed with the same disease in her 40s. It's a battle she lost in November 2016. Her passing pushed Flores even more to complete something his own struggle with Crohn's had derailed.
"[Her passing] really brought me back to what happened to me and made me start thinking: I'm at a [certain] point in my career, my wife's got a pretty good job, the house is almost paid off, maybe I could come back and do this," he says. "With that thinking in mind, I just put in my application. I wasn't sure what they were going to do, because my transcript was so messy. I got a response right away that said welcome back."
"It erases this really awful thing that happened to me in my past," he continues. "Everyone always asks 'Why are you coming back?' It always bothered me that I wasn't able to finish school. I bounced it off my wife, and got a lot of crazy looks from a lot of different people. I just took the plunge. I haven't regretted it at all."
He acknowledges that several of West Valley's resources have helped him succeed during his renewed journey in higher education. In particular, he mentions the college's Disability and Educational Support Program (DESP), where Erika Llantero and others provided him the reassurance that he'd have manageable solutions should his Crohn's Disease ever flare up. Christina Llerena, from the TRiO program, met with him to discuss his transcripts and outline an education plan. Flores' thanks extend to the success center, the Math Resource Center (MRC), and even the library staff. "I've spent so much time there, how can I not thank them?" he adds.
Flores started with a single history class in Spring 2018. He's since carried a full load every semester at West Valley. Even with a COVID complicated Spring semester, he concluded his West Valley tenure with four A's and one B.
"It was probably the most stressful semester I've ever had," he admits when asked how he adapted to the abrupt changes that marked his final days as a student at the college. "Emotionally I was a little bit nervous and scared. We got thrown a lot… There was so much going on in society at the time that I was just really, really distracted."
It wasn't just the workload. He mentions trying to navigate curriculum changes and encountering technical difficulties, and that a timed-out test led him to purchase and set up a completely new home network to handle his home's new bandwidth needs.
"For a guy like me, this [shift] is a difficult thing to do," Flores points out. "Even with school, I'm a face-to-face sort of guy. I'd rather just go in and talk to [professors] and get a read and see what they're doing and prioritizing. That's how I do everything. This has taken that away completely."
Despite such setbacks, Flores still finished strong. His academic focus now shifts to San Jose State University, where he plans to pursue a Bachelor's in Economics then enroll in the school's Master's program in Urban Planning. His choice stems from a vivid personal experience: the impact a local park had on his recovery during the height of his struggles with Crohn's Disease.
"I was still working my way back up to be in shape, so I'd go sit in the park all the time," he shares. "I saw how big a park is to the community in general."
He and his wife eventually adopted their neighborhood park, De Anza Park in Sunnyvale. That commitment led to involvement with San Jose's parks department, where Flores has been involved for the past 15 years. He's served on the San Jose Parks & Recreation Commission over the past ten years, including periods as Vice Chair and Chair. He's since formed a leadership group within his native District 9.
Flores shares that since returning to West Valley, his plan from the start has been to pursue urban planning. "I like working on projects with the city to affect change at the design level," he says. "It's meaningful because of what happened to me, but also because of how [that work is] impacting the community."
His dedication to San Jose's parks has led to honorable recognition for his efforts. He's received a community honor from San Jose Mayor Sam Liccardo at the State of the City Address and was recognized as an Assembly District 28 Community Hero in September 2019 by California Assembly member Evan Low.
Flores hasn't encountered any serious flare ups like he did in his twenties, but that doesn't mean he isn't still actively managing his disease. In the wake of COVID-19, he's had to remain especially cautious, as his condition classifies him as high risk. That hasn't spelled an absence of fun, though. He's been barbequing more in the backyard and taking in the occasional film at the drive-in theater with his wife.
"Crohn's Disease didn't go away. There's been little incidents, but I have a doctor that's been seeing me since then. He got me on a regimen with good food and medicines, and I still take that stuff to this day."
Spring 2020 may have offered a plethora of setbacks, but Flores' perseverance allowed him to finally conquer an academic challenge that had eluded him since the 80s. With San Jose State on the horizon, does he have any advice for older students thinking of returning to school.
"Just do it," he urges. "Take a full load. If you commit to it early on, and just go into it, the odds of you getting through it are much higher."
April 21, 2021