General Parking Information
A valid parking permit is required to park on campus. Parking permits are required every day, Monday-Sunday, 7:00 AM – 10:00 PM
Visitor Parking Permits
One-day "daily" parking permits may be purchased for $3.00 per day from dispensers located in all parking lots. Coins, one-dollar bills and credit cards are accepted.
Daily permits must be displayed on the driver's side of the front dashboard and the expiration date must be visible from the outside of the vehicle.
Free Short-Term 40-Minute Visitor Parking
Visitors who will be on campus for a brief visit may take advantage of a limited number of free forty (40) minute time zone parking stalls located in Parking Lot 5.
Semester-Length Parking Permits
Semester length parking permits are the most convenient and cost-effective permit option for students or others who will be on campus regularly.
Semester-length parking permits can be purchased online or in person at the Admissions and Records office. Student ID number, car make, model, year, license plate number, and payment are required at time of purchase.
Order Your Semester-Length Parking Permit Now
For additional parking information, including detailed parking regulations and citation payment or appeal information, please:
Parking Map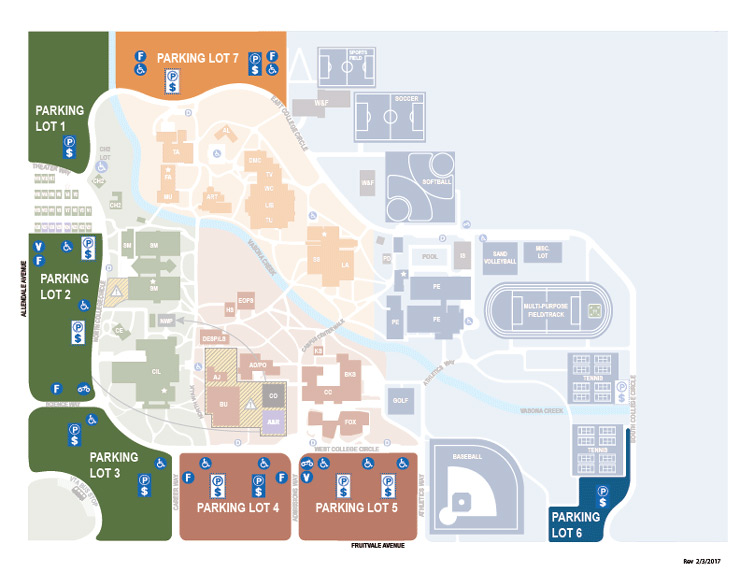 Print the Parking Lot Map (464 KB)
Grace Period
There is no grace-period during the Winter Session. All vehicles parked on campus during the Winter Session must have a valid parking permit properly displayed at all times. During the Winter Session (Thursday, January 2 through Thursday, January 23, 2020) all of the following parking permits will be valid for use:
Fall 2019 Semester Permit
Spring 2020 Semester Permit
Daily Permit
Students who have already purchased a Fall 2019 or Spring 2020 semester length permit may use either of these permits to legally park on campus during the Winter Session. In addition, any student who is officially enrolled in a Winter Session class, and who does not already own a Fall 2019 or Spring 2020 semester length permit is eligible to receive a FREE student parking permit valid for use during the 2020 Winter Session. Winter Session students may pick-up their free student parking permit at the Admissions and Records office during normal business hours.
A student "grace-period" will be observed during the week immediately prior to the start of the spring semester and during the first week of the spring semester. (The "grace-period" begins on Monday, January 20, 2020 and ends on Sunday, February 2, 2020.)
During the grace period, no parking citation will be issued to any vehicle that is parked in a marked student parking stall without a permit; all other parking violations will be enforced. Parking citations may be issues to vehicles failing to display a valid student parking permit beginning Monday, February 3, 2020.