All currently enrolled students are eligible and welcome to be seen for a wide range of health and wellness services. Every student is charged a health fee at the time of registration that covers most services offered. This fee is not a replacement for personal health insurance. Modest additional fees are charged dependent on individual student needs.
The current student health fee is $21 per semester and $17 per summer session.
This fee supports Student Health Services, which provides care for on-campus injuries, illness, a self-help medication center, health education, health assessment, information/referral, and personal counseling.
If a student is enrolled at both West Valley College and Mission College, then the health fee need only be paid at one of the two. A valid receipt showing proof of payment at Mission will allow West Valley to waive the fee and vice versa.
Any student who either requests an exemption of the health fee, or is determined by a Student Services program to warrant review for exemption, is asked to please contact the Admissions Office.
Staff Profiles
Clinical Services
What if I need medical services?
WV Health Services does not have the capacity to treat or diagnose COVID-19 on campus. If you are having an emergency, call 911.
Our medical team can answer your questions and provide guidance on where to access appropriate care.
Specialty Support
Schedule a Chat Session or Video Appointment.
Sexual assault violates a person in many ways, often when a person is forced or manipulated into an unwanted sexual encounter.
Sexual assault covers a broad range of acts that include, but are not limited to: unwanted sexual contact, dating violence, voyeurism, indecent exposure, oral copulation, sexual exploitation, sexual harassment, rape by one or more persons including marital or partner rape, statutory rape, incest, child molestation, and lewd or lascivious acts upon a minor.
Sexual assault abuses a person not only physically but also emotionally and mentally, and shatters a person's trust and sense of safety.
If you want to speak with someone at the College about an incident of sexual harassment or sexual violence but you don't want to report the incident at that time, you can speak confidentially with our staff in Health Services. The professional staff at Health Services are confidential and well trained to provide you guidance and referrals. It is very likely they will encourage you to file a report, but their most important role is to listen and provide support.
Service
Phone Number
WV Health Services
(408) 741-2027
WV Counseling Center
(408) 741-2009
West Valley District Police
(Ask for a West Valley police officer)
(408) 299-3233
YWCA 24-hr Sexual Assault hotline
(800) 572-2782
Santa Clara Valley Med
M-F 9 AM – 5:30 PM for general information about SART (Sexual Assault Response Team)
(408) 885-6466
Students can file a Student Incident Report to West Valley Student Services.
Students may also send an email to askwvcFREEWEST_VALLEY with the content of the email simply indicating: "This is a Campus SaVE situation," or "this is a Title IX situation" – a counselor will be in contact.
Mental Health Self-Assessment - Brief, Anonymous, and Confidential. Topics include Depression, Anxiety, Mood Disorders, Alcohol and Drugs, and Eating Disorders.
Mental Health Services
What if I need support and want to talk with someone?
Personal Counseling is available in Health Services with one of our counseling interns, supervised by a licensed professional. Individual confidential and private 50-minute sessions are offered at no additional fee. Examples of issues addressed are anxiety, depression, ADHD, relationship difficulties, eating disorders, and alcohol and substance abuse. To schedule an appointment, please submit a Personal Counseling Appointment Request.
If you are experiencing a crisis or psychiatric emergency, call 911.
WV Health Services is currently providing the following mental health related services for all West Valley College students:
Are you concerned about a student?
Schedule a Chat Session or Video Appointment. Brief triage, information and referral, and 30-minute counseling sessions are available for all WV and Mission students.
A Note About Confidentiality and the Family Educational Rights and Privacy Act (FERPA)
If you are concerned about the welfare or safety of a student, you may share student information with college administrators, campus police, or health services; this is not a violation of student privacy. Please remember NOT to send identifying student information via email.
Safety concerns warranting disclosure could include a student's suicidal statements or ideations, unusual, erratic, or angry behaviors, or conduct that may pose a risk of serious harm.
To learn more about FERPA and confidentiality, please visit the district policies page: Family Educational Rights and Privacy Act
Accident Report Form
Information for Your Syllabus (cut and paste)
College students often experience issues that may interfere with academic success such as stress, juggling responsibilities, life events, relationship concerns, sleep problems, or feelings of anxiety, hopelessness, or depression. All of us benefit from support during times of struggle – you are not alone. Helpful, effective resources are available for all students, and an important part of the college experience is learning how to ask for help. Getting help is the smart and courageous thing to do – for yourself, and for those who care about you.
Resources
The West Valley Active Minds Club empowers students to change the perception about mental health on college campuses.
Active Minds is the leading nonprofit organization that empowers students to speak openly about mental health in order to educate others and encourage help-seeking. We are changing the culture on campuses and in the community by providing information, leadership opportunities and advocacy training to the next generation.
Through campus-wide events and national programs, Active Minds aims to remove the stigma that surrounds mental health issues, and create a comfortable environment for an open conversation about mental health issues on campuses nationwide.
Please contact Student Health Services at wvc.health-servicesFREEWEST_VALLEY if you are interested in joining the West Valley Active Minds Chapter or would like more information.
Visit West Valley Active Minds Chapter on Facebook.
Weekly Club Meetings will resume in the Fall.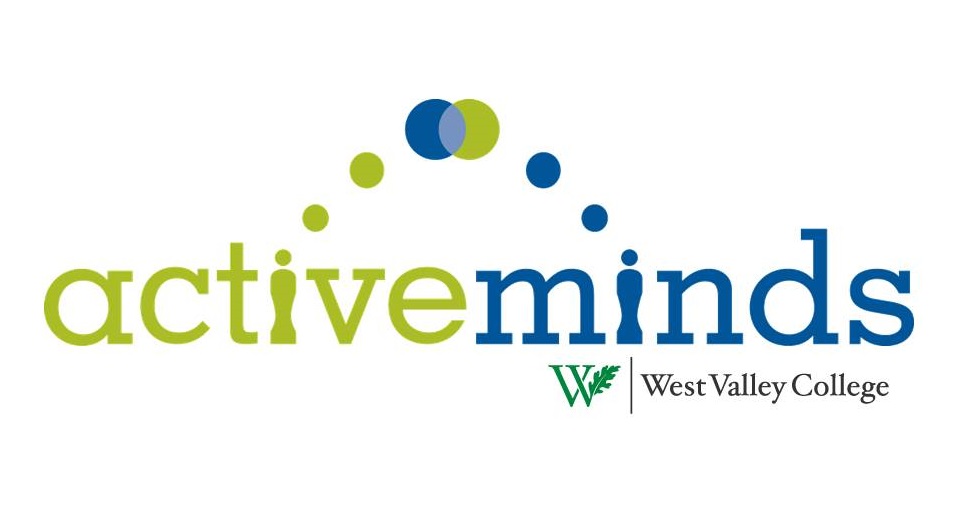 Emergency
If student is a danger to self or others, or help is needed immediately, call 9-1-1 or 408-299-3233
988 Mental Health Lifeline
988 has been designated as the new three-digit dialing code that will route callers to the National Suicide Prevention Lifeline (now known as the 988 Suicide & Crisis Lifeline), and is now active across the United States.