Welcome to Student Health Services
Health Services
Available Services
Specialty Support
Staff Profile
Personal Counseling
Free, confidential personal counseling is available for all students. Drop by the Health Services office on campus or call 408-741-2027 to make an appointment. You can also take action immediately by completing a brief, anonymous, and confidential online screening at: Online Mental Health Screenings.
Meet the Counselors
Frequently Asked Questions
Are you concerned about a student?
As a faculty, staff, or administrator interacting with students, you are in an excellent position to recognize behavior changes that characterize the distressed student. A student's behavior, especially if it changes over time, could well be an indicator of distress or "a cry for help". Your ability to recognize signs of distress and to acknowledge your concerns directly to the student is often noted by students as the most significant factor in their successful problem resolution.
Learn To Identify/Support Students Of Concern
Refer Students To Counseling At Health Services
Consult with Health Services or the Mental Health Services Advisory Committee (MHSAC)
For Student Behavior/Conduct Incidents
Student Of Concern Process On Campus
A Note About Confidentiality and the Family Educational Rights and Privacy Act (FERPA)
If you are concerned about the welfare or safety of a student, you may share student information with college administrators, campus police, or health services; this is not a violation of student privacy. Please remember NOT to send identifying student information via email.
Safety concerns warranting disclosure could include a student's suicidal statements or ideations, unusual, erratic, or angry behaviors, or conduct that may pose a risk of serious harm.
To learn more about FERPA and confidentiality, please visit the district policies page: Family Educational Rights and Privacy Act
Health Services
Information for Your Syllabus (cut and paste):
All of us benefit from support during times of struggle. You are not alone. There are helpful resources available on campus, and an important part of the college experience is learning how to ask for help. Getting help is a smart and courageous thing to do – for yourself and for those who care about you.
If you or anyone you know is experiencing overwhelming stress, difficult life events, or feelings like anxiety or depression, we strongly encourage you to seek support.
West Valley College Health Services offers free confidential personal counseling to all students. Call 408-741-2027 or drop by the Health Services office in the Student Services Center, Monday – Thursday 9:00 AM – 4:30 PM.
Training – You Can Make a Difference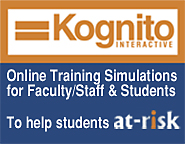 West Valley College is becoming increasingly aware of the amount of stress our students are experiencing and its negative impact on their health and academic performance. Student veterans and LGBTQ students often face additional challenges.

To address this concern, a suite ofKognito Interactive Online Training Simulations have been developed that assist faculty, staff, and students to better identify, support, and refer these students to support services on campus. Kognito trainings are eligible for FLEX credit for West Valley faculty.

Upon completion of the training, show your Kognito certificate(s) of completion to West Valley Health Services to receive a free DRIP Coffee gift card and a raffle ticket for a chance to win a prize.
Available Trainings
Resources
Emergency
If student is a threat or help is needed immediately, call 9-1-1 or 408-299-3233
Events
| Event | Dates |
| --- | --- |
| Fresh Start Nutrition Week | |
| Suicide Prevention Week | |
| Relationship Violence Awareness Week | |
| Alcohol and Drug Awareness Week | |
| Great American Smoke-Free Week | |
| Stress Awareness Week | |