Class Availability
Online Searchable Class Schedule – no login needed
Please note: The use of "R" in the online class schedules refers to classes that are offered on Thursdays. For example TR is a Tuesday/Thursday class, MTWR is Monday, Tuesday, Wednesday, Thursday.
Family Courses List 2019-2020 (722 KB)
Listing of courses with repeatability limitations. Students are limited to a maximum of four enrollments within each of the course groupings, also known as course families, included in the Family Courses List, regardless of the number of courses included in each family. This limitation applies retroactively to all prior enrollments in courses now included in a family; applies even if students receive substandard grades or withdrawals for one or more of the enrollments; and applies to re-enrollments due to extenuating circumstances.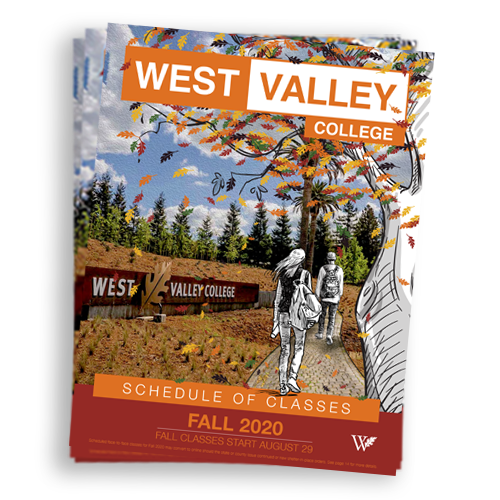 Fall 2020 Semester
Fall Semester begins August 29
Fall 2020 Class Schedule (12.8 MB)
Last updated: May 12, 2020
This schedule was the original published schedule and does not include any updated changes. This schedule does contain admission, registration, fee, program, and other information.
Fall Semester 2020 (4.1 MB)
Last updated: July 31, 2020
This schedule reflects the most recent updates.
The Fall 2020 Schedule of Classes is composed of mostly online and some face-to-face classes. Face-to-face classes are for courses that are challenging to offer in an online format. At West Valley College, your safety is important to us. Should the state or county issue continued or new shelter-in-place orders due to COVID-19, face-to-face classes may convert to an online environment in either a synchronous and/or asynchronous modality. Synchronous instruction means that students must attend mandatory scheduled meetings in an online environment.