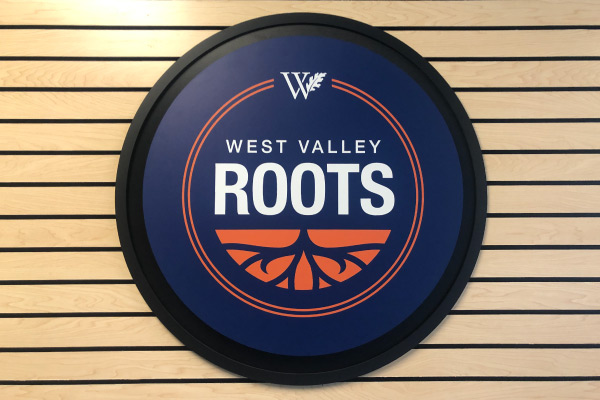 West Valley College is opening Roots: Fuel Your Potential food market in the spring of 2022, the first community food pantry of its kind in Saratoga. The on-campus food market will provide groceries to students and the community free of charge.
Ensuring that students have access to healthy food has always been a priority for West Valley College. In fact, in 2016, West Valley became the first community college to host a mobile food pantry on its campus—forging a partnership with the City of Saratoga and West Valley Community Services to provide free groceries to students and members of the community.
"We're really excited to be taking this next step in what we've already built as far as serving students and helping to meet their basic needs," says Vice President of Student Services, Diversity, and Inclusion, Debra Griffith. "Students need energy and it's very difficult for them to go to class and focus on their education if they haven't eaten."
Griffith has been leading the project to bring Roots to life with the support of the College community and the West Valley Community College District and Board. The endeavor has also been made possible through local partnerships and donations like that of Lois Gragnola, a local Saratoga resident, who generously donated $10,000 to help get the market up and running. This generous donation will assist the college in ensuring that food options are available to students throughout the week.
"Students are having to choose to buy books or fill up their tank to get to campus instead of eating healthy meals," says West Valley's Director of Student Needs, Samantha Hernandez. "We don't want our students to have to choose between their education and eating three times a day."
With the onset of the COVID-19 pandemic in 2020, that need has only increased and, with the closest permanent food pantry being more than 10 miles away coupled with the number of students showing up for the mobile pantry growing by the hundreds each week, Griffith and Hernandez worked diligently to produce a solution to expand the services.
"Having an on-campus market to serve college students and the community is essential," says Griffith. "We're really proud and thankful that our college and local community have been so supportive, and we can't wait to open it up so that we can provide students and anyone who needs it, the support that they need."
According to the California Student Aid Commission, one in three college students in California struggle with food or housing insecurity.
For more information, please visit the West Valley College Office of Student Needs.