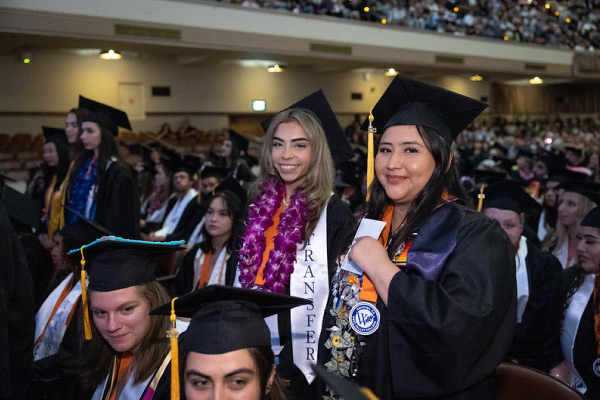 Saratoga, Calif., November 15, 2023—West Valley College has been named a 2023 Equity Champion of Higher Education for Latinx Students for exemplary work in implementing the Associate Degree for Transfer (ADT) and was honored yesterday at the annual Equity Champions of Higher Education award ceremony from The Campaign for College Opportunity.
The College has been recognized and awarded as a top performer in supporting at least 65% of Latinx associate-degree earners on your campus to earn an ADT, as well as supporting these students to perform as well or better in this metric compared to the student body. The distinction acknowledges West Valley's outstanding efforts in assisting Latinx students in attaining Associate Degrees for Transfer (ADT).
"We are so honored to be recognized as a Champion of Higher Education and are proud of the work the College has done in supporting our Latinx students," says West Valley College President Dr. Jennifer Taylor-Mendoza. "Receiving this award is truly an honor and reflects the work that continues to be done by faculty and staff in helping students reach their educational goals. West Valley is a premier destination that empowers students with the foundation they need to successfully transfer to a four-year."
The Campaign for College Opportunity announced the 27 California Community Colleges and California State University (CSU) campuses leading the way to simplify transfer for students as part of the annual Champions of Higher Education for Excellence in Transfer award ceremony held on November 14, 2023.
Since SB 1440 (Padilla) was enacted in 2010, California Community Colleges have granted a total of 488,663 ADTs. The Campaign for College Opportunity was crucial in advocating for this groundbreaking legislation, aiming to create a more transparent and efficient pathway for community college students to transfer and earn bachelor's degrees with reduced time and cost.
This effort to transform the transfer process has been ongoing for over a decade, and the recent approval of AB 928 (Berman) in 2021 will further expedite the pace of transfers and degree attainment. The Associate Degree for Transfer pathway allows countless California students' dreams of pursuing a college education to become a reality.
West Valley College is a top transfer institution out of the 116 California Community Colleges, ranking #2 in all of Silicon Valley and ranks #4 out of the 28 Bay Area community colleges.