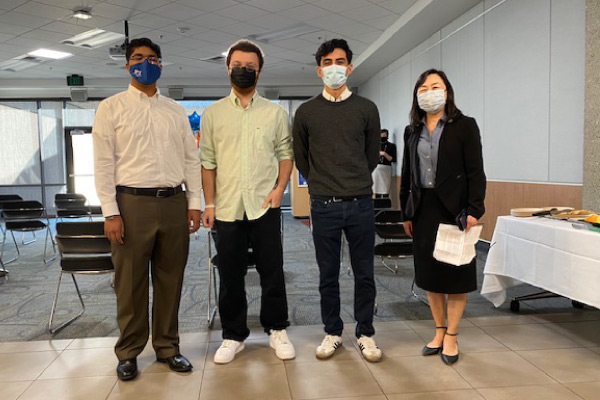 Saratoga, Calif., November 11, 2021 – West Valley College proudly brings home the win in this year's national American Mathematical Association of Two-Year Colleges (AMATYC) Student Research League competition.
The AMATYC Student Research League encourages research problem solving and motivates an interest in extracurricular mathematics activities among two-year college students by providing an annual opportunity to compete in a national mathematical modeling and research contest. This contest rewards and recognizes colleges with outstanding mathematics students through national awards. While the team was formally awarded at the 47th Annual AMATYC Fired Up for Math Conference in Phoenix, Arizona, the College honored the students in a formal awards ceremony yesterday.
The West Valley team included Maximus Cisneros, Noah Robles, and Talal El Zeini who won the grand prize for their research paper A Failure to Launch: Nutrition in the Martian Mission in this year's Student Research League 2021 Competition with the Challenge: Mission to Mars – What's for Dinner?
Scientists and engineers have long been working towards manned missions to Mars, but before humans set foot on the planet, there must be plans to satisfy basic human needs. The challenge problem for this year's AMAYTC competition focused on just that—creating a plan to satisfy food requirements using mathematical modeling.
Like any champion competitors, the West Valley team prepared well before the event, reading past winning papers, learning how to research using WVC library resources, planning for division of labor, investigating tools to use, as well as forming an overall strategy and schedule. During the 17 days between the announcement of the challenge question and the submission deadline, Cisneros, Robles, and El Zeini worked tirelessly focused on the journey to Mars with the mindset that the element of providing resourceful food for the mission would be as important to rocket fuel. Their motto was very much that a failure to launch was just as much of an issue as a failure to lunch.
"No matter what hour I peeked in on their progress and their paper online, at least one of them was in the document actively working on it. I was wondering if they were writing a doctoral dissertation," says the team's faculty advisor West Valley Math Instructor SerKuang Chen.
The team needed to consider many issues in order to propose their solutions beginning with asking themselves questions like, "what do we know about supplying food for a Mars mission?" to "what about hydroponic or aeroponic farming?" or "how do we mitigate increased iron content and serum ferritin and decreased transferrin in space flight?"
In their winning paper, the West Valley team proposed a flight crew of twelve engineers and specialists with 16 tons of food storage, a carefully laid out 10-day meal plan that mitigated nutritional deficiencies, and even addressed any adverse health effects that astronauts might experience while in space.
"Not only is each student well-prepared academically, but they are really the definition of team players," adds Chen. "They collaborated with the utmost dedication to their team with each member bringing their own strength to the project. Maximus often drove the team with ideas and direction; Noah was always quick to find recourses for the topic of discussion; and Talal would jump in to volunteer to complete what needs to get done. I'm really so proud of them all."