Panopto is a video hosting and editing tool that can be used directly in Canvas. As an instructor, you can create videos for you courses, edit the auto-generated captions, and embed the Panopto video directly in Canvas. You can also and organize and store all of your videos on Panopto.
Live Support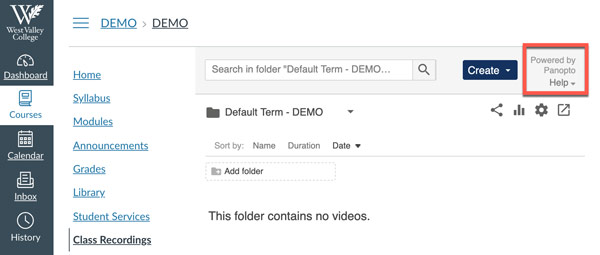 West Valley College instructors have access to Panopto's 24/7 support. Find the phone number by clicking "help" once you are logged into Panopto.
Overview of Panopto in Canvas
See how to add Panopto Class Recordings to your WVC Canvas course navigation to activate Panopto.
Learn how to use Panopto in your Canvas courses to create, edit, manage your video content. Also learn how to embed a Panopto video into any area if Canvas with the Rich Content Editor, such as pages and announcements.
Learn how to download the Panopto Recorder to your computer and record a video.
Learn how to use the cloud-based Panopto Capture (no download required) to record videos.
Learn how to view a video, and how to find a video in your library using the search feature.
Advanced Panopto
Learn how edit your video in Panopto.
Learn how to add and edit automatic captions.
Learn how to embed questions directly into your Panopto videos and have results show up in the Canvas Gradebook.
Learn more about using "My Folder" as a staging area to store your videos before placing them into a course.
Learn how to create new folders in Panopto to organize your videos.
Panopto and WVC Zoom
Panopto and WVC Zoom are both integrated into Canvas to provide a seamless user experience for instructors and students alike.