Log into Zoom
Conducting Lectures Via Zoom
First, you will need a ConferZoom account (sign-up instructions below). ConferZoom is the CCC Chancellor's Office's Zoom account. It offers free accounts to all CCC faculty and has more functionality than the free version of Zoom.
Make recordings available to any students who may have login or access problems during the regular meeting time.
Getting Started with Zoom
Scheduling a Meeting with Custom Start Time
Share a Zoom Recording in Canvas
Zoom Bombing
Zoom bombing—hijacking of Zoom (video) meetings—has been in the news. Here's some FAQs (based on Prevent Zoom-bombing from the Better Business Bureau).
Hijackers can sometimes guess the correct URL or meeting ID for a Zoom session, and if successful, it gives them access to entering your Zoom meeting. As of April 1, two incidents were reported to BBB. One involved an online classroom using Zoom, where the intruder shouted profanity.
What can you do to prevent Zoom-bombing in my virtual classroom? (Recommendations from BBB)
Zoom Update
Zoom has released an important security update to the Windows and Mac desktop application and we are recommending that everyone download and run this update.
Download the Zoom Update
New and Enhanced Features
Security Icon in Host's Meeting Controls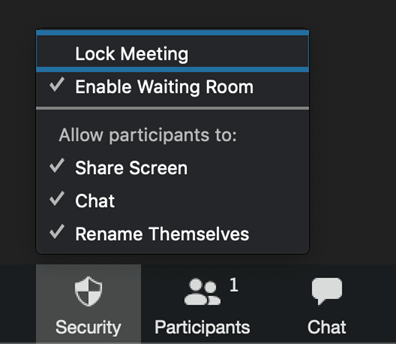 The meeting host will now have a Security icon in their meeting controls, which combines all of Zoom's existing in-meeting security controls into one place. This includes locking the meeting, enabling Waiting Room, and more. Users can also now enable Waiting Room in a meeting, even if the feature was turned off before the start of the meeting.