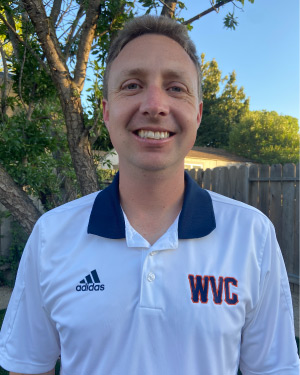 ---
Languages Spoken
English
Hobbies
I enjoy playing hockey and golf.
First Year at West Valley
2021
Affinity Words/ At-Promise Factors
First-generation college student, went back to college at 30 to get my Masters's Degree.
Biography
Mark Darrah joined West Valley College in 2021 as the Administrative Specialist in Health, Human Development, and Athletics.
Mark is no stranger to the West Valley-Mission Community College District, having been the Administrative Specialist in Athletics at Mission College before becoming a Viking. Previously, Mark worked at Foothill College as the Facilities and Equipment Coordinator where he supported the Kinesiology Division Dean, Athletic Director, and all head coaches.
Before Foothill, Mark worked in the Business Office of Cal Athletics as their Travel Assistant. At Cal, he worked directly with the NCAA with regards to team travel, recruits, and transfer students. In addition to Cal, Mark was a member of the San Jose SaberCats staff as the Video Coordinator where he filmed practices, games, and broke down film for the coaches. Before working in athletics, Mark held jobs at the San Diego Humane Society as their Data Analyst and Happy Hollow Park and Zoo as a Zookeeper.
Originally from southern California (Fountain Valley), Mark received his BA in Biological Anthropology from the University of California, San Diego, and his MA in Sport Management from the University of San Francisco.
In his free time, Mark enjoys golfing and playing hockey. Mark met his wife, Michelle, while they were both attending UCSD, and have been married since 2013. They currently reside in Santa Clara with their son, Connor, and two dogs, Copper and Scout.
Education
Master of Arts in Sport Management
University of San Francisco
Bachelor of Arts in Biological Anthropology with a minor in History
University of California, San Diego (UCSD)