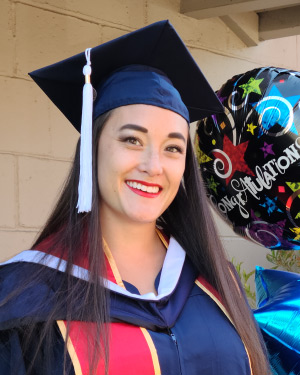 ---
Languages Spoken
English, some Spanish
Hobbies
Weight Lifting, Boxing
Favorite Book
All the Light We Cannot See
Favorite Movie
Man on Fire
Favorite TV Show
Nikita
First Year at West Valley
2020
Most memorable campus experience
Visiting my mom on campus while she was still the Director of Health Services (now retired). Definitely looking forward to making more memorable experiences here!
Favorite place on campus
The Campus Center outdoor patio area
Affinity Words/ At-Promise Factors
Low-income, Feminist, Mental Health advocate, Survivors of Domestic Violence/Sexual Assault advocate
Biography
I'm a previous high school English teacher, and I've taught part-time at Foothill College since 2016. I'm also a real estate agent, small business owner, and the president of a nonprofit that supports high school students in Redwood City. I was born and raised in San Carlos, but currently live in San Jose. Outside of classes and listing appointments, you can find me at the gym--I'm adamant about physical and mental health.
I feel like I grew up at West Valley, as my mom was the Health Services Director for about 14 years--I attended West Valley's College 4 Kids summer program when I was in middle school, attended a few classes here as a college student, and I've come full circle having taught both College 4 Kids classes AND English courses.
Education
B.A., English with a Creative Writing Concentration: Poetry
UC Los Angeles
M.A., Education with a Single-Subject Teaching Credential in English
UC Santa Cruz
M.A., English Literature
Northern Arizona University