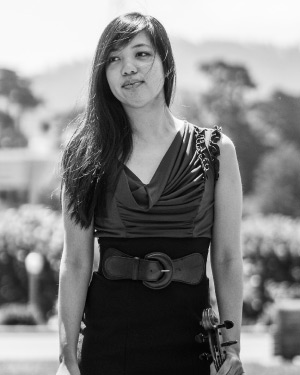 Sarah Lee
Music
Applied Viola
---
Violist Sarah Lee has performed with numerous orchestras, and chamber ensembles, and internationally performed solo works. Sarah is a member of the Monterey Symphony, the Santa Cruz Symphony, and performs with several other distinguished Californian symphonies. In addition, she performs in diverse Bay Area ensembles such as Opera Parallele, One Found Sound, and the Lucky Devils Band.
Sarah was featured as a soloist at Oxford Music Festival and has participated in other festivals, including National Repertory Orchestra, Kent Blossom Music Festival, and Aspen Music Festival. She's been Principal Viola at the San Francisco Conservatory of Music, Indiana University, National Music Festival, Texas Music Festival, and the Orchestra Institute of Napa Valley. She has also performed in orchestras with world-renowned classical soloists Joshua Bell, Jaime Laredo, Elmar Oliviera, and Orion Weiss.
Besides performing with classical musicians, Sarah has performed with various pop artists such as Michael Bublé, Childish Gambino, Sarah Brightman, Lights, and actor Leonard Nimoy. She performed at historic venues at Davies Symphony Hall, Hearst Greek Theater, Herbst Theater, and SF Masonic Auditorium.
Sarah is a passionate and dedicated educator. She is Suzuki certified and is faculty at Crowden Music Center, where she teaches group classes as well as individual lessons. Sarah also teaches at Harmony Project, an El Sistema Based program that provides high quality music education to underserved communities. She is also excited to be an Applied Music Faculty for violin and viola at West Valley College. She received Suzuki training from Cathryn Lee and attended a Teacher Workshop Retreat with Mimi Zweig at Indiana University.
Sarah has a Master's of Music degree from the San Francisco Conservatory of Music (SFCM), where she studied with Jodi Levitz as well as San Francisco Symphony members Yun-Jie Liu and Jonathan Vinocour. She received her Bachelor's of Music degree from Indiana University under the tutelage of Stephen Wyrczynski.