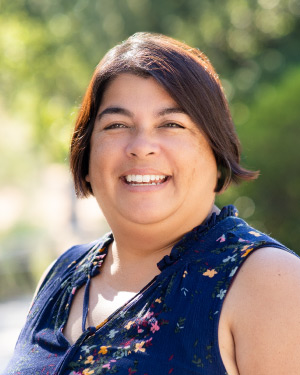 Lorrie McPheeters
Fashion Design; Theater
Instructional Technician – Fashion Lab
---
Languages Spoken
English
Favorite Hobbies
Besides making and designing clothes, which is also my job, my favorite hobby is baking.
Favorite TV Show
Great British Bake Off
Words to Live By
"Make it work." – Tim Gunn
First Year at West Valley
2018
Most Memorable Campus Experience
Working at the 2019 Fashion Show (and the after party), and unfortunately having the 2020 Fashion Show cancelled.
Favorite Place on Campus
The Drip Coffee truck outside of Cilker Building
Affinity Words/ At-Promise Factors
Re-entry student looking to change career, wife and mother of two boys, over 40 new student and new career.
Biography
After high school I attended UCSD and received a BS in Electrical Engineering. Worked in Silicon Valley married to another electrical engineer. After trying to be two working parents in the stressful environment of Big Tech with no child care support or allowed to work from home by employers, decided to step away from a career that was unfulfilling. I stayed at home with two kids for 12 years, as well as volunteering at the schools and non-profit boards. I also continued to make and design clothes; Working as a seamstress for a wedding planner, designing and producing dresses for a dance group, and volunteering as the Costume Designer and Supervisor for the my children's school drama program. I decided it was time to not just go back to work, but start a new career. West Valley College is one of two colleges in the area that offers both Fashion Design and Theater. I enrolled as a Fashion Design major, and helping at the Theater in costumes with Amy Zsadanyi-Yale. After just one semester at West Valley College I knew I had found my new home. I loved the campus, the faculty and staff, the students, and all that it offered to a diverse group of people. As I was finishing my AS in Apparel Design and Apparel Production, a job opportunity opened up at the Costume Shop. Now I am working in my dream career.
Education
BS, Electrical Engineering
UC San Diego
AS, Apparel Design
West Valley College
AS, Apparel Production
West Valley College