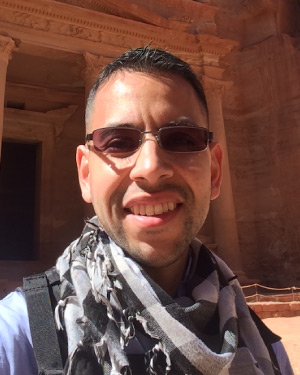 Usiel Meraz Cerna
History
History Instructor
---
Languages Spoken
English, Spanish & Italian
Favorite Books
Frankenstein by Mary Shelly
Home to Harlem by Claude Mckay
Favorite Artists
Zoé, Maná, Café Tacvba, Beirut, Jidenna
First Year at West Valley
Fall 2021
Affinity Words/ At-Promise Factors
First-Generation College Graduate, Child of Immigrants, Child of Single Parent
Biography
I was born and raised in Oakland, CA and lived in very diverse neighborhoods; dozens of languages were spoken at the schools I attended. After high school I attended UC Santa Cruz, where I truly experienced culture shock and imposter syndrome. I sought out communities of color for support and that is when I first developed a passion for Mexican Folklórico dance. I also remember some great professors who took it upon themselves to mentor me as I figured our how to become a successful student. I majored in Literature with a focus on African American writers, and History, with a focus on the history of México. I also minored in Education with the intention of one day becoming a high school teacher.
I graduated in 2003 and took a year to work as a tutor, community organizer and substitute teacher. I returned to UC Santa Cruz to work towards an MA in Education and earn a Bilingual California Teaching Credential. I started my teaching career in 2005, teaching ELD (ESL), English and history classes.
In 2010, my wife and I decided to take our teaching careers abroad. We spent 6 years living and teaching in Libya, Singapore, and Spain. We returned to California in 2017 and I decided to further my studies in History. I enrolled in the MA program at San José State University and completed my degree in 2020. I was invited back to SJSU to teach along my former professors. I now teach courses in History and Chicana & Chicano Studies at SJSU along with Mexican American History here at West Valley College. I've only just started and I'm excited to get to know my students and become a part of the community here at WVC.
Education
MA History
San José State University
MA Education
University of California, Santa Cruz
BA History, Literature
University of California, Santa Cruz