2022-2023 Academic Year
April 2023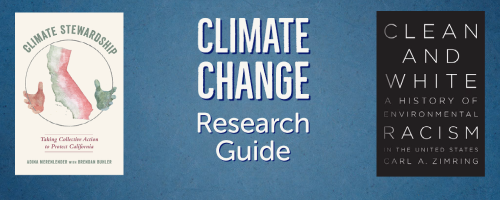 Earth Day falls on Saturday, April 22 this year.
The Library has recently released our Climate Change Research Guide focusing on books, videos, podcasts and more to better understand where we are now in terms of our relationship to Mother Earth.
February 2023
For African-American History Month, the library is highlighting some of the artists from the Harlem Renaissance. Enjoy hearing and reading about this amazing slice of American history!
Fall 2022
Check out our newly acquired books. All WVC students, faculty and staff are able to read library ebooks on your own device, or reserve a print book for pickup at the library. It's fast and easy as long as you have your single sign-on (SSO) ready.
Dog Therapy Days
The dog therapy session was held at the Kirkorian Pavilion, a perfect setting with the dogs spreading out in the amphitheatre. The doors of the Pavilion were open in case of inclement weather. The library set up a table of dog adoption / pet therapy books for students to browse.
Furry Friends was the name of the group. They all came together from 12:30-1:30. There were 7 dogs of different breeds. They could barely get to the Pavilion from the parking lot because of the masses of students who stopped them on their way. Overall, I estimate that over 100 students came by. Furry Friends normally charges $100 a visit to non-profit organizations, but when they read our reason for wanting dog therapy (lock down followed by an entire week of no power) they decided to waive the fee for us. Diane Rudy, a retired faculty member, was the "Captain" of the group and organized the handlers' attendance.
Here are two stories shared from the handlers:
I had a student completely open up to me about her struggles with ADHD. She was surprised at how soft Omega's fur is and how this kind of dog would also be the perfect size for her. I explained that at 3 years old, Omega still had to be walked a lot, but that I was enjoying it because it was keeping me outdoors. She completely related to that, telling me how she had to walk or go run every day because she had so much pent up energy to burn off, and how similar she and Omega were in that way, and how happy a dog like him would be with her. We talked for quite a while, she told me how much she appreciated that time petting Omega and I want to think that she walked away lighter that day.
While I was sitting up top and Bailee was tired and had laid down...a group of students were around him when Bailee saw a young girl walk up and he sensed something...He got up and pushed through the kids and laid his head on the girls chest. She started getting teary eyed and the other kids had moved on saying Bailee was done with them. She proceeded to tell me she was not at the school the day of the possible shooting as she had family problems (that are still going on) and today was the first day she was back at school. She hadn't been able to go to a class yet but after the hugs from Bailee she stated she is going to go to class. She was amazed that Bailee recognized she needed hugs (and Bailee is not a hugger per say)....proud of the student and my boy.
The dog therapy session was held in The Village because Kirkorian was unavailable that day. Donna Nguyen used her connections with Athletics to get us a huge awning that acted as a beacon according to some students. We also arranged V21 as an indoor venue in case of bad weather.
The Alliance of Therapy Dogs was the group that came this day. They are a national outfit and visit airports and hospitals on a regular basis. They came in groups of 3-4 between 11AM-2PM. They do not charge a fee. There were less students at The Village, but many more that I estimated. Approximately 50 students came by along with a visit from the toddlers from the Child Development Center.
Several of the handlers mentioned how nice it was to be on a college campus with young people who were so excited to see the dogs.