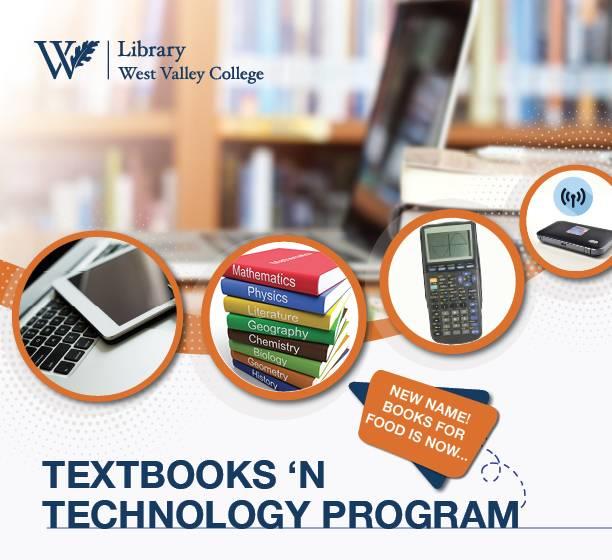 Textbooks 'n' Technology (TnT)
The WVC Library has course textbooks, Microsoft Surface Go Tablets, Dell Latitude Laptops, HP Chromebooks, and graphing calculators for semester length loans. The request forms listed below will be available Monday, August 16. Library staff will begin contacting students soon thereafter with pickup dates.
Steps to Borrow Material
NOTE: Quantities are limited and are checked out on a first requested, first served basis.
Textbook & Calculator Requests
Check the Textbooks 'n' Technology (TnT) Courses Page to find out if your course participates in the program.

Write down the title, author and publication year of the textbook(s).

Complete the Textbook Request Form (below).


You will receive an email when the textbook is ready for pickup at the library.
Use this request form for graphing calculators.

Faculty FAQs
To add a textbook to TnT, contact
James%20Adams
, Senior Library Media Technician.
You are welcome to copy the following and edit where necessary:
Free Textbooks, Graphing Calculators, laptops and Hot Spots from the Library

Follow these instructions on borrowing a free textbook(s) for this class. Our textbook is
[textbook title, author]
. It is being loaned on a first requested, first served basis, so it is important to request it early as there may not be enough books for the entire class.
Go to the Textbooks 'n' Technology Page.


Under "Steps to Borrow Material" follow the instructions to locate the textbook.

If you want to borrow technology (tablets, laptops, hotspots) follow the instructions under "Technology Requests".

All material that is borrowed from the library must be returned by the end of the semester.
Yes. All textbooks from Spring 2021 will transfer over unless you notify us. Please contact
James%20Adams
with any questions.
History
The popular Books for Food Program has changed its name to Textbooks 'n' Technology (TnT) as of Fall 2021 to reflect how the program has grown and become more equitable over the past year. The library no longer requires the exchange of food for textbooks. This requirement placed an additional burden on many students.
The library decided to focus on lending as many textbooks as possible without any strings attached at the start of the pandemic. At the same time, we partnered with groups across campus to lend laptops, Surface Gos, hot spots and graphing calculators.
The program has grown its textbook offerings and currently has 2,390 copies of 330 textbook titles for 159 courses. Technology loans have also been popular. During the past year, 196 computers were loaned to students.
The Library will continue to grow the program with the help of our partners across campus.