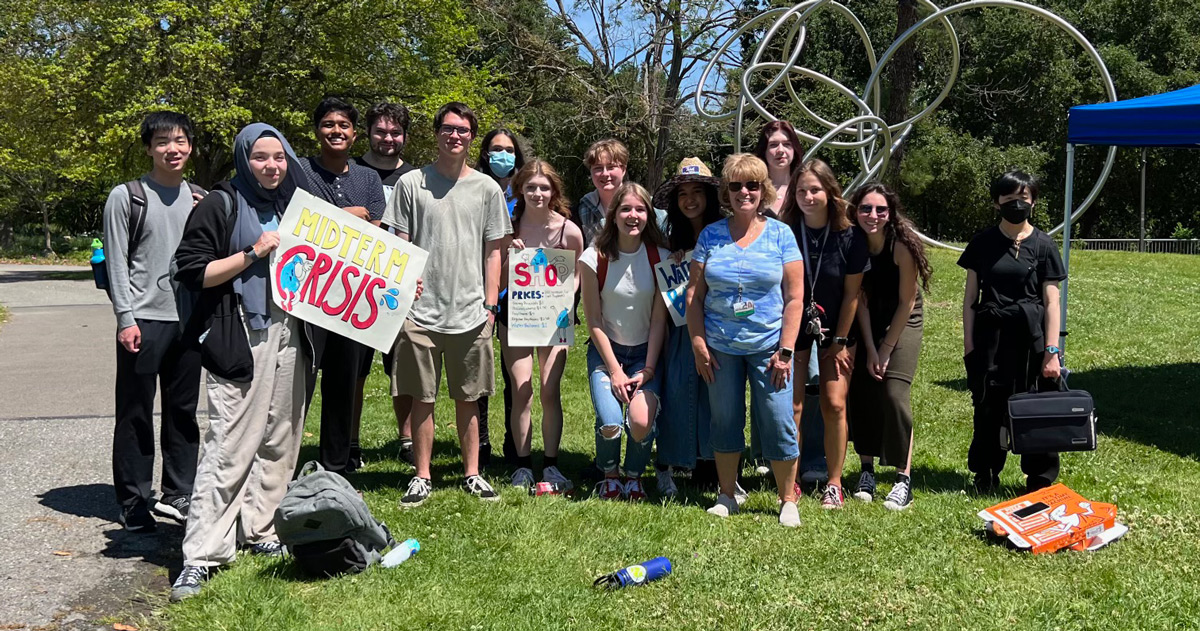 Overview
Middle College at West Valley College is an alternative program that offers a special opportunity to students who are seeking a more challenging academic program and who have the maturity and academic skills to successfully function in college level classes. Students are motivated to undertake independent research and to report their findings in both oral and written form. Students are seeking a wider choice of electives and are excited by the rigor and challenge of starting college classes and career exploration.
The program offers students a small class size with a rigorous academically focused environment. It is housed entirely on the West Valley College campus. With over 35 clubs and athletic teams, students are actively involved in the extracurricular life at the college. Students receive a diploma from their original high school, and participate in their home school graduation ceremonies.
Under the guidance of their high school Middle College counselor, along with a West Valley College counselor, students select from over 1,000 college classes that meet high school graduation requirements. These classes can be credited towards their college degree and transferred to UC, CSU or private schools. Students are enrolled in two (2) high school classes, as well as a minimum of six (6) and a maximum of eleven (11) college units per semester. Although not required for the Middle College Program, students may also enroll in two (2) courses in the winter and summer sessions.
Juniors
Juniors meet on Mondays and Wednesdays for 12:35 PM – 3:35 PM and are enrolled in the following classes:
U.S. History
English 11
Seniors
Seniors meet on Tuesdays and Thursdays from 12:35 PM – 3:35 PM and are enrolled in the following classes:
English 12
Government/Economics
Application Process
Submitting an application does not guarantee acceptance into the Program. To be considered a strong candidate for enrollment in the Middle College Program, a student must:
Attend the information meeting.
Have completed 110 academic units with a minimum GPA of 2.8
Submit a completed application packet on Wednesday, March 15 by 11:59 PM, which includes:

Three (3) recommendation forms: 2 from a core subject high school teacher and 1 from a counselor.
One 2-page word-processed essay and short answers responding to the prompts.
One writing sample of a recently graded analytical essay (English preferred).
Parent (Guardian)/Student forms.
Required Proof of Residency documents. Note there is one document for CUHSD and another document for LGSUHSD.
Students with a 504 or IEP must meet with the WVC DESP Office.

Apply to the College.

Complete the online application at www.westvalley.edu – Click Apply Now Create an OpenCCC apply account. You will receive a CCC ID# (ex: AF861972) via email; this is not your College ID#. Using your email address or your cell number, log into OpenCCC through the Apply Now link and complete the West Valley College application.
Using your CCC ID#, log into OpenCCC Apply through the Apply Now link and complete the West Valley College Application.
Within 5 minutes – 2 hours you will receive your West Valley College ID# (ex: G08100451) via email. You will need this number moving forward.
Contact the WVC Admissions Office if you do not receive your ID number at (408)741-2477 or email Andrew Louie at andrew.louie@wvm.edu

Send an introduction email to joe.mcdevittFREEWEST_VALLEY, including your name, WVC ID number, program, graduation year, home high school, and home high school ID number. Please CC your parent or guardian as well.
What Every Family Needs to Know
Students are required to take their high school English and Social Science through the Middle College Program. Students must participate in the entire program. It is the only way that students are considered "full-time" high school students, thereby making them eligible to take West Valley College courses. As mentioned above, the juniors must take English 11 and U.S. History in the Program. Seniors must take English 12, American Government, and Economics in the Program.
Students are required to PASS, with a "C" or better, all West Valley College courses and Middle College classes per semester and session, including the Middle College cohort Counseling 5 in the summer or fall.
If a student receives a "D" in a class, the student is placed on probation. If a student receives an "F" in a class, the student will be removed from the Middle College program and sent back to their home high school.
Students are encouraged not to overload. Within the Middle College Program itself, students need to be fully committed to 12:35 PM - 3:35 PM of class time.
Students attending Middle College will follow the Middle College academic calendar.
Middle College students receive a diploma from their high school and participate in the high school graduation ceremony.
For the purpose of GRADUATION, Middle College students should always list themselves as a high school student from their home high school (using the home high school CEEB Code) when applying for college admission, scholarships, financial aid or standardized tests.
Students are required to plan and monitor their academic progress through graduation. Students are encouraged to take advantage of West Valley College support services to complete classes successfully.
Enrollment in West Valley College (not Mission College) courses is limited to a minimum of 6 units and a maximum of 11 units for each FALL and SPRING semester, and up to 2 classes for each winter and summer session (optional). Students may only enroll in ONE online course and one PE class per session or semester. Middle College students are not allowed to audit classes.
Students may enroll in a Work Experience class but those units are NOT included in the required 6 units.
Students must receive letter grades for all West Valley College classes that offer letter grades. Students cannot take an incomplete or pass/no pass options.
Students are encouraged to fully engage in college life by participating in any athletic or extracurricular clubs at the College.
Students may not be on a high school campus during the school day without prior permission from their home school.
Students who do not follow the terms of the contract will be removed from the Middle College program.
Contacts
Support Services
Information for High School Students with Disabilities Enrolled in College Courses
Accommodations for a Disability
High School students with disabilities who are enrolled in college courses may register with the West Valley College Disability and Educational Support Program (DESP) to request reasonable accommodations for their college course by following the steps below.
A key difference between how accommodations are implemented in college courses versus high school courses is the degree of initiative required of the high school student enrolled in college courses. High school students follow the steps below to complete an Academic Accommodation Plan in an interactive discussion with a DESP counselor. Students then must request the accommodations that they wish to implement in their courses. This is done every semester in which students are enrolled in West Valley College courses. Instructors are then notified of their students' approved accommodations. Certain accommodations such as alternative testing may require that the student log on to DESP Online Services to schedule quizzes and tests.*
*If college courses are offered at locations other than the main campus, accommodations may be arranged directly with the instructor. DESP counselors will discuss options with students during their intake meeting.
Steps
Complete DESP online registration application
Upload documentation of disability, eg IEP, 504, physician's verification
Make appointment with a DESP counselor to complete program registration via despFREEWEST_VALLEY or (408) 741-2010.
Following registration with DESP, request approved accommodations for your course at DESP Online Services.
If you and your instructor agree that you will take your exams in the DESP Test Center, you will schedule your test at DESP Online Services.
Visit Disability Services (DESP)