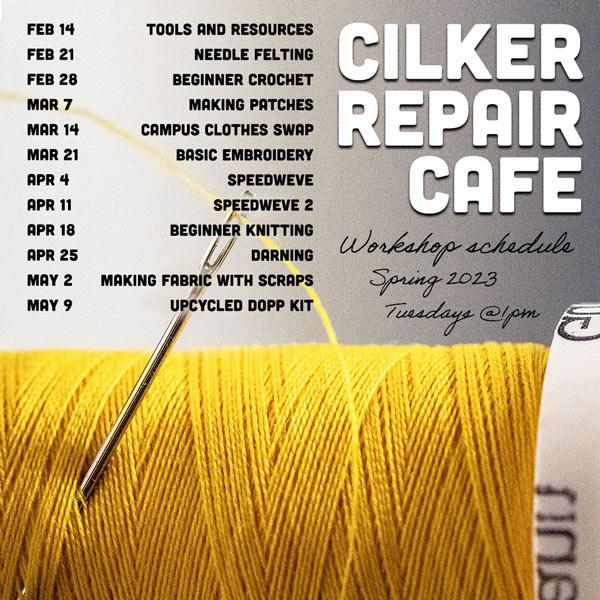 Cilker Repair Cafe
Fashion Design & Apparel Technology program practices recycling, reuse, restoration and responsible use of supplies, equipment, and materials. For that reason, we are very excited to introduce you to our Repair Café, created and run by our faculty and students.
Check out our Instagram page @repaircafecilker for many photos and examples of these techniques!
No previous experience required for any workshop except Dopp/Pouch on May 9.
Repair cafe will provide all materials but you may want to bring your own garments to embellish.
The Repair Café is open on Tuesdays from 1:00 PM to 3:00 PM in the CIL 110 (Production Lab), with short workshops at 1:00 PM.
Spring 2023 Workshops
Topic
Date
Time
Location

There is a wealth of great information out there for repairing clothes, as well as some beautiful and inspiring books. Come and check out our book collection, and share our favorite mending videos for your next repair.

Tuesday, February 14
1:00 PM
CIL 110

Come and learn an easy and accessible (and very relaxing!) way to mend holes and embellish your knitted sweaters and other garments. All supplies provided.

Tuesday, February 21
1:00 PM
CIL 110

Come learn how to crochet! If you have a favorite 5.0 mm crochet hook and medium-weight (5) yarn, please bring. If not, we will provide crochet hooks and yarns for you to use.

Tuesday, February 28
1:00 PM
CIL 110

We'll be sharing some techniques for making patches for embellishing or mending your garments. Come and make a patch for your own gear, or help us make some to share at the Campus Clothes Swap next week! Bring your own artwork/logos if you have them!

Tuesday, March 7
1:00 PM
CIL 110

Come and join us for an Intro to Laser Cutting session with 1 hour of instruction and 30 minutess to help set up files.

We will be making laser etched patches for repair and embellishment ahead of our Campus Wide Clothes Swap coming up!

Then book your time on the laser cutting machines on Wednesday, March 8 and Monday, March 13th from 1:00 PM – 5:00 PM to create your patches.

We have 10 places available for this initial workshop, but more in the works if you don't manage to get a spot this time! You must be comfortable using Adobe Illustrator to set up your graphic (or sign up with a buddy who can help you).

Sign Up Now to Save a Spot

Tuesday, March 7
2:00 PM – 3:30 PM
CIL 110

Sign up for 20 minute sessions.

This patch-making session is for students to have time on the laser cutting machines.

Tuesday, March 8
1:00 PM – 5:00 PM
CIL 110

Sign up for 20 minute sessions.

This patch-making session is for students to have time on the laser cutting machines.

Monday, March 13
1:00 PM – 5:00 PM
CIL 110

We'll be taking over the campus event center to hold our 2nd Fashion Club Clothes Swap. Donate clothes (bin in the Fashion Lab) throughout February and March and come and "shop" the swap (for free!) on Tuesday, March 14th 11-2pm. Repair cafe will be on hand to help with alterations, repairs and embellishments.

Tuesday, March 14
11:00 AM – 2:00 PM
Campus Center

Embroidery techniques can turn a basic mend into a work of art. Come and learn some basic embroidery techniques to embellish your repairs, or anything else!

Tuesday, March 21
11:00 PM
CIL 110

A fun and addictive darning technique for covering holes or embellishing your clothes. Use our tiny speedweve looms to create woven patches.

Tuesday, April 4
1:00 PM
CIL 110
Tuesday, April 11
1:00 PM
CIL 110
Tuesday, April 18
1:00 PM
CIL 110

Somewhere between weaving and embroidery, these are traditional and beautiful repair techniques for saving your holey socks and moth-eaten sweaters.

Tuesday, April 25
1:00 PM
CIL 110

A quilting technique sandwiching scraps between layers of tulle and freehand quilting.

Tuesday, May 2
1:00 PM
CIL 110

Use your fabric from last week or another upcycled fabric to make a dopp bag or pouch (some sewing experience required).

Tuesday, May 9
1:00 PM
CIL 110