General Information
The Fashion Design Program at West Valley College is a professional, effective training program that will prepare you for an exciting career in the fashion industry.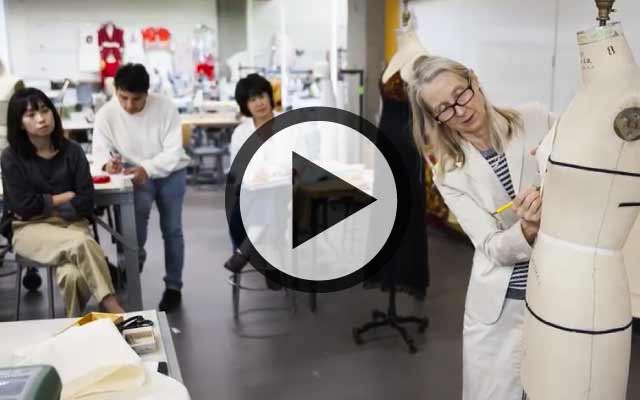 Our program is designed to meet your needs. Take classes to re-train, update your skills or complete the program with a Certificate in Fashion Design, Associate Degree in Fashion Design, Certificate Apparel Production, and Associate Degree Apparel Production. You can also transfer to universities.
The West Valley College Fashion Design Program is the recognized leader in computer technology training for apparel design and manufacturing. Our fully equipped computer labs provide students with hands-on experience using computer systems identical to those found in the industry. We are the largest educational facility in North America offering instruction using the Gerber Technology (GT) "AccuMark" System for computer-aided patternmaking, grading and marking. This system is used by major manufacturers throughout the world.
Learning the technology currently found in the industry gives West Valley College Fashion Design students a leading edge when entering the changing job market.
Affordable
The Fashion Design Program offers an affordable alternative to the leading private design institutes. As a public community college, West Valley College offers low cost tuition as well as scholarships and financial aid to qualified students.
Real World
The faculty are working professionals who understand industry requirements and bring realistic expectations to the classroom. The curriculum is updated annually to respond to industry requirements and constant contact is maintained with industry through alumni and advisory committees.
Career Options with Fashion Design Certificate of Degree
Apparel Design Level 1 Certificate
Showroom Assistant
Design Room Assistant
Assistant to Fabric/Trim Buyer
Customer Service
Quality Control Inspector
Assistant Patternmaker
Assistant Merchandiser
Assistant Duplicates Coordinator
Production Assistant
Apparel Design Level 2 Certificate/A.S. Degree
Assistant Designer
Technical Designer
Fabric/Trim Buyer
Assistant Trend Manager
Assistant Stylist
Assistant Merchandiser
Assistant Product Developer
Apparel Production Level 1 Certificate
Assistant to Fabric/Trim Buyer
Quality Control Inspector
Shipping/Receiving Clerk
Assistant First Patternmaker
Production Assistant
Production Clerk
Digitizer
Assistant Marker Maker
Sample Cutter
Apparel Production Level 2 Certificate/A. S. Degree
First Patternmaker
Assistant Production Patternmaker
Grader
Assistant Marker Maker
Spec Writer
Sample Cutter
Electronic/Computer Patternmaking Short Certificate
CAD Patternmaker
CAD Grader
CAD Marker
Digitizer
Electronic/Computer Grading & Marking Short Certificate
CAD Grader
CAD Marker
Digitizer
2018 Fashion Show – Launch!
The Cilker School of Art and Design at West Valley College presents LAUNCH! - A fashion show featuring the work of students of the Fashion Design and Apparel Technology Department on Saturday, May 5, 2018 at the Cilker Building. Champagne Reception and Fashion Show from 6:00 PM – 9:00 PM. Tickets are available at Eventbrite.