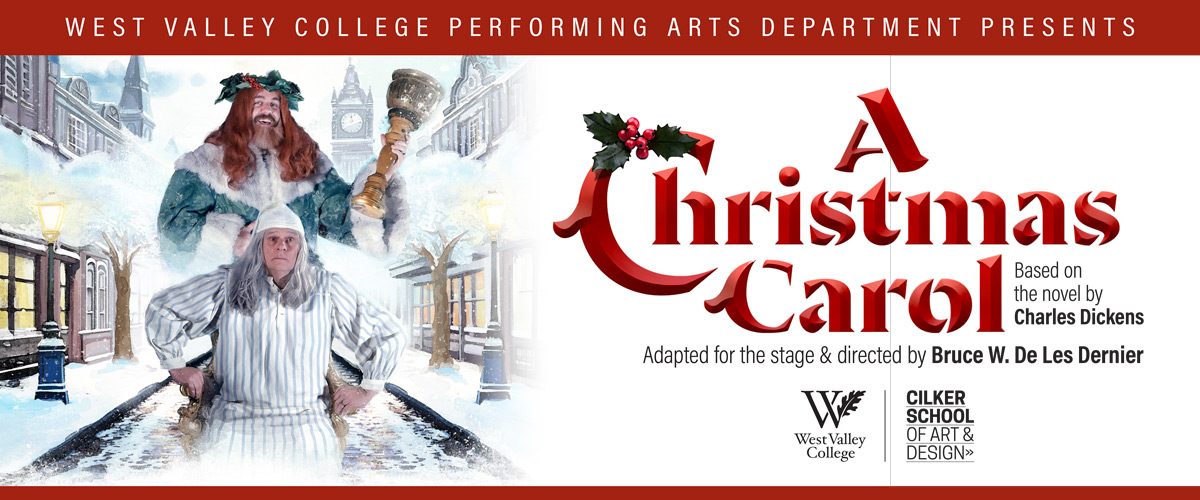 Family/ Children
Director: Bruce W. De Les Dernier
Adapted for the stage by Bruce W. De les Dernier
From the novel by Charles Dickens
This charming ghost story is the classic Victorian tale of the redemption of the human soul. Three spectral visitations on one Christmas Eve grant Ebeneezer Scrooge, a lonely and bitter miser, a second chance at living a life full of love and charity. Filled with special effects wizardry, singing and dancing, this adaptation of the beloved novel by Charles Dickens was a tradition at West Valley College in the 1980's-1990's. It now returns after 26 years to our Main Stage theater! Suitable for the whole family. Some scary scenes.
Dates: November 17, 18, 24, 25 at 7:30 PM and November 19, 25 & 26 at 2:00 PM
I wrote this adaptation of A Christmas Carol for West Valley College in the fall of 1983…forty years ago. It has seen nine productions here at the college during the 1980's and 1990's. It was produced three times by Menlo Players Guild (with me directing), and twice by Coastal Repertory, Half Moon Bay. It has been a huge part of my theatre life. Most of my closest friends I met during productions of this play... including my wife. My son was in the show (for the first time) at six months of age.
Many dearly loved friends that had performed repeatedly in this show over the years have passed away. Rehearsing this play again for the first time after twenty years has brought the memory of these beloved people back with a clarity that has been unique... and wonderful. I am dedicating this production to their memory, especially the most recent to have passed away: Todd Wright.
| | |
| --- | --- |
| Director | Bruce W. De Les Dernier |
| Technical Director | Andrew Lidwell |
| Costume Designer | Lorrie McPheeters |
| Set Designer | Yolanda Ng |
| Lighting Designer | Carol Fischer |
| Sound Design | Bruce W. De Les Dernier |
| Vocal Director | Mary Linduska |
| Production Stage Manager | Caroline Spencer |
Headshots