Every year, the West Valley Theater department produces two mainstage and two studio productions where students are given opportunities to apply their in-class learning and knowledge in a practical experience whether it be onstage, backstage, or in the shop.
Fall 2021 Shows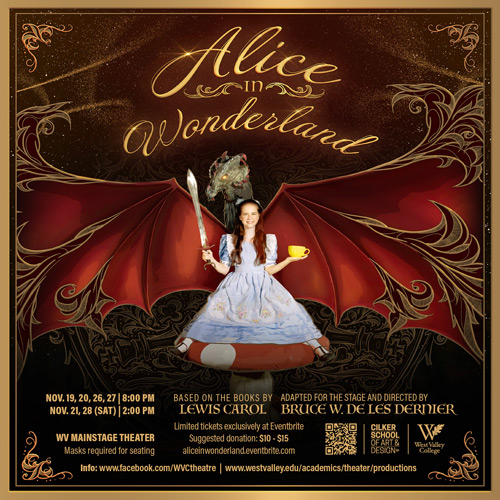 Alice in Wonderland
American Representational by Lewis Carroll
Adapted & Directed by Bruce De Les Derniers
Dates: November 19, 20, 26, and 27 at 8:00 PM and November 21 and 28 at 2:00 PM
Suggested Donation: $10 – $15
Spectators must be vaccinated or have had a negative test in the last 72 hours. Spectators will not be asked to show proof of this at door.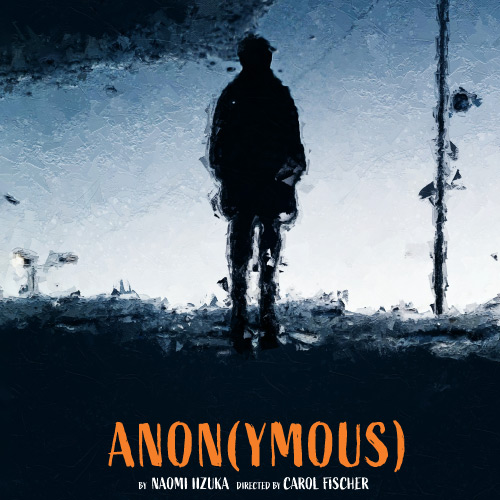 Anon(ymous)
Contemporary Drama by Naomi Iizuka
Directed by Carol Fischer
Dates: October 22, 23, 27, 28, 29 at 8:00 PM and October 24 & 30 at 2:00 PM
Suggested Donation: $10 – $15
Spring 2022 Shows
Classical European Comedy by Oscar Wilde
Directed by Amy Zsadanyi-Yale
Dates: March 18, 19, 24, 25, 26 at 8:00 PM and March 20 & 27 at 2:00 PM
Tickets: Students & Seniors $10, General $15
The Importance of Being Earnest is the most renowned of Oscar Wilde's comedies. It's the story of two bachelors, John 'Jack' Worthing and Algernon 'Algy' Moncrieff, who create alter egos named Ernest to escape their tiresome lives. They attempt to win the hearts of two women who, conveniently, claim to only love men called Ernest. The pair struggle to keep up with their own stories and become tangled in a tale of deception, disguise and misadventure. This wildly entertaining comedy sparkles with dazzling wordplay and hilariously unlikely situations in which silliness ensues.
See full show details.
Rock Musical
Music by Duncan Sheik and book & lyrics by Steven Sater
Directed by Robin Aronson
Dates: April 22, 23, 28, 29, 30 at 8:00 PM and April 24 & May 1 at 2:00 PM
Tickets: Students & Seniors $15, General $20
Based on a banned and censored 1891 play by the same name, the rock musical Spring Awakening explodes the repression that shut down the original play and lays bare an electrifying story of adolescent sexual awakening and rebellion against an oppressive society. Set in a provincial 1890s German village, local students struggle to understand the onrush of new feelings and desires as they come of age, but their efforts are thwarted by the narrow-minded, controlling adults who enforce stifling rules and withhold knowledge and support. With an exhilarating alternative rock score by Steven Slater and Duncan Sheik, Spring Awakening deals with controversial issues of teen pregnancy, child abuse, abuse of power, abortion and suicide with stunning artistry. It won 8 Tony Awards in 2007, and many other awards then and since.
See full show details.
2020-2021
2019-2020
2018-2019
2017-2018
2016-2017
Archive of Past Productions (1963-2015)
43 Plays For 43 Presidents, Drake 2008
Action, Weisberg 2008
The Actor's Nightmare, Zsadanyi-Yale
Alice In Wonderland, Zsadanyi-Yale 2011
All Ants Are Evil, De Les Dernier 1991
All in the Timing, De Les Dernier 1999
All in the Timing, Weisberg / Clay 2006
All in the Timing, Weisberg, Zsadanyi-Yale 2012
All's Well That Ends Well, Drake 2003
Almost, Maine, Fischer, De Les Dernier 2015
Almost There, Nearly, 2016
Amadeus, Weisberg 2009
American Plan, The, Edwards 1993
American Welcome, 1982
Antigone (early years)
Antigone, Drake 2000
Anything Goes, Senteney 1985
Arsenic and Old Lace (early years)
Arsenic and Old Lace, Zsadanyi-Yale 2018
Asleep on the Wind, De Les Dernier 1990
As You Like It, Drake 1982
Attack of the Moral Fuzzies, Drake 2001
Babes in Toyland, Drake 1997
Bad Habits, Weisberg/Fritsch 200)
Barefoot in the Park (early years)
The Battle of Bull Run, Buckley (student) 2001
The Beaux Stratagem, De Les Dernier 1990
The Beggar's Opera, Held 1979
A Betrothal, Blakley 1991
Beyond Therapy, Taylor (student) 1986
The Big Breakup, De les Dernier 1982
Birds, The, Drake 1985
The Blade of Zorro, (Premier), De les Dernier 1984
Book of Days, Fischer 2019
The Book of Leviticus Show, Grijalva (student) 2001
Boor, The, Hoard (student) 1991
Broadway, De Les Dernier 1986
Broadcast Murder, De Les Dernier 1997
Bullshot Crummond, Callner 1982
Butterflies Are Free (early years)
Bye Bye, Birdie, Zsadanyi-Yale 2001
Cabaret, Zsadanyi-Yale 2018
Camera Obscura, Drake 1984
Cave Dwellers (early years)
Chamber Music, Drake 2005
Cheaper by the Dozen, Bengford 2002
The Children's Hour, Zsadanyi-Yale 2017
Chicago, (one act by Sheppard) Uimari (student) 1991
A Christmas Carol: Marley and Scrooge, Drake 1982
A Christmas Carol (Premier), De Les Dernier 1983
A Christmas Carol, De les Dernier 1984
A Christmas Carol, De Les Dernier 1985
A Christmas Carol, Senteney 1986
A Christmas Carol, De Les Dernier 1987
A Christmas Carol, De Les Dernier 1993
A Christmas Carol, De les Dernier 1994
A Christmas Carol, the Musical, Zsadanyi-Yale 2005
Comedy Company (Premier), Callner 1993
The Comedy of Errors, Bengford 1999
Comedy Review (Premier), Callner 1977
Comedy Review (Premier), Callner 1978
Comedy Review (Premier), Callner 1979
Comedy Review (Premier), Callner 1980
The Crucible, Senteney 1982
The Crucible, Zsadanyi-Yale 2008
A Cry of Players, Smith 1976
The Curse, (Premier), De Les Dernier 2018
Dandelion Wine, Held 1987
Dark Lady of the Sonnets, Haney 1991
Dark of the Moon (early years)
David and Lisa, Drake 1981
The Days of Wine and Roses, Smith 1983
The Deadly Game, (early years)
Dead Man's Cell Phone, Dale 2011
Dearly Departed, Bengford 2000
Diary of Anne Frank (early years)
The Dining Room, De Les Dernier 1988
The Dining Room, Drake 2004
Doctor Jekyll and Mister Hyde (Premier), De Les Dernier 1996
Doctor Jekyll and Mister Hyde, De les Dernier 2013
Don't Drink the Water (early years)
Dracula (Premier), Bengford 1995
Dracula, Zsadanyi-Yale 2010
Ducks and Lovers, Drake 1986
Edgar Allan Poe adaptations:
A Manner of Madness, (Premier) De Les Dernier 1981
A Manner of Madness, De Les Dernier, 1984
A Manner of Madness, De Les Dernier. 1995
A Very Dark Evening With Edgar Allan Poe, Fischer 2013
Eleemonsynary, Edwards 1992
Enchanted April, Lowry 2017
Epic Proportions, De Les Dernier 2005
Epic Proportions, De Les Dernier 2014
Fallen Angels, 1982
Fast Women, Moore 1990)
The Fifteen Minute Hamlet, Drake, 1984
A Flea in Her Ear, Bengford 1998
Footloose, Zsadanyi-Yale 2015
For Whom the Southern Bell Tolls, Drake 2001
Fred and Clare, Drake 2001
French Fries, Drake 1984
Ghosts (early years)
Glass Menagerie (early years)
God's Favorite, Callner 1989
Golden Boy, De Les Dernier 1989
Golden Boy, De Les Dernier 2013
The Good Doctor, De Les Dernier 1987
The Good Doctor, Weisberg 2003 (page 21)
Good Night Desdemona, Good Morning Juliet, Drake 2006 (page 24)
The Good Woman of Setzuan, The, Drake 1980
The Government Inspector, Drake 1994
Graceland, De Les Dernier, 1990
Great Expectations, Drake 2009
Guys and Dolls, Fischer 2017
Hamlet, Held, 1978
Harold and Maude, Callner 2008
A Hatful of Rain, De Les Dernier 2019
The Haunted House, De les Dernier 1992
Harvey, Drake 2002
Hay Fever, Senteney 1984
The Heidi Chronicles, Dale 2010
Hello, Out There, Moore 1990
The Hitchhiker, Fischer 2014
The Hobbit, Drake 2000
Homes Fires, Drake, 1984
Hot l Baltimore, Drake 1980
The Hundred and First, Drake 1981
Icarus' Mother, Weisberg 2008
The Imaginary Invalid, Bengford 1995
I'm Herbert, Drake 1984
The Importance of Being Earnest, (early years)
Improvisation, Venuti 1981
Improvisational shows:
Almost There, Nearly, (Premier) Pfeiffer 2016
Spontaneous Connections, (Premier)De Les Dernier 1982
Inherit the Wind, Weisberg 2004
Intermission, Arias 2001
The Interview, Drake 1984
Into The Woods, Zsadanyi-Yale, 2020
Irregular Verb to Love (early years)
J.B., Drake 1995
Jesus Christ, Superstar, Bengford 2001
Joseph and the Amazing Technicolor Dreamcoat, Fischer 2019
Judgement Call, Drake 2001
The Kentucky Cycle, Weisberg 2002
Kind Lady (early years)
The Lady's Not For Burning, (early years)
The Lady's Not For Burning, Senteney 1987
The Language of Angels, Fischer 2014
The Laramie Project, Drake 2002
Laughter on the 23th Floor, Callner 1999
Laundry and Bourbon, Senteney 1985
A Lighter Than Air Murder, Pickens 1991
Line, De Les Dernier 1984
The Lion, The Witch and the Wardrobe, Bengford 1996
The Lion, the Witch and the Wardrobe, Zsadanyi-Yale 2016
Little Mary Sunshine (early years)
The Little Shop of Horrors, Fischer 2011
Lone Star, Senteney 1985
Look Homeward, Angel, Drake 1979
Love and Sex, Bengford 1997
The Love Talker, Edwards 1993
Low Road, (Premier film) Clay 2007
Lysistrata (early years)
Lysistrata, Senteney 1981
Lysistrata, Fritsch 2005
Machinal, Aronson 2019
The Madwoman of Chaillot (early years)
The Madwoman of Chaillot, The, Drake 1986
The Maids, Smith 1983
Making the Call, Arias 2001
The Man Who Came To Dinner, Drake 2003
A Marriage Proposal, 1985
Mash, Callner 2004
The Master Builder (early years)
The Matchmaker, Drake 1990
Medea (one act by Durang), Drake 2001
Melodrama Play, Weisberg 2008
A Midsummer Night's Dream (early years)
A Midsummer Night's Dream, De Les Dernier 1994
A Midsummer Night's Dream, De Les Dernier 2006
Mirror Game, Edwards 1992
Monsters and Clowns:The Shakespeare Connection,De Les Dernier 1996
Mr. Toad Rides Again, De Les Dernier 1994
Mud, Anderson 2004
Museum, Drake 1998
Neverwhere, Clay, De Les Dernier 2018
New York Actor, Drake 2001
Night of the Iguana, Fischer 2012
Noises Off, Drake 1996
The Odd Couple, Callner 1990
The Odyssey, (Premier), De Les Dernier 2016
Oedipus Rex, Senteney 1973)
On Baille's Strand, De Les Dernier 1973
Once in a Lifetime, Drake 1984
Once in a Lifetime, Drake 2007
Once Upon a Mattress, Smith 1984
One Flew Over the Cuckoo's Nest, Senteney 1976
One Minute Play, Drake 2001
On The Verge, Drake 1993
Our Town, Senteney 1983
Our Town, Holt 2011
Out of the Frying Pan, Drake 1984
The Pedestrian, De Les Dernier 1982
Pericles, Prince of Tyre, De Les Dernier 1994
Pericles, Prince of Tyre, De Les Dernier 2012
Peter and the Starcatcher, Fischer 2017
Peter Pan, Weisberg 2010
The Petrified Forest, Drake 1981
Phillip Glass Buys a Loaf of Bread, Drake 2001
Picnic (early years)
Pippin, Bengford 1998
Pippin, Weisberg 2012
Pirates of Penzance, The, Senteney 1986
Play it Again, Sam, Callner 1988
Plaza Suite, Callner 1996
Prisoner of Second Avenue, Drake 1978
Puppytales, De Les Dernier 1996
Radium Girls, Drake 2007)
The Rainmaker, Drake 1986
Revelation, (Premier)Russell 1977
Revenge of the Falcon (Premier), De Les Dernier 1982
The Rimers of Eldritch, Bengford 2000
Rosencrantz and Guildenstern Are Dead, Senteney 1978
Rumors, Drake 1997
Scapino, Drake 1983
Scapino, Drake 2020
The Servant of Two Masters, (early years)
The Servant of Two Masters, Fritsch 2001
The Seven Deadly Sins, Zsadanyi-Yale/Weisberg/De Les Dernier 1998
Shakespeare, Any Way you Like It, De les Dernier 1990
She Kills Monsters, Clay, De Les Dernier 2015
Social Network Me, Dale 2011
Suicide in B Flat, Weisberg 2005
Summer Romance, Uimari 1990
Suppressed Desires, Taylor 1991
Steambath (early years)
Sweet Charity, Zsadanyi-Yale 2013
A Tale of Two Cities (Premier) De Les Dernier 1992
A Tale of Two Cities, De Les Dernier 2006
The Taming of the Shrew, De Les Dernier 1995
Tartuffe, Drake 1985)
The Tavern, Smith 1977
The Tempest, De Les Dernier 1987
The Tempest, De Les Dernier 1995
Ten Little Indians, Drake 1979
Tevya and His Daughters, Hoover 1976
A Three Penny Christmas, De Les Dernier 1995
The Three Sisters, Drake 1983
Through the Looking Glass, Drake 1991
Time Flies, Weisberg, Zsadanyi-Yale, Fritsch, Moore 2003
Time Out for Ginger (early years)
Treasure Island, De Les Dernier 2009
Twelfth Night, De Les Dernier 1989
The Twilight Zone (Premier) De Les Dernier 2014
Two Orphans, Smith 1977
Ubu, The King (early years)
Uncommon Women and Others, Drake 1988
Under Milkwood, Drake 1989
The Uninvited, De Les Dernier 1991
Urinetown, Fischer 2016
A View from the Bridge, Lowry, Zsadanyi-Yale 2015
Visit to a Small Planet, Grijalva 2004
The Wedding, Nielson, 2004
West Side Story, De Les Dernier 1985
West Side Story, Bengford 1999
When You Comin' Back, Red Ryder? Oleniacz
Where the Weeds Grow High (Premier), Pickens 1990
Wild Oats, Senteney 1986
Wild Oats, Bengford 2002
Winner (Premier), Uimari 1990
The Wizard of Oz, Bengford 1998
You Can't Take it With You, Weisberg 2007
You Can't Take it With You, Payne 2014
Zoo Story, Bobby 2004
See All Theater Events