Due to power outages, the opening of The Birds is being moved to Sunday, March 19. There will be working runs for audiences on Friday, March 17 and Saturday, March 18.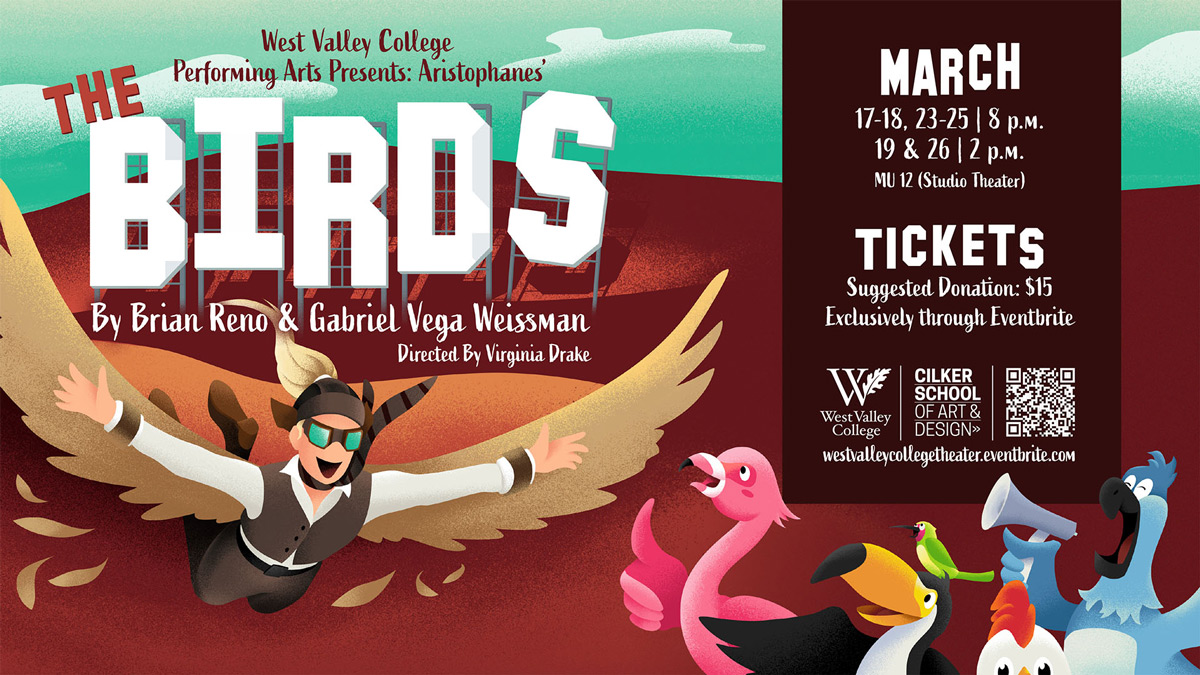 Classical Greek
Play by Aristophanes, adapted by Brian Reno, and Gabriel Vega Weissman
Directed by Virginia Drake
Dates: March 22, 23, 24, 25 at 8:00 PM and March 19 & 26 at 2:00 PM
Brian Reno and Gabriel Vega Weissman have added tons of current pop culture references and characters, wackily dusting off Artistophanes' ancient Greek comedy! They've turned our protagonists into two movie moguls who are fed up with Hollywood's shallow society. They want to transform Cloud Cuckooland into a great new city, but all they have to offer are the pieces of Hollywood civilization they've left behind. The Birds is a hilarious examination of this question — can humans go against their own desperate need for control, privilege and conspicuous consumption?
Take a gander… They've been living a peaceful life in a distant world for years. A few humans have deserted Earth to live with them. It's eggs-hilerating! A fleet of human interstellar ships arrives to take over. They think they toucan play this game! The Earth's collapse has forced them to invade. Firequackers! It's one wave of troops and equipment after another. The battle is on! Don't they know that's ill-eagle? There you have Avatar: the Way of Water, except it's exactly the plot of Aristophanes' THE BIRDS, written in 414 BC! Plots rarely change, nor do characters. Our stories simply adjust to the age and culture. Personally, I think this mighty band of actors and technicians are poultry-in-motion! It might be a bit of ostrich, but I'll take our version any day, and I bet you'll be raven too!