Destination: Graduation
What is the New Student Convocation?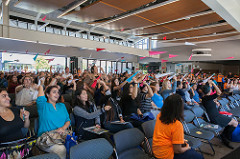 West Valley College is excited to usher in the new school year with our incoming class of students. As part of that tradition, we host our annual New Student Convocation. The word convocation literally means a "calling together," which means you will now become part of the WVC community. With over 500 students participating each year, this is one of the biggest and most exciting events on campus.
Beyond welcoming you to the community, we will also provide critical information about navigating college life, how to get involved and make the most of your time here, and strategies for being successful on and off campus. Convocation is a great way to connect on campus, but it does not replace the student orientation requirement offered throughout summer and fall.
Finally, our closing ceremony will include some great prizes, including: free parking passes for a year, gift cards to the book store, and a grand prize which will be unveiled at the ceremony.
Event Information
Date: Friday, August 16, 2019
Last Day to RSVP: Wednesday, August 7, 2019 at 5:00 PM
Check in: 8:00 AM
Program Start: 9:00 AM
Location: West Valley College Campus Center
Parking: Free parking in lot 5 during event

For more information please call: (408) 867-2200
Convocation Schedule
| Time | Activity |
| --- | --- |
| 8:00 AM – 8:30 AM | Doors open, check-in, breakfast, College Meet and Greet |
| 8:45 AM – 9:00 AM | Welcome and Traditional Processional |
| 9:00 AM – 9:15 AM | WVC President Charles Bullock – Address and Investiture |
| 9:15 AM – 10:00 AM | West Valley 101 |
| 10:00 AM – 10:40 AM | Student Panel – Q&A with current WVC students |
| 10:50 AM – 11:10 AM | Workshop 1 |
| 11:15 AM – 11:35 AM | Workshop 2 |
| 11:45 AM – 12:15 PM | Closing Ceremony |
| 12:30 PM – 2:00 PM | Campus Tours – Flag Pole |
| | Counseling Drop-In – Fox 106 |
| | Registration Support – Fox 105 |
| 12:30 PM – 2:30 PM | Assessment Testing – Fox 103 |
Workshop Schedule
Workshop 1 (10:50 AM – 11:10 AM)
| Workshop | Location | Facilitator |
| --- | --- | --- |
| Hey Is Not The Way | Club Room | Virginia Marquez |
| I Can Afford College | Fox 107 | Veronica DeGive |
| I Can Afford College | Fox 106 | Elizabeth Ochoa |
| Service Learning | Viking Lounge | Students |
| Team Building | Main Stage | Sean Pepin |
| Transfer Success | Baltic Room | Tom Golbetz |
| Transfer Success | Fox 120 | Melissa Salcido |
| Way to Success: Health and Safety | Fox 102 | Alfred Forrest |
| Way to Success: Health and Safety | Fox 101 | George Mageles |
Workshop 2 (11:15 AM – 11:35 AM)
| Workshop | Location | Facilitator |
| --- | --- | --- |
| Hey Is Not The Way | Club Room | Virginia Marquez |
| I Can Afford College | Fox 107 | Veronica DeGive |
| I Can Afford College | Fox 106 | Elizabeth Ochoa |
| Service Learning | Viking Lounge | Students |
| Team Building | Main Stage | Sean Pepin |
| Transfer Success | Baltic Room | Tom Golbetz |
| Transfer Success | Fox 120 | Melissa Salcido |
| Way to Success: Health and Safety | Fox 102 | Alfred Forrest |
| Way to Success: Health and Safety | Fox 101 | George Mageles |