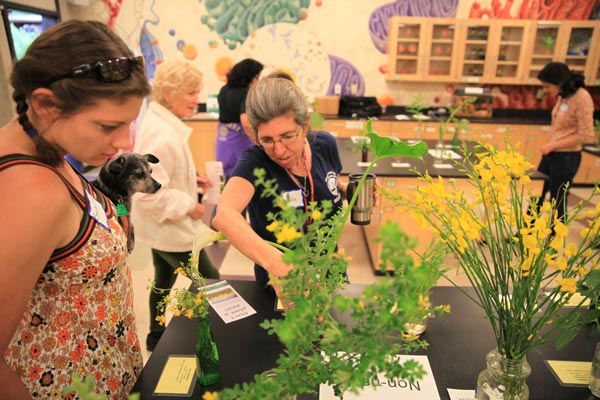 The Wildflower Show Returns on Saturday, April 22, 2023 from 10:00 AM – 4:00 PM
The California Native Plant Society will showcase the plant biodiversity of Santa Clara, San Mateo, and surrounding counties. The free event will feature a variety of native wildflowers and plant exhibits, lectures, workshops and tours. This year's show will feature a "Climate Change- What can I do?" theme. The lecture series and workshops will offer the opportunity to learn about Bioblitzes, Calflora, habitat gardening, rainwater harvesting, wildflower arrangements, macrophotography, and more. Expert botanists, gardeners, biologists, and students will be on site to interact with the public and answer questions. A selection of native plants, native plant art, books, jewelry and other related goods will be available for purchase.
The keynote speaker this year is Mary Ellen Hannibal, Bay Area author of Citizen Scientist: Searching for Heroes and Hope in an age of Extinction. Her talk "Big, Little World" of Citizen Science will combine deep personal notes with simple explanations for what you can do to make a difference.
The event will also showcase two Bioblitzes – community events designed to engage the public in citizen science by documenting biodiversity. Participants will have the opportunity to discover the surprising plants and animals that make West Valley College campus their home! Join Dr. Merav Vonshak, founder of BioBlitz.club, and Michael Hawk of Jumpstart Nature for a short BioBlitz where you will learn how to make nature observations with your phone or camera and how to use iNaturalist to track, identify, and learn more about what you saw - all while contributing to community science! A Sudden Oak Death (SOD) Blitz Station will also be available for people who would like to participate in the 2023 SOD Blitz.
Participants will also be able to take tours of the Vasona Creek Restoration Project and the new Biology department Moon Garden. The Vasona Creek tour will showcase the native plants and landscapes and the restoration project of Vasona Creek, which runs through the middle of campus. Learn how the riparian corridor of the creek is being restored with native, drought tolerant plants and innovative storm water management techniques. The WVC Biology Department, co-host of the event, will lead a tour of the Moon Garden, showcasing gardening with native plants with a focus on nocturnal ecology and dark sky design.
Music at the event will be provided by Against the Grain and the West Valley Jazz Ensemble.
The West Valley College campus is located at 14000 Fruitvale Avenue in Saratoga. The show will be located in the Biology wing of the Science and Math buildings, which parallels Allendale Avenue. Free parking in lots 2 and 3 during the event. See campus map. The event and parking are free to the public.
Lecture Schedule
| Event | Time | Presenter |
| --- | --- | --- |
| Sudden Oak Death (SOD) BioBlitz Kickoff | 10:30 AM – 11:15 AM | Matteo Garbelotto and Doug Schmidt |
| Discover, Identify, Connect: Technology Tools for Community Science | 11:30 AM – 12:15 PM | Michael Hawk (Nature's Archive podcast and Jumpstart Nature) and Dr. Merav Vonshak (BioBlitz Club) |
| Rainwater Harvest and Grey Water: Rain barrels, Swales, Grey Water and more | 12:30 PM – 1:15 PM | Alan Hackler, Bay Maples Wild California Gardens |
| The "Big, Little World" of Citizen Science | 1:30 PM – 2:15 PM | Mary Ellen Hannibal, author of Citizen Scientist: Searching for Heroes and Hope in an Age of Extinction. |
| Butterflies and Moths, What Can I do? Building habitat in your garden. | 2:30 PM – 3:15 PM | Susan Karsoff, Outreach chair Yerba Buena CNPS |
Tours and Demonstrations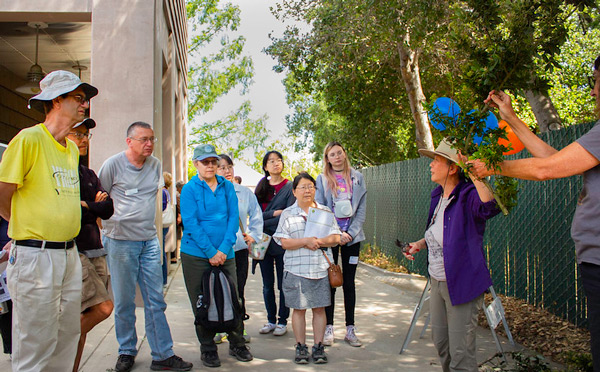 Tours on Saturday, April 22 meet between the Greenhouse and Vasona Creek.
| Event | Time |
| --- | --- |
| Wildflower arrangement with Madeline Morrow | 10:00 AM – 11:00 AM |
| Pruning demonstration with Patricia Evans | 11:00 AM – 12:00 PM |
| Moon Garden tour with Leticia Gallardo and Molly Schrey | 12:00 PM – 1:00 PM |
| Vasona Creek tour with Scott Ludwig | 1:00 PM – 2:00 PM |
| Macrophotography with Steve Rosenthal | 1:00 PM – 2:00 PM |
| BioBlitz with Dr. Merav Vonshak and Michael Haw | 2:30 PM – 4:00 PM |
Music Schedule
| Event | Time |
| --- | --- |
| Against the Grain | 10:30 AM – 12:30 PM |
| West Valley Jazz Ensemble | 1:00 PM – 2:00 PM |