Wildflower Show – April 2019
West Valley College will host the Santa Clara Valley Chapter of the California Native Plant Society's (CNPS) 45th Wildflower Show on Saturday, April 27 from 9:30 AM to 4:30 PM. The CNPS will showcase the plant biodiversity of Santa Clara, San Mateo, and surrounding counties. The free event will feature a variety of native wildflowers and plants, lectures, workshops and tours. This year's show will feature a "Citizen Science" theme. Expert botanists, gardeners, biologists, and students will be on site to interact with the public and answer questions.
Dr. Matteo Garbelotto from UC Berkeley, will provide the opening lecture and training to kick-off the Saratoga Sudden Oak Death Blitz at 10:30 AM. Ken-ichi Ueda Co-director of iNaturalist.org from the California Academy of Sciences will present iNaturalist from a botanical perspective at 11:45 AM. Wildlife artist and naturalist Marley Alexander Peifer will present Wildflowers and Nature Journaling: A Match Made in Heaven at 1:00 PM. Workshops will cover macrophotography with cell phones, and pruning demontrations. Hundreds of native plants and wildflowers will be on display along with descriptions of where to find them locally. Local native plant nurseries and artisan vendors will be on site.
Tours of the West Valley College campus will showcase the native plants and landscapes and the restoration project of Vasona Creek, which runs through the middle of campus. Learn how the riparian corridor of the creek is being restored with native, drought tolerant plants and innovative storm water management techniques. The WVC Biology Department, co-host of the event, will give tours of the department, showcasing artist Debbie Bakker's intricate instructional murals, current research and outreach projects, and the site of the ongoing Science Garden installation.
The West Valley College campus is located at 14000 Fruitvale Avenue in Saratoga. The show will be located in the Biology wing of the Science and Math buildings, which parallels Allendale Avenue. Free parking in Lots 1, 2 and 3 during the event. See campus map.
Photo Credit: Debbie Bakker Art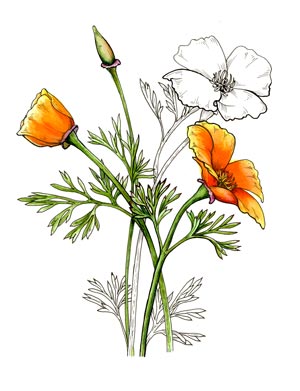 Events
Wildflower Displays
Workshops
Native Garden Tours
Lectures
Plant Sale
Gift Shop
Children's Activities
Lecture Schedule
All lectures will take place on Saturday, April 27 in SM 36.
| Time | Lecture | Presenters |
| --- | --- | --- |
| 10:30 AM – 11:30 AM | Saratoga Sudden Oak Death Blitz | Dr. Matteo Garbelotto, Department of Environmental Science, Policy, and Management at UC Berkeley |
| 11:45 AM – 12:45 PM | iNaturalist from a Botanical Perspective | Ken-ichi Ueda, Co-director of iNaturalist.org at California Academy of Sciences |
| 1:00 PM – 2:30 PM | Wildflowers and Nature Journaling: A Match Made in Heaven | Marley Alexander Peifer |
| 2:30 PM – 3:30 PM | Restoring Nature's Relationships Video Screening | Doug Tallamy, Department of Agriculture and Natural Resources at University of Delaware |
Music
Photo Gallery
Tours and Demonstrations
Tours on Saturday, April 28 meet between the Greenhouse and Vasona Creek.
| Time | Tour | Host |
| --- | --- | --- |
| 10:00 AM - 11:00 AM | Macrophotography with Cell Phones | Atul Chaudhari |
| 11:00 AM and 2:00 PM | Pruning Demonstration | Dee Himes |
| 12:00 PM – 1:00 PM | Instructional Mural Tour | Debbie Bakker |
| 1:00 PM – 2:00 PM | Vasona Creek Restoration Tour | Scott Ludwig |
Vendors
CNPS Books & Posters
CNPS SCV Nursery
Coyote Brush Studios – temporary tattoos, stickers, notecards and more
Debbie Bakker – notecards
Emily Chin – pressed flower notecards and pictures
Grassroots Ecology – plants
Larry Voss – plants
Norma Jean Bodey
Impressed by Nature- jewelry
West Valley Biology Club- canvas bags and refreshments