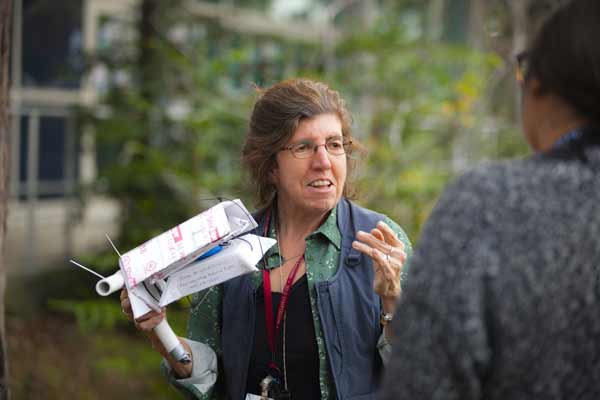 By Margarita Kompelmakher
Plant Biologist and West Valley Instructor, Dr. Michelle Geary, is working with a team of West Valley students and alumni to model conditions that could help coast redwoods and other plant species survive environmental stress wrought by climate change.
Dr. Geary reports that one of the research sites was damaged by the ongoing wildfires. The silver lining is this has created a new and possibly beneficial research opportunity. We will provide a more detailed update soon.
Preserving California's redwoods is not just an aesthetic issue. "The amount of carbon stored in redwood forests is huge. Coastal redwoods are part of our fight against climate change," says Dr. Michelle Geary, head of a research project at West Valley that is trying to predict what will happen to different redwood populations as conditions in California get hotter and drier, and fog patterns change.
Dr. Geary's team is building a model that may help scientists figure out how to take care of species whose ranges are rapidly changing as temperatures rise. "What do we do when the climate changes faster than species can move?" asks Geary, who presented the team's research at the California Native Plant Society Conservation Conference in Los Angeles last year. "This is a giant question."
The team's preliminary data is showing that redwood seedlings, or young plants, are no longer surviving in the same places as their parents. They are collecting data in several sites across California—including Big Sur, the Santa Cruz Mountains up into the Peninsula, and Sonoma County—using scientific field tools such as portable photosynthesis measuring devices and temperature and humidity data-loggers.
"We just added the Sonoma site, after the fires," says Geary, who was a recipient of a prestigious National Science Foundation PhD fellowship and completed doctoral studies in plant photosynthetic stress at UC Davis. "The fires were an incredibly tragic event, but it's giving us a scientific chance to watch seedlings in recovery and understand some things that might help us prepare for the future."
Dr. Geary's team consists of 10 students and alumni, including West Valley alumna Jennifer Mo, with whom Geary started the redwoods project in 2014 and who recently earned an M.S. in Biology for her work on circadian rhythms in coast redwoods at San Francisco State University. "It's not a typical classroom where students follow instructions and already have the results," Geary points out. "They are learning new things, and I'm learning too!" The project is an opportunity for students to discover the struggles and rewards that come with doing science out in the field.
One example of how Dr. Geary's experimental methods are encouraging innovative problem-solving: a new member of the team, who is both a programmer and a new biology major, is writing a computer program that will allow the team to sort through their large amounts of data faster. Other team members specialize in different parts of the project—canopy analysis, germination/reproduction analysis, mapping, or spearheading work at a particular site. Students on the WVC Redwood team will be presenting their research during the 2019 Earth Stewardship Symposium at West Valley on April 18-19.
In addition to the coastal redwood project, Geary is working on a second project comparing the way that Arabidopsis plants, a model plant organism, in both mutant and "wildtype" normative forms adapt to geographical variations, such as cold weather. While still in its early phases, she believes this research initiative could help develop resistant crops that can weather changes in temperature and allow us to expand year-round agriculture in California.
Both the Coast Redwoods and Arabidopsis projects address the pressing issue of climate change. "When you look at the data and you look at the implications of the data - it's terrifying," says Geary, who echoes many scientists who believe that anthropogenic climate change constitutes the "greatest threat" to the human species.
"If we want to preserve a beautiful world for our children and grandchildren, we need to be figuring out how to do that," says Geary. "This is part of making sure our grandkids have redwoods to go to around here."
Those interested in learning more about plant genetics and ecology can take Dr. Geary's popular courses "Environmental Biology" or "Principles of Plant Biology," which include field research trips during the semester to sites such as Montebello Preserve and Marina State Beach. For inquiries about participating in these research projects, or information about presenting at the Earth Stewardship Symposium, please contact Dr. Michelle Geary directly.
Updated: August 28, 2020 (Originally published September 2019)