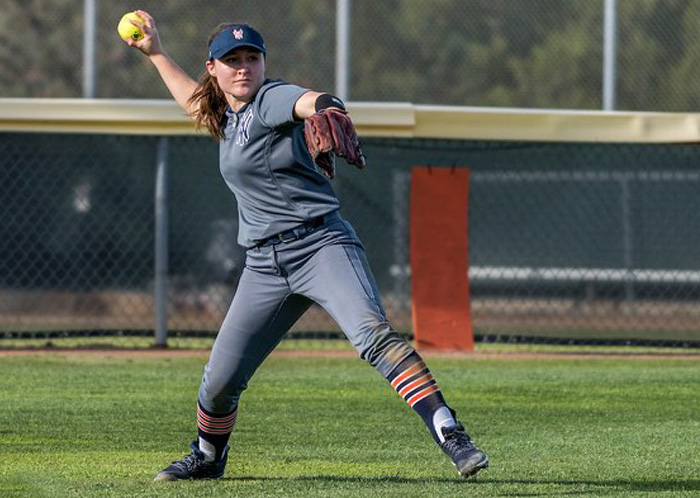 By Margarita Kompelmakher
Angels in the Outfield? Valedictorian and former outfielder on the WVC softball team, Janelle McAfee, gives us another reason to believe in the athletic program at West Valley College.

Earlier this month, West Valley alum Janelle McAfee got some incredible news. She was named the 2018 Female Scholar-Athlete of the Year by the California Community College Athletic Association (CCCAA)—the highest honor awarded to scholar-athletes among 24,000 annual participants across the state of California.
"I honestly didn't think that West Valley could offer me anything more than it already has," says McAfee, who was nominated for the award in October by President Davis and the Athletics Department at West Valley. "It still hasn't sunk in."
According to the CCCAA, the Scholar-Athlete award recognizes two athletes, one female and one male, that have "excelled academically, athletically, and in citizenship, and represent the positive outcomes of dedication, hard-work, and service."
McAfee, a recent graduate, was a starting outfielder on the WVC softball team from 2016-2018. She was also the 2018 William H. Cilker Valedictorian, earning a perfect 4.0 GPA majoring in economics and business administration.
A Bay Area native, McAfee chose to stay home and attend West Valley instead of directly heading to a four-year college, in part to play softball under Coach Vicky Piatt—an Olympian and former professional player on the Chicago Bandits.
"I really wanted to play for Coach Piatt. I had taken lessons from her and knew how amazing the experience would be," says McAfee. "But little did I know just how amazing it would be."
Initially, McAfee did not know what skill level she would face on the community college circuit. "It was definitely a shock when we played D1, D2 and D3 teams in the off-season and we beat a few of them. We were freshman and sophomore players and we were able to beat four-year teams with plenty of juniors and seniors." West Valley softball has been a Northern California fixture for decades, with state titles in 1990 and 2002, and finished the 2018 season with an 18-18 record and a berth in the CCCAA playoffs.
Playing softball at West Valley had advantages over many four-year programs. "We had more practices than any of the other division levels because we didn't have as many restrictions on when our coaches could work with us in the fall," says McAfee, a left-handed player known for 'slap hitting' the ball by starting to move toward the pitcher before hitting and taking off for first base.
"As a result we had a similar program, if not a more rigorous program, than a lot of university schools for softball," adds McAfee.

Lessons from the Outfield
Athletics pushed McAfee to excel in the classroom. "Being a varsity athlete really forces you to plan out your life and use free time wisely," says McAfee, who proactively booked time for schoolwork and learned to ask for help from other students and faculty to make sure she stayed on track academically.
"I had an amazing classroom experience at West Valley and the material I was learning was equivalent to what I am learning now," says McAfee, who is currently studying marketing at the Olin School of Business at Washington University in St. Louis. "Dr. Liu, my economics professor at West Valley, taught the class as if we were at an Ivy League school, and he really encouraged me to apply for schools that felt out of my reach."
McAfee was recognized by her coaches and teachers for her strong work ethic and ability to lead by example. "It is not often that a head coach can say, and truly mean, that an athlete has taught them something. But that is exactly what Janelle has done," says Coach Piatt. "She came to this program and taught us all about what it means to have a commitment to excellence."
In return, McAfee offers credit for her success to the network of support extended to her at West Valley, particularly from the four coaches on the softball team. "The program cared about me as a person, not just my statistics."
Each of the coaches, says McAfee, helped her and her teammates achieve their goals in different ways. "Head Coach Piatt is a bundle of joy and positivity. She believes in each one of us individually more than we could ever believe in ourselves," says McAfee. "The outfield coach, Jake McKenzie, is laid back and we loved hanging out with him. The pitching coach, Stacy Benzing, helped us understand the statistics and strategy of the game."
"I [also] really bonded with the new assistant coach, Coach Vinchenza DiBenedetto. She was immediately honest with us and talked about the mental side of the game and the fact that females are more likely to have self-doubt," says McAfee. "She told us: I want you to fail in practice. It means you're trying harder than what you're comfortable with."
Learning to work through creeping doubts and setbacks became part of the team spirit for McAfee and her teammates.
She recalls a moment at West Valley when she and her outfield friends were telling stories about one of their games—a 'come from behind' win in the last inning. "One of my teammates said that she was so glad that she had come through with the winning hit because she felt like she had let the team down with a horrible error three innings prior," says McAfee. "And another player immediately said: I don't remember you making an error. I just remember you coming through with that big hit!"
"It's important to realize that when you do fail, people don't recognize it. They don't track it," mentions McAfee. "And that really helps you get through the inevitable failures to get you where you want to go."
McAfee is now spreading her wings at Washington University on a half academic scholarship. "I got into Berkeley (Haas) and WashU (Olin) and it came down to the fact that I wanted to challenge myself and go somewhere different," she says. Encouraged by her experience at West Valley, she is enjoying living away from home and outside of California for a few years. "I want to see more of America!"

Matt Folsom, Sports Information Director at West Valley College, also contributed to this article.
March 1, 2019