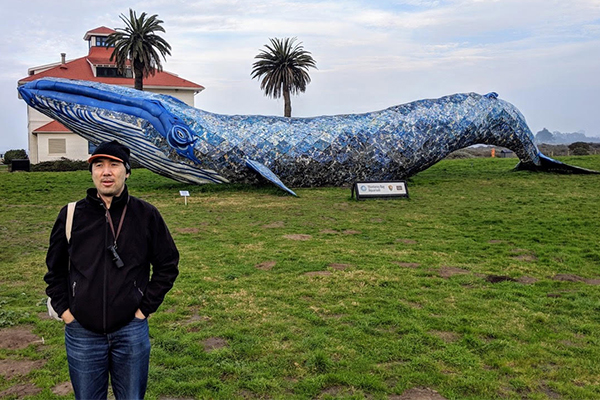 By Debbie Sy and Margarita Kompelmakher
From solar panels and refillable dry erase pens to a centralized trash system, Dr. Brad Chin and members of the WVC Sustainability Committee reflect on committee projects over the past ten years and share what's on the horizon.
Most people on campus may not give more than a few seconds of thought about sustainability each week, but the members of the sustainability committee on campus do.
The WVC Sustainability Committee's mission is to educate and inspire the West Valley College community to embrace and implement sustainable practices across campus. "Things don't have to be the way they always have been. We can change. We can grow," says Dr. Brad Chin, a member of the WVC Math Department and current co-chair of the committee.
"When the committee started in 2009, [WVC Interior Design Instructor] Anna Harrison and her LEED [Leadership in Energy and Environmental Design] certification students were the core," explains Brenda Rogers, founding chair of the committee and current Executive Assistant to the Chancellor. Their first project was to install solar panels in parking lots 4 & 5.
"The committee also advocated for all new and renovated buildings on campus be at minimum LEED Silver Certified," says Rogers. Today, "all the new and renovated buildings on campus are LEED silver rated, with the exception of the Fox Building, which was built prior to our efforts to attain LEED ratings for all our campus buildings."
LEED certification is a rating system for design and construction that certifies buildings have met sustainability standards in areas such as energy use, air quality, and sustainable products, as well as recycled materials in construction.
Another committee project was to reduce plastic waste on campus by using refillable whiteboard or dry erase pens. "The [WVC] Sustainability Committee introduced the refillable pens to the Science and Math Division several years before they were introduced to the campus in October 2018. The recycling program for the single-use dry erase pens began in October 2018," informs Chin.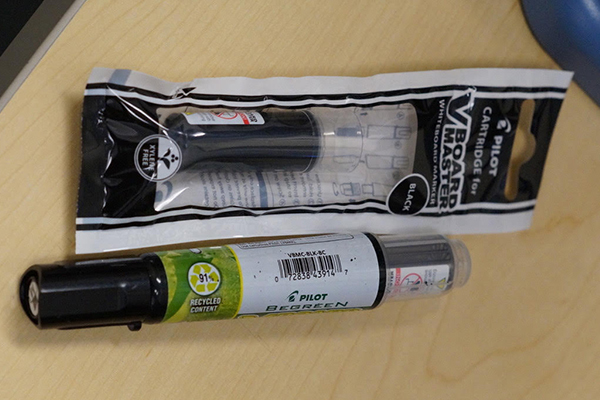 Currently, the WVC Sustainability Committee is working on a project to tackle trash and recycling waste. "To reduce plastic waste in the newer buildings, we'd like to eliminate personal trash cans because their bags get disposed if there is any garbage inside. One fix to reducing this waste is to have a large centralized common trash [can] in each building instead of separate trash cans in each office," advocates Chin. "Hopefully, this will become a districtwide practice."
Chin is excited about the role that students are playing in sustainability efforts on campus. In December 2018, a group of students approached the committee about limiting the sale of bottled water on campus. "We are still coming up with ideas of how to encourage people to use refillable water bottles and filling stations on campus," says Chin.
This spring semester, the committee is beta testing an interdisciplinary initiative that will bring the WVC Biology, Engineering, and Business Department students together. Business Instructor and Director of the Entrepreneurship Center Manny Cappello, Biology Instructor Dr. Michelle Geary, and Engineering Instructor Katherine Walker will merge their term projects to create a final project.
"The goal is to get people with sustainable ideas connected to people who are learning to implement the ideas, an exercise in venture capitalism," mentions Chin.
"The project (tentatively titled People-Planet-Profits) is a collaboration between business, engineering, and biology students, under the guidance of one instructor from each of these programs," mentions Dr. Michelle Geary. "Students will be introduced to the basic principles of a design field called biomimicry and will design a sustainability-focused product or service to be presented near the end of the semester."
The WVC Sustainability Committee also hosts the annual Earth Stewardship Symposium, a two day event that brings guest speakers to campus to discuss sustainability. The theme for this year's symposium will be "Making the Invisible Visible" and confirmed presenters include Kristin Ohlson, author of The Soil Will Save Us: How Scientists, Farmers and Foodies Are Healing the Soil to Save the Planet, Carl Guardino, President & CEO of the Silicon Valley Leadership Group and Susan Middleton, visual artist and author of Spineless: Portraits of Marine Invertebrates, the Backbone of Life.
The 6th Earth Stewardship Symposium at West Valley will be held on April 18-19 in the Campus Center.
Dr. Chin, an instructor of mathematics at West Valley, did not know much about the science behind maintaining sustainable environments until he became interested in the Vasona Creek restoration project through the WVC Sustainability Committee. Environmental sustainability became a passion that he continues to develop through active participation in the committee. "I find the work to be very fulfilling and rewarding," says Chin. "The inspiration and encouragement from members and friends of the committee motivate me."
Students, faculty, staff, and the community are welcome to join the WVC Sustainability Committee. Committee meetings are generally the second and fourth Fridays of the month from 12:30 – 2:00 PM in the Global Citizenship Center in the Campus Center.
March 4, 2019