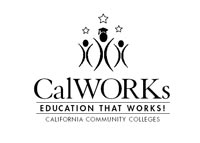 Are you a parent with children under the age of 18 receiving public assistance? In partnership with Santa County Social Services Agency, West Valley College can help you toward self-sufficiency with education and training.
Through the California Work Opportunity and Responsibility to Kids Program (CalWORKs) at West Valley, you can earn a vocational certificate or degree or simply take classes toward an employment goal while balancing work, family, and school obligations. With West Valley's support, you will have access to the resources you need to be successful in school so you can support yourself and your family.
If you are receiving public assistance and are enrolled, or are planning to enroll, at West Valley College, then you may be eligible. West Valley College does not determine your eligibility. Instead, that is handled by your Santa Clara County Social Services Agency caseworker, who will send a referral to our CalWORKS office.
Santa Clara County Social Services Agency Application Options
By Phone: 1-877-962-3633
In-Person at the following locations:
Assistance Application Center
1867 Senter Road
San Jose, CA 95112
General Assistance Services
1919 Senter Road
San Jose, CA 95112
North County
1330 W. Middlefield Road
Mountain View, CA 94043
Medi-Cal Benefits Assistance
650 South Bascom, Suite A
San Jose, CA 95128
South County
379 Tomkins Court
Gilroy, CA 95020
Online at MyBenefits CalWIN
Download the mobile app: My Benefits CalWIN
Once you have received a CalWORKs referral, make an appointment with the CalWORKs coordinator Marta Mora-Evans at marta.mora-evansFREEWEST_VALLEY. Together, you will develop a plan that addresses both short-term and long-term educational and employment goals to determine which services West Valley can provide to help you meet those needs. Throughout your time at West Valley, you will have our CalWORKs coordinator/academic counselor provide encouragement and guidance.
Academic and career counseling
Support group and workshops
Assistance with financial aid applications and priority registration
Basic skills assessment/multiple measures
Tutoring assistance and peer advising
Free, convenient child care on campus or near your home
Funds for books and supplies
Bus passes or gas money
Referrals to community resources
Career coaching, resumes, interview and job search strategies
Work-study opportunities
Food resources to stretch your budget
Frequently Asked Questions