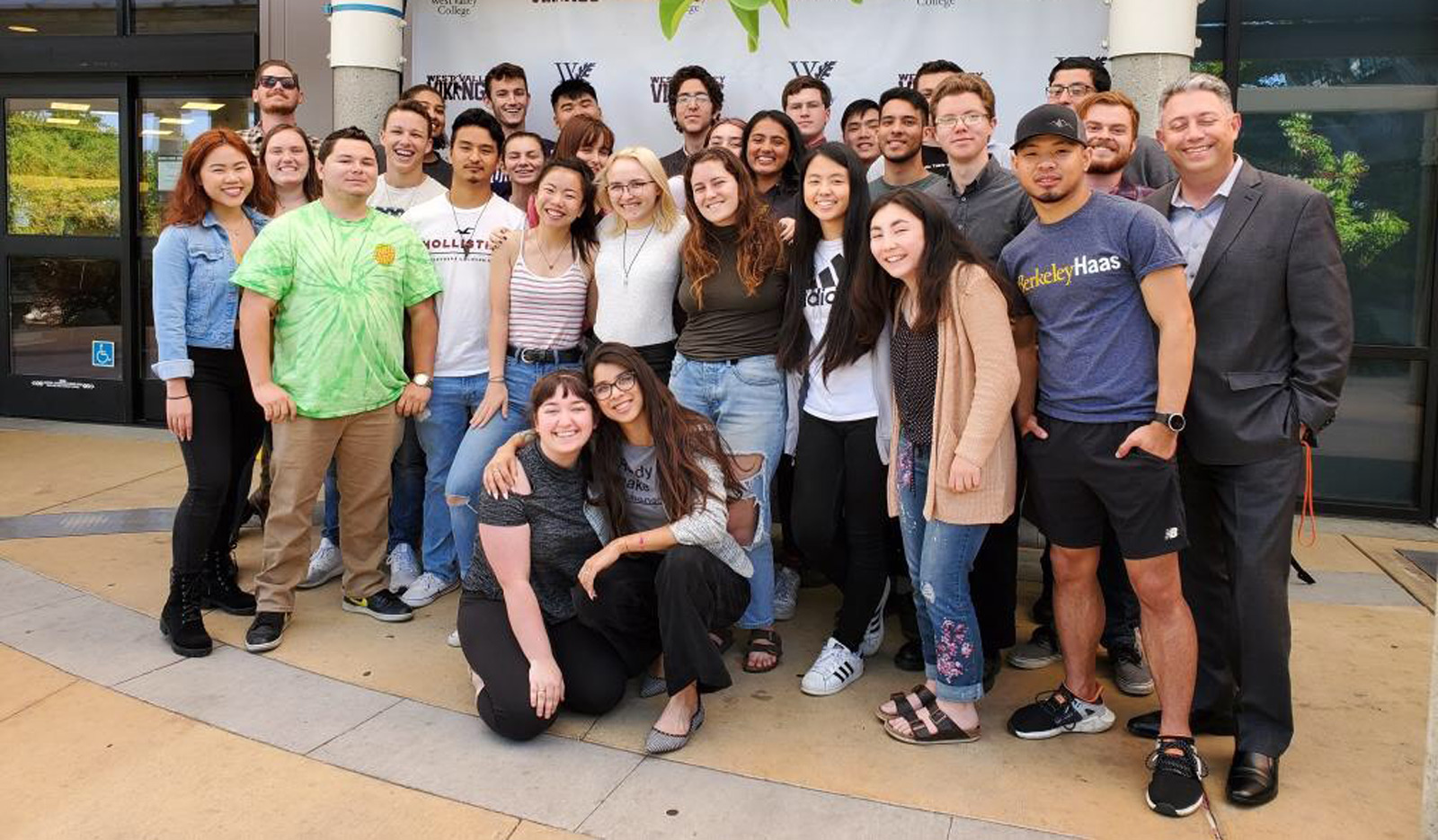 Mission Statement
To foster an engaging and vibrant campus community.
Vision Statement
To strive for a culture of student engagement, deeply tied to the educational mission of the college.
To provide exceptional programs and services, which are informed by research and continuously improved through data informed decision making.
To drive connection among students, faculty, and staff through our spaces and programs.
Values
Student-Centered: We place student growth and development at the center of everything we do.
Connection-Centered: We are a team dedicated to helping people and building lasting communities.
Passion-Centered: We exemplify passion, dedication, fun, and problem solving in our work.
Diversity-Centered: We believe authentic engagement of diverse communities enriches our work and promotes social justice.
The Campus Center is the social, educational, and recreational hub at West Valley College. The Campus Center is the "living room" of campus, where students, faculty, and staff come together and build community. The Campus Center houses several engagement programs, including: Associated Students at West Valley College, the Campus Activities Board, the Information Desk, Student Development Office, Veterans Resource Center, and TRiO. Additionally, you can find Drip Coffee, WM Cafe, and Viking Bookstore in the Campus Center.
Clubs
Active Minds Club
ActiveMinds is a mental health club at West Valley whose passion is to spread mental health awareness, create friendships and give back to the community. We do this by holding meetings on campus that serves as a support group for those who need it and for a way to share information about mental health. We also work with other organizations on campus to host events to educate the West Valley community about mental health.
Meetings
Mondays at 1:00 PM
President
Sienne Moore
Advisors
George Mageles
Karen Wallace
Agrihood Design Club
Meeting Dates
Contact Information
Alpha Gamma Sigma (AGS)
We operate under the influence of the state organization, Alpha Gamma Sigma, to uphold their ideals. We promote scholarship and academic success as well as community involvement and leadership. Those who meet our expectations receive notation on their transcripts for their success and some who apply receive scholarships for their excellence.
Meetings
Wednesday at 3:30 PM in Fox 107
President
Tallan Haghi
Advisors
Tina Golaw
Andrew Kindon
Faun Maddux
Astronomy Club
Are you interested in space? GOOD, So are we! We meet twice a month to discuss the intricacy of limitless space and everything within, as well as keeping up with current discoveries and events! Come to us if you're interested in space or just want a place to hang out. Hope to see you there
Meetings
Mondays at 12:10 PM
President
Rakan Kandah
Advisor
Rachel Mastrapa
Best Buddies
A global volunteer movement that creates opportunities for one-to-one friendships, integrated employment and leadership development for people with intellectual and developmental disabilities (IDD).
Meeting Dates
Contact Information
Meetings
Mondays at 12:30 PM in the Campus Center Baltic Center
President
Alexa Purtee
Advisor
Georges Mageles
Black Student Union
The Black Student Union (BSU) sponsors cultural and social activities that serve the entire West Valley College community. Through these events, We promote an inclusive campus, community involvement, and provide cultural education for all West Valley students by engaging in open and honest discussions on topics of race, culture and ethnicity, in order to decrease barriers of prejudice and stereotypes. To accomplish this goal, BSU collaborates with other student organizations in order to increase social interaction with diverse groups on campus.
The Black Student Union welcomes participation and comments from all interested students and organizations. Our work is in effort to bring cultural awareness to the West Valley College and the surrounding communities. We work to provide a safe space socially, mentally, and spiritually for students of color.
Meetings
Wednesdays at 3:20 PM in the Global Club Room
President
Alexis Bynum
Advisor
Philip Severe
Christians on Campus
We are a group of believers at West Valley College who love the Lord Jesus Christ and desire to get into His Word. We stand absolutely for the faith that is common to all Christians. We warmly receive all believers in Christ as our brothers and sisters in the Lord. We invite you to come fellowship with us!
Meetings
Mondays at 12:15 PM in the Campus Center Global Citizenship Center
President
Khalil Simmons
Advisor
Sam Liu
Club for United Learning by Trial and Upbuilding cReative Environment (CULTURE)
This club strives to bring together people of various artistic backgrounds with the goal of contemplating, brainstorming, creating and publishing projects we come up with together. This club is meant to be a place where filmmakers, storytellers, animators, musicians, and art enthusiasts can come together to create something great; Be it a short film or be it lasting bonds.
Meetings
Thursdays at 4:00 PM in the Club Room
President
Jake Bilchinsky
Advisor
William Clay
Communication Club
The Communication Club is an open community for students of all backgrounds to participate in creative communication. We help connect individuals and their communication abilities in a group setting. Our members participate in a supportive community where they develop skills, make connections, and demonstrate commitment. We discuss the communication industry, publish information about jobs opportunities, connect with community members and industry experts, provide a forum for practice and rehearsal, and create a peer network for skill building and assistance. Our events and fundraisers help support the club and benefit the community. Members enjoy access to guest speakers, rehearsal space, skill building opportunities, and more!
Meetings
Wednesdays at 2:05 PM in LA/SS 34
President
Samuel Clopp
Advisors
Michelle Zajac
Meg Farrell
Community Activists Club
This organization is going to be about working on finding ways to get involved in the community and trying to bring about positive changes in people's lives.
Meetings
Tuesdays at 2:30 PM in the Campus Center
President
Yanos Ewunnet
Advisor
Phillip Severe
Computer Science Society
The CSS is a social computer science club devoted to supporting and educating the computer science student body of West Valley College.
Meetings
Mondays at 3:00 PM in North Walk Portable 3
President
Carter Welke
Advisors
Takyiu Liu
Howard Miller
Dance Theater at West Valley
Dance Theater @ West Valley gives members the opportunity to create and perform works of art. WVDT helps people experience new forms of expression and share them with the broader community.
Meetings
Fridays at 1:00 PM in the Theater
President
Selina Chih
Advisor
Paul McNamara
Economics/Finance Club
This club is designed to develop the analysis skills of the ambitious students planning to transfer to prestigious universities for economics and business administration majors. There will be discussions on pertinent subjects such as stocks, bonds, mutual funds, successful businesses, etc.
Meetings
Tuesdays at 3:00 PM
President
Anthony Gray
Advisor
Sam Liu
Entrepreneur Club
Our club consists of skill building workshops, millionaire and even billionaire entrepreneurial guest speakers who have succeeded in their respective realms, and competitions in which students have won $1000 grand prizes and more.
The Entrepreneurship Club is meant for all walks of life. This is not just a business club, as entrepreneurship is applied in all fields, majors, and careers. So no matter your major or career goals, come on by!
Meetings
Tuesdays at 2:00 PM in the Entrepreneurship Center (Che 126)
President
Shantik Azima-Taylor
Advisor
Manny Cappello
Interior Design Club
The West Valley College Interior Design Club (WVCIDC) is the liaison between student life and the professional world. And while specific events change each semester, the overall purpose is consistent—to provide students with educational and networking events, tours, design competitions, and ASID, IIDA, and NKBA sponsored events.
Meetings
Thursdays at 6:30 PM in the Cilker Design Resource Center
President
Lisanne Huber
Advisors
Diane Hurd
Muslim Students Association Club
MSA is meant to welcome those interested in Islam and those who want to be engaged within the Muslim community.
Meetings
Mondays ay 3:30 PM in Kirkorian Pavilion
President
Rania Belamesh
Advisor
Fatima Kamil
Phi Beta Lambda
FBLA-PBL inspires and prepares students to become community-minded business leaders in a global society through relevant career preparation and leadership experiences.
FBLA-PBL's programs focus on:
Leadership Development—members develop essential soft skills by holding chapter officer positions at the local, state, and national levels; by networking with accomplished business professionals; and by participating in business-focused workshops, seminars, and academic competitions.
Academic Competitions—members demonstrate their business expertise at high-profile regional, state, and national competitive events. The top students are recognized with trophies and cash awards.
Educational Programs—members create career portfolios, enhance their knowledge with world-recognized skills certifications, and have access to select college scholarships.
Membership Benefits—members receive exclusive discounts and enhanced benefits for travel, education, and more. Learn about the benefits available to FBLA, PBL, and FBLA-Middle Level members.
Community Service—members work with the March of Dimes to help end premature births by participating in awareness campaigns and the March for Babies fundraiser.
Awards & Recognition—members build a portfolio of accomplishments with a wide range of awards programs.
Meetings
Tuesdays and Thursdays at 4:00 PM
President
Seung Ho Rim
Advisor
Lance Shoemaker
Pride Project
Pride at West Valley is a discussion-based club for LGBTQ+ students on campus and their allies. During meetings we will discuss the various intersections of the LGBTQ+ community and how each of us interacts with our own identities.
Our main goal is to provide a safe space for LGBTQ+ students to share and connect with one another, and to raise awareness across campus of LGBT issues.
Meetings
Tuesdays at 1:00 PM in LA/SS 20
President
Brynna Crumley
Advisors
Jolie Chevalier
Roller Hockey Team Club
Meetings
Thursdays at 3:00 PM
President
Zachary Shukait
Advisor
Andrew Kindon
Saltworks WVC
We are a Christian club that meets on campus Wednesdays from 12:30-1:30pm in the Club Room. If you have questions about who God is and how He relates to you then come check us out. We are all about loving others because He first loved us, and we would love to answer any questions you might have.
Meetings
Wednesdays at 12:30 PM in the Global Citizenship Room
President
Kristina Epps
Advisors
Chris Cryer
Dave Johnson
S.T.E.M. Club (Science and Math)
Our club is for students who are interested in exploring topics related to science, technology, engineering, and mathematics. We truly believe that all academic disciplines are interconnected and we invite students of all backgrounds and academic levels to join. It is our mission to provide a supportive, enriching environment where students can meet, collaborate, and explore their interests. We also hope to provide an environment where students can experience personal development as they practice working within teams to reach shared project goals.
Meetings
Fridays at 4:00 PM in North Walk Portable 4
President
Muhammad Anas
Advisors
Doug Epperson
Saied Rafati
Stock and Finance Club
We will talk about savings, investments, budgeting, stocks, finance, retirement funds, apps, etc
Meetings
Thursdays at 2:00 PM in Fox 201
President
Ali Taleghani
Advisor
Sam Liu
Students Supporting Israel Club
SSI's mission is to create and promote a respectful dialogue on campus regarding the state of Israel. As part of our programming on campus, we will provide information by tabling and holding events about Israel's culture, social activism, humanitarian aid, history, Jewish heritage, art, music, human rights, and politics through a variety of programs that would include speakers, presentations, art and history exhibits, and roundtable discussions.
Our club will work to reach out to various clubs on campus and faculty in order to collaborate and bring different programs. Our purpose is simply to bring a respectful dialogue to campus and engage in conversation on various topics.
Meetings
Wednesdays
President
Jake Bilchinsky
Advisor
Tina Keller
Surf Club
Wanna partake in "shredding the gnar", maybe riding the wall? Join the surf club for a fun social experience. Meeting in Santa Cruz for Surf sessions throughout the semester.
Meetings
Fridays
President
Jacob Bryan
Advisor
Blaine Harrison
Tabletop Club
Tabletop Club strives to bring board games such as Dnd and Pathfinder to West Valley Campus. We welcome all types of tabletop games whether they be monopoly, or something as complicated as Dead of Winter. We accept all board games from all walks of life.
Meetings
Tuesdays at 3:45 PM in the Kirkorian Pavilion
President
Danyyil Kamyshenko
Advisor
Daniel Colon
Tiny House Design Build Group
This club is providing the student with the opportunity to explore topics such as sustainability and minimalistic living. We will collaborate as a club to design and build a Tiny House that will be displayed on campus.
Meetings
Mondays at 3:30 PM
President
Victoria Schellenberg
Advisor
Chris Wright
Turning Point USA (WVC)
Turning Point USA's mission is to educate students about the importance of fiscal responsibility, free markets, and limited government. Through non-partisan debate, dialogue, and discussion, Turning Point USA believes that every young person can be enlightened to true free market values.
Identify student activists in every corner of the country who believe in limited government and individual liberty. TPUSA activists are the community organizers of the right.
Register students to vote. TPUSA has helped thousands of college students apply for voter registration and access vote-by-mail ballots. Empower young activists to get involved in the fight for free markets and limited government. Through building strong campus networks, organizing conferences and training workshops, and equipping activists with the knowledge and strategies needed to combat the left, TPUSA empowers young people to make a difference within their own campus and community.
Organize young activists in chapters and networks on colleges across the country. TPUSA believes there is strength in organization, and our activists work tirelessly to build grassroots networks on every college campus in America.
Mobilize students who believe in free markets. Email lists don't mean anything if they aren't used properly. TPUSA mobilizes its activist networks to get involved in activism, issue-advocacy, public policy education, and grassroots organization.
Meetings
Wednesdays at 2:15 PM
President
Ron Belman
Advisors
Adriano Wise
Veterans Club at West Valley
The purpose of the Veteran's Club is to arm Veterans and students with a strong foundation for their academic success.
It's not all work at the VC, we have many events throughout the semester. Great for relieving stress and promoting healthy relationships with other students. These events include:Paintball, BBQ, Potluck, Movies, and Sporting events.
The Veteran's Club is dedicated to making the life of the Veteran/Student as comfortable as possible while at West Valley College.
Meetings
Mondays and Wednesdays at 11:00 AM
President
Christian Wise
Advisors
James Winkler
Voices Literary Arts Magazine
Welcome to Voices, West Valley College's student literary arts publication. We publish WVC student art, fiction, and poetry once each academic year during the spring semester. We also meet on Mondays at 2pm in the Fox building. Come join us! Voices always needs artists, editors, graphic designers, and students just generally interested in publishing.
Meetings
Mondays at 2:00 PM in Fox 104
President
Athena Santos
Advisors
Nils Michals
Your Languages Club
Extracurricular skills acquisition in any language of the world! A fun place to chat in English, Spanish, French, Portuguese, Sign Language, Farsi etc.
Learn how to Read Latin and Latin based languages: Spanish, Italian, French, Portuguese, Catalan, Romanian etc.
Improve reading and pronunciation skills in English.
Improve test-taking ability in English too.
Learn how-to Juggle.
Compete in Ping-Pong, chess, chekers or the game of your choice.
Meetings
Monday – Friday at 8:10 AM in the library (near Drip Coffee)
President
Jeff Duell
Advisor
Ellen Goldman
Events
The Student Activities Office hosts fabulous events all year long for students to participate in and enjoy. Students are also encouraged to take the opportunity to plan their own event. Being involved on campus is a great way to network and meet people with similar interests. Student Development Department hosts fabulous events all year long ranging from Welcome Week to Spring Fling, etc.
Associated Students of West Valley College
The Associated Student Government (ASG) is the governing body responsible for advocating for and representing the students of the College. Its members, both elected and appointed, have many opportunities to influence the campus community through participation in shared governance committees, event/program sponsorship, and student-driven initiatives.
For more information about ASG, including minimum requirements and responsibilities, see the ASG Constitution and By-Laws. If interested in being appointed to ASG, fill out the ASG Appointment Application. If interested in running for a position on ASO in the spring elections, fill out the Election Packet and return to the ASG President.
To request money for an event/program, fill out a Budget Request Form and return it to the ASG VP of Finance. To have an item considered at a regular ASG meeting, fill out an Agenda Request Form and return it to the ASG President for consideration at the next regular ASG meeting.
ASG meets 1st, 3rd and 5th Tuesday each month at 3:45 PM in the Baltic Room of the Campus Center.
Learn More about Student Government