General Information
Mission
Work together as a community to restore the Vasona Creek and its surroundings creating a vibrant natural ecosystem, a living laboratory and classroom, and an inviting recreational resource for all to enjoy.
Community Outreach
To inform and engage the community in the Vasona Creek restoration and trail building efforts at West Valley College, a Vasona Creek Restoration Workshop was held on December 12, 2013. Click here to view the information presented. Stay tuned for future workshops and opportunities for community involvement.
Overview
For millennia, the Vasona Creek cut a path through the heart of what is now West Valley College. Undisturbed, the creek thrived. Surrounded by a beautiful Oak Woodland and part of a watershed that flows from the Santa Cruz Mountains to the San Francisco Bay, the Vasona Creek corridor was home to an abundant and diverse wildlife.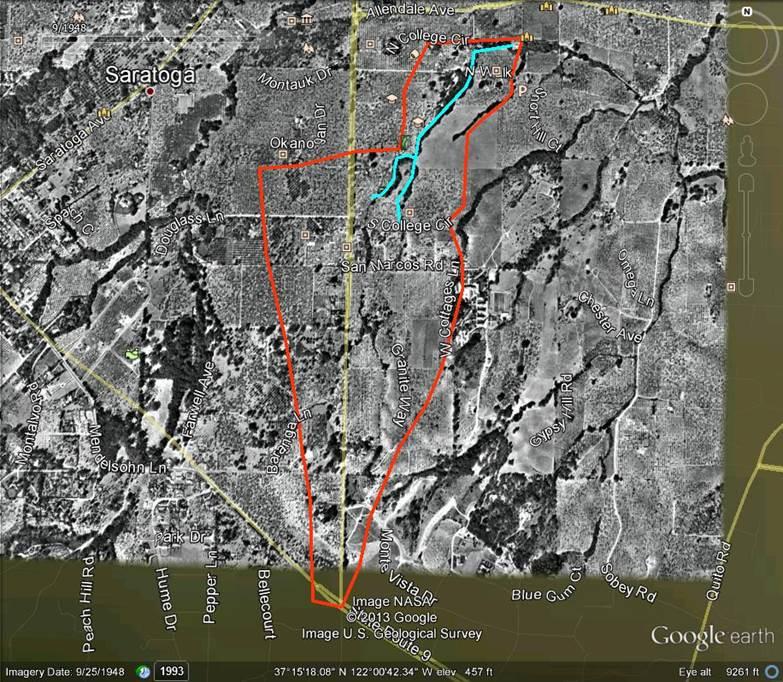 Through the 1940s and 1950s, the site remained open pasture and orchards.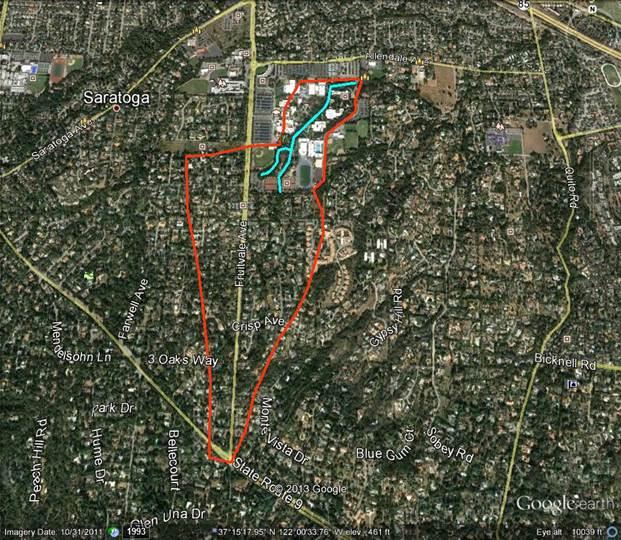 As the area began to urbanize in the 1950s and 1960s, both upstream and down, much of the rain and spring runoff was collected and concentrated in man-made underground storm drains instead of being allowed to naturally flow through the soil and into the creek.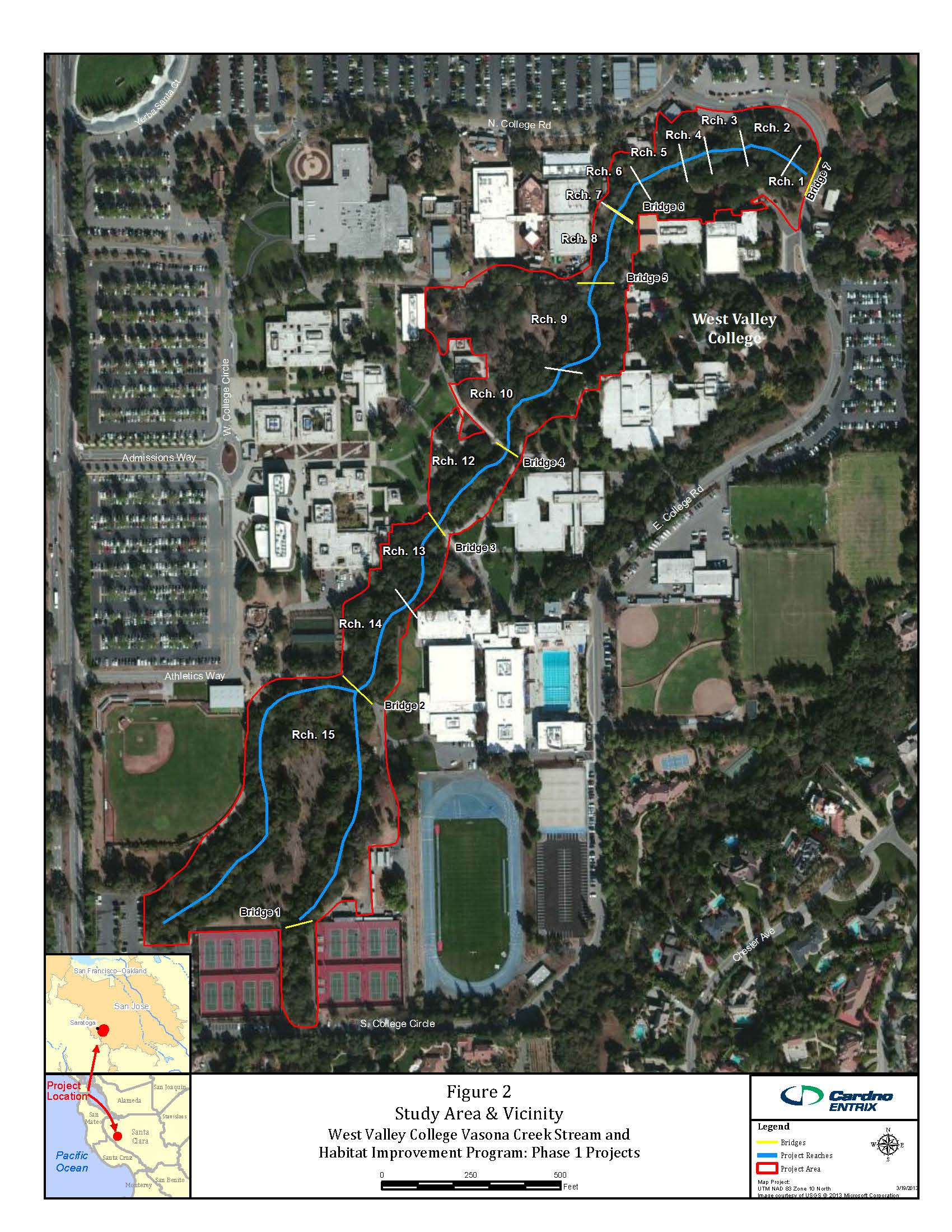 The development of West Valley College in 1960s further concentrated the storm water and dumped it directly into one of the last remaining open sections of the pristine little Vasona Creek.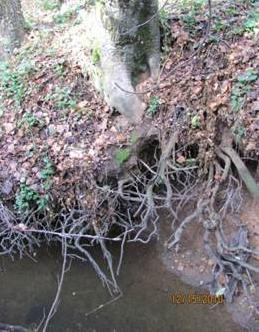 Virtually all of the rain that falls on the parking lots, roads, roofs, and pathways of West Valley College and surrounding areas, is channeled into pipes that discharge directly into the creek. This has resulted in a super-concentration of hydro energy that has accelerated the erosion of the banks, undermined ancient Heritage Oak Trees, and cut away at the creek bottom. The damage is increasing at an exponential rate. As the water cuts deeper into the creek, it carves out a narrower and deeper channel. This increases the energy and velocity of the water even more, providing more cutting power.
In addition to the concentration of the runoff, West Valley College, including its seven athletic fields, acres of turf area, parking lots, roads, paths, and roofs, has become a huge collector of pesticides, fertilizers, petroleum products, heavy metals and other pollutants. When the rains come, these pollutants get washed into the storm drain system and directly into Vasona Creek and on to the San Francisco Bay! Much of this runoff is toxic to the microscopic life forming the first link in our creek food chain.
Our ages old creek is dying a slow death by a thousand cuts.
But there is hope!
Recognizing the Importance of Vasona Creek
Restoration of the Vasona Creek has been a college priority for many years and has been specifically noted in both the 2005 Long Range Development Master Plan EIR (Environmental Impact Report) and the 2009 West Valley College Educational & Facilities Master Plan.
Projects and Funding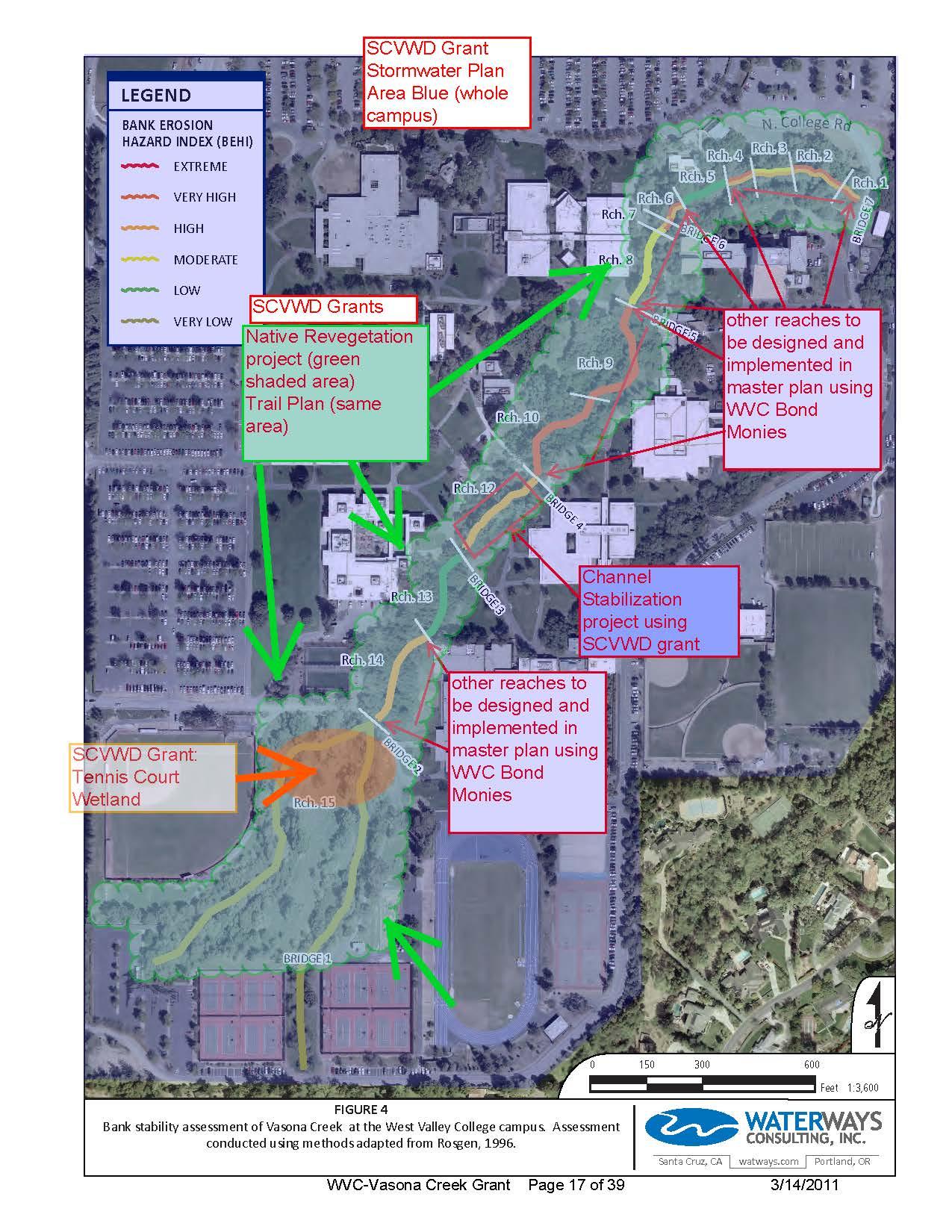 In 2010, the West Valley College administration applied for several creek restoration grants from the Santa Clara Valley Water District (SCVWD). We were successful in obtaining FIVE of the seven SCVWD grants applied for, with a total value of close to $600,000. These include:
Channel Stabilization - for the repair of a small section of creek channel
Wetland Enhancement – for the expansion and improvement of an existing wetland
Native Plant Re-vegetation – to install native plants, trees and shrubs throughout the creek area.
Storm Water Management Plan – conceptual plan to 30% design for 3 future storm water management projects
Trail Plan – conceptual plan to 30% design for a Creek Trail system connecting to City of Saratoga's Heritage Trail.
In 2014, West Valley College obtained two more grants from SCVWD totaling another $500,000. These include:
Channel Stabilization Phase 2 - for the repair of another 400 ft section of the creek channel
Athletic Fields Storm Water - to install storm water management features at the track and sports fields
For more information about the grant projects, see the Projects page.
To support our "in-kind" obligations under these grants, the leadership of the West Valley Mission Community College District, allocated $1,500,000 in funding under the Measure C Bond, passed by local voters in 2013.
This provides a total of $2,600,000 of committed funding. These funds will go a long way toward the restoration and conservation efforts required for Vasona Creek, but unfortunately not ALL the way.
The problem is, these funds are for "specific projects" in "specific areas" of the creek. They do not take into consideration the ENTIRE creek.
Master Planning
A group of forward thinking administrators, students, faculty and community members, are looking for help to "complete the vision". This group, known as the "Stream Team", is looking to gain community support to finish the project and fully develop the Vasona Creek Master Plan.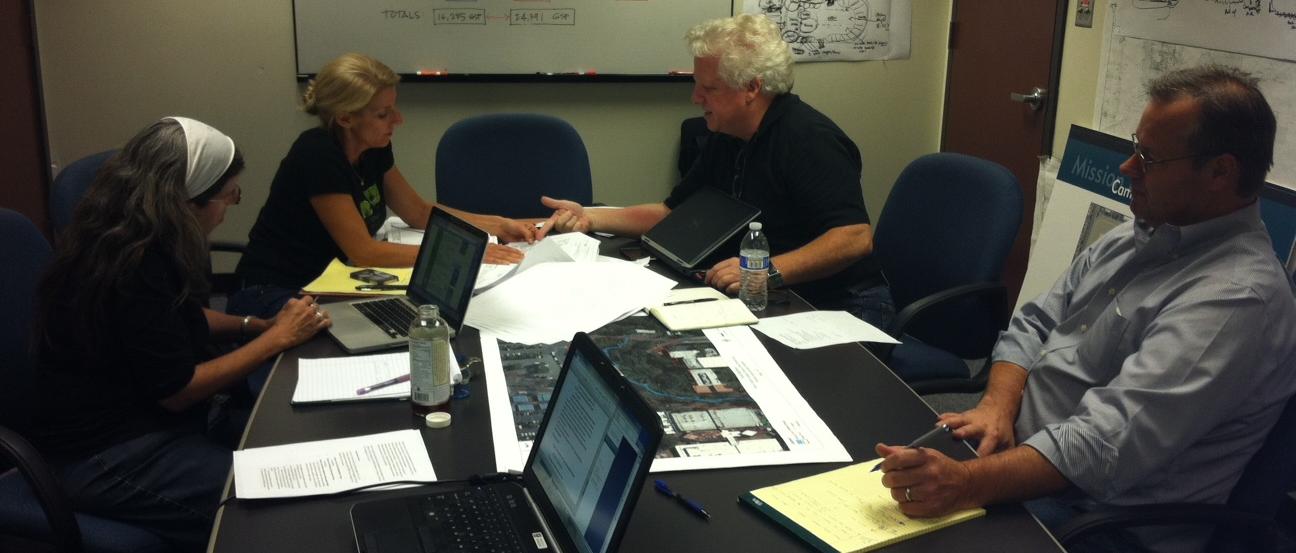 The Vasona Creek Master Plan includes:
Channel and Bank stabilization from inlet to outlet at West Valley College to repair excessive erosion, support heritage trees, and provide a better environment for wildlife.
Creation of a new Wetland Pond area.
Complete removal of invasive and non-native plants from the creek areas.
Supplemental planting of native plant species particular to this precise micro geographic area.
Creation of new Storm Water Management Systems to collect, detain, or prevent runoff from directly entering the creek.
Establish a baseline and maintain permanent testing of water quality along the creek.
Reach out to the City of Saratoga and surrounding communities by creating a new Trail System, connecting to the City of Saratoga Heritage Trail. The new "Vasona Creek Legacy Trail" will take full advantage of the beauty and experience of the creek, be accessible for all, and have two observation decks, benches, and interpretive signage along its course.
Expand the reach of the College by providing an educational experience for all with interpretive signage describing the riparian system, identifying historical significant items, identifying creek geology, animals, birds, plants, trees and shrubs. Develop multi-use spaces for outdoor classrooms, laboratories, and meeting areas.
Provide a working model of duplication so that others can restore and preserve their creeks and streams.
Fundraising
The good news is that we're more than half way there! With the current grants and bond funding, we have more than half the capital required to complete the dream. We finish the job by:
seeking additional grant monies;
seeking donations from private individuals and corporations.
An account specific to the Vasona Creek Restoration is set up with the West Valley College Foundation. Our goal is to raise an additional $1,000,000! Opportunities for donors to be memorialized along the "Vasona Creek Legacy Trail" include:
Adopt a Trail – special signage along a section of the trail with the name of the donor
Adopt a Bench – a bench inscribed with the name of the donor and a unique message
Adopt a Heritage Tree – special signage at one of our many creek side Heritage Trees
Donor Signage – large donors will permanently have a place on a Donor Sign to be located at a key, highly visible location along the Vasona Creek Legacy Trail
Projects
Santa Clara Valley Water District Grant
Recognizing the need to restore Vasona Creek, West Valley College sought grant money to develop a restoration plan. In 2010, West Valley College was awarded a $50,000 planning grant from Santa Clara Valley Water District (SCVWD). With the grant money, stream channel stability, preliminary biological assessment, and several plans for grant funded projects were completed.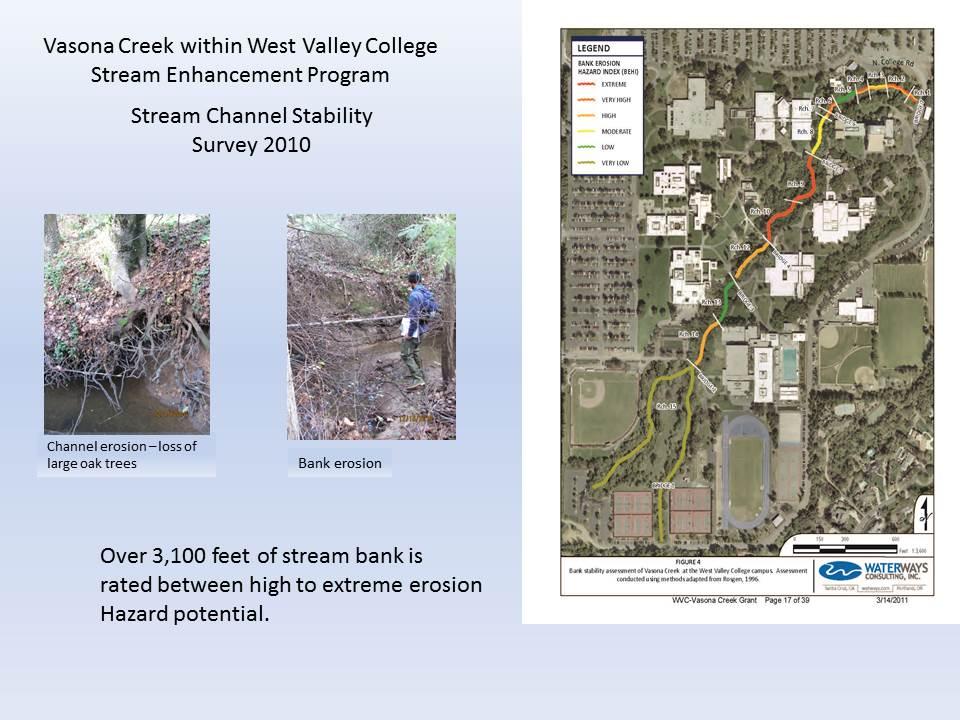 As a result, West Valley College received several Partnership Grants through Santa Clara Valley Water District.
In 2011, three Construction Grants and two Planning Grants were awarded.
In 2014, another two SCVWD grants were awarded through the Safe, Clean Water Grant Program.
Vasona Creek Channel Stabilization Project
Tennis Court Wetland Enhancement Project
Vasona Creek Native Vegetation Enhancement Project
Storm Water Pollution Reduction Plan
Learn more about the Storm Water Pollution Reduction Plan project for West Valley College.
SCVWD Stormwater Pollution Reduction Plan Grant
West Valley College is committed to leading the way on Storm Water issues. Facilities Manager, Bill Taylor is the Chair of the California Community College Chancellor's Office Subcommittee on Storm Water Management. The subcommittee, consisting of select members of the Bay Area Facilities Summit was tasked with the development of a Storm Water and Pollution Prevention "Template" that can be used by the entire California community college system to assist in compliance with requirements of the California EPA State Water Board. In November 2013, the template was launched at the annual Community College Facilities Coalition meeting in Sacramento. See the draft template.
Vasona Creek Trail Plan
Vasona Creek Channel Stabilization Phase 2 Project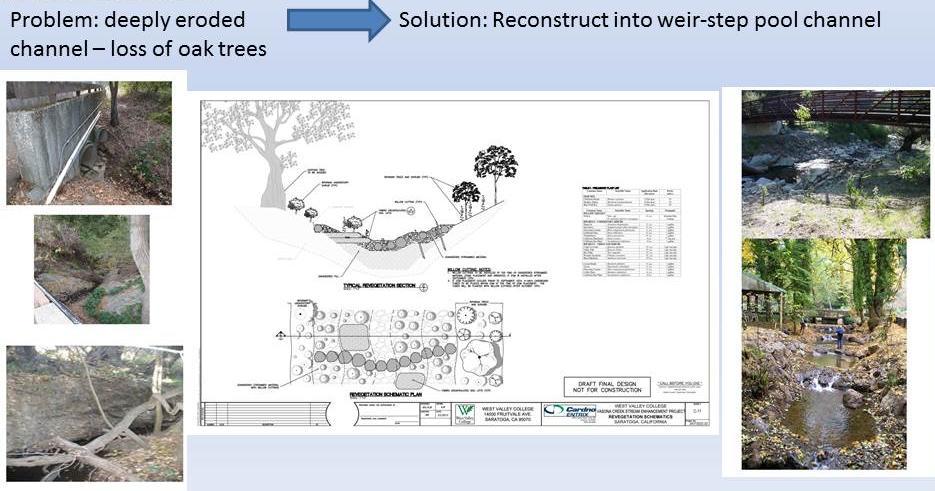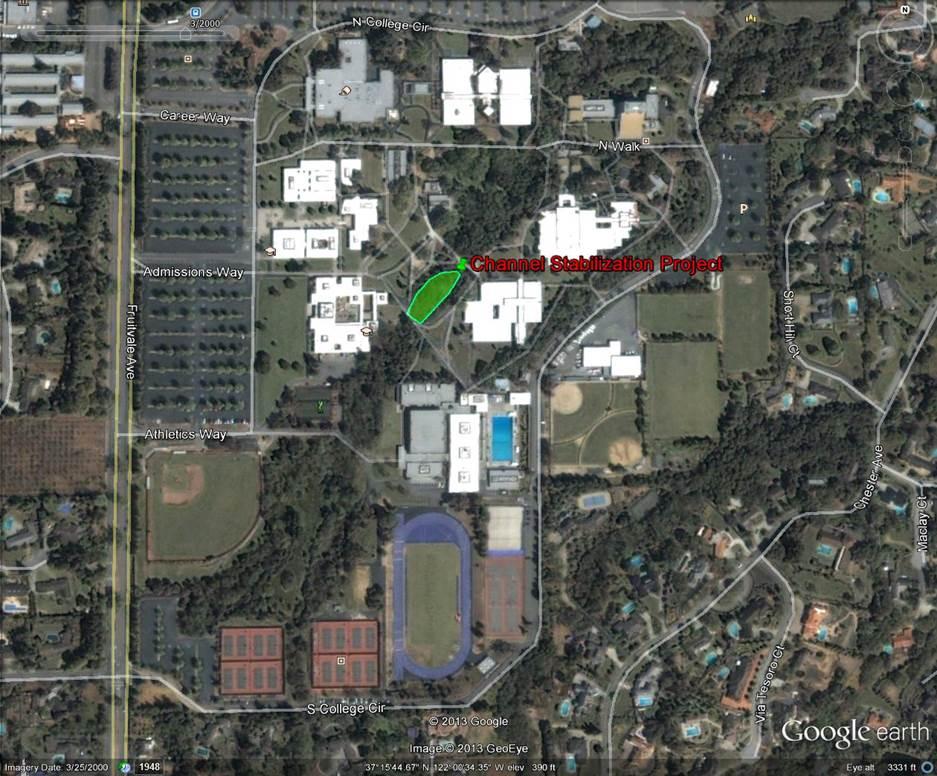 SCVWD Vasona Creek Channel Stabilization Phase 2 Project Grant
West Valley College Athletic Fields Stormwater Pollution Reduction Project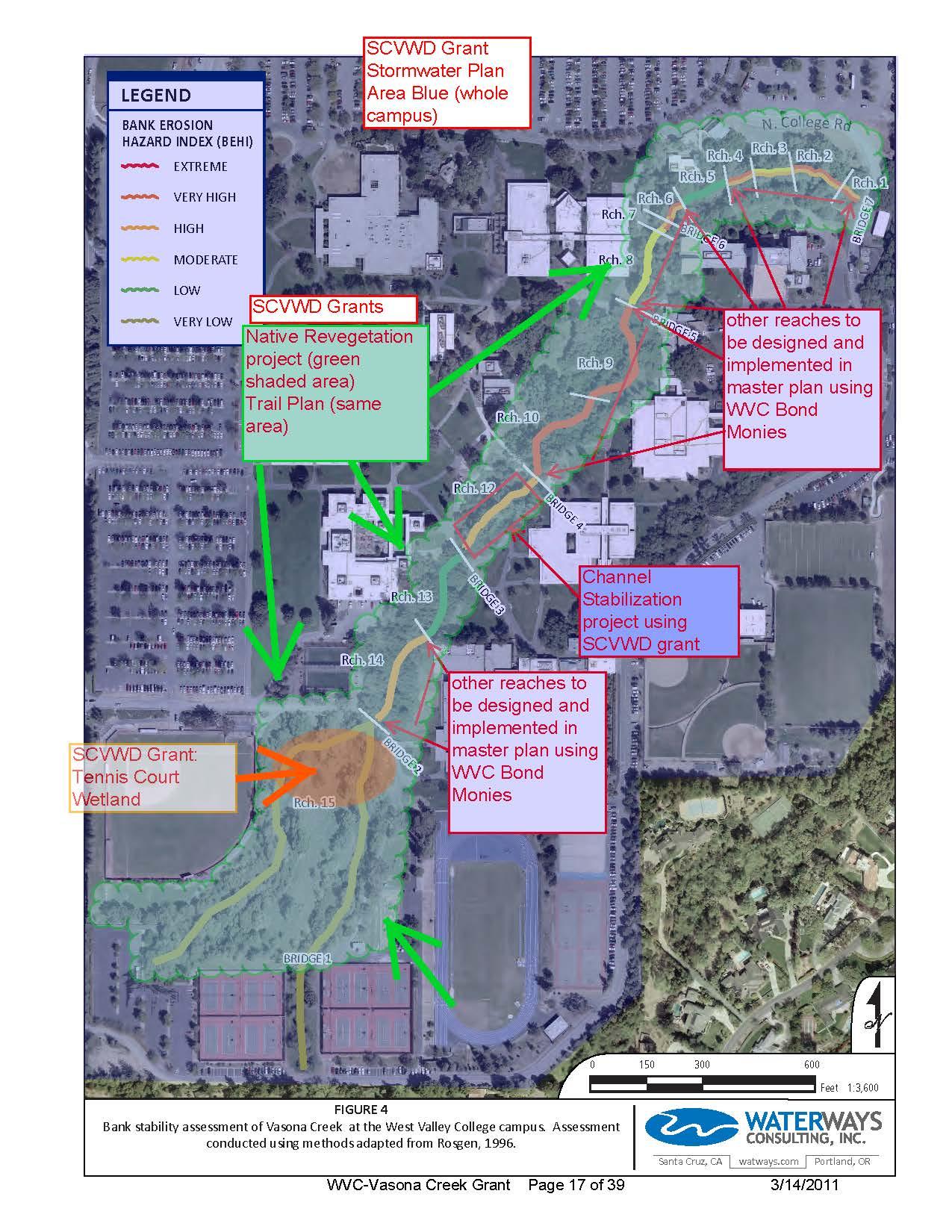 Construction Projects Schedule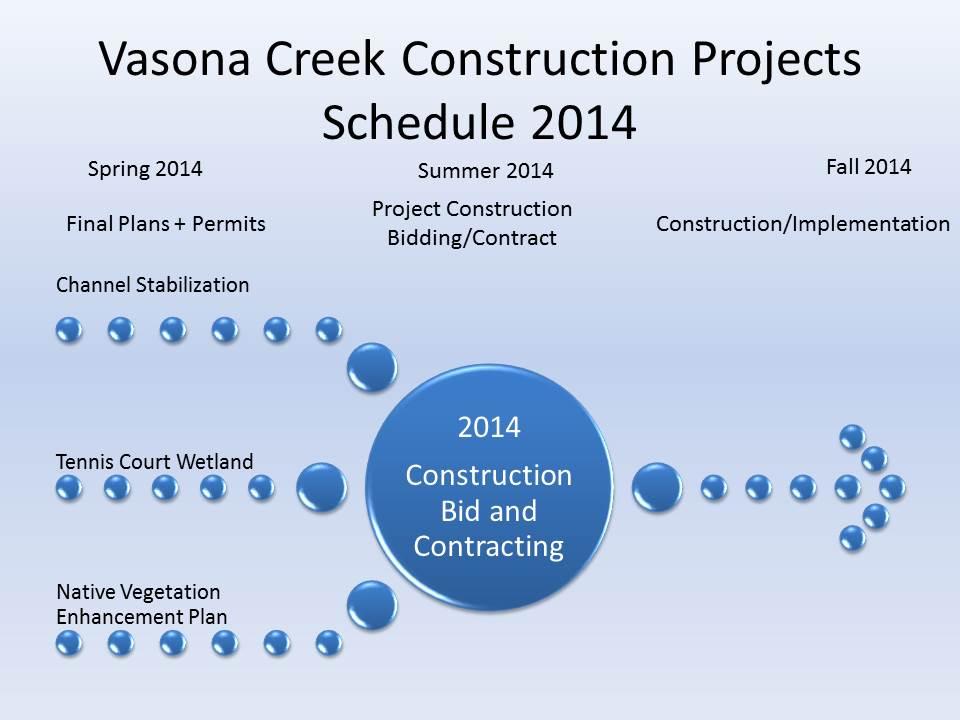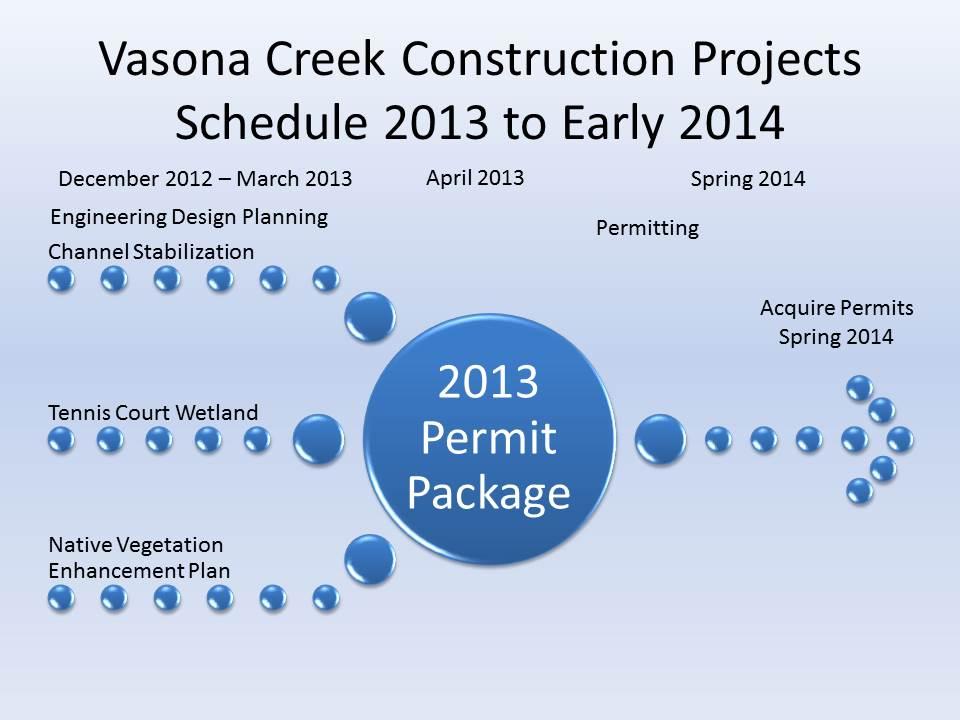 Stream Team
Bill Taylor
Stream Team Project Lead, Facilities Manager
West Valley College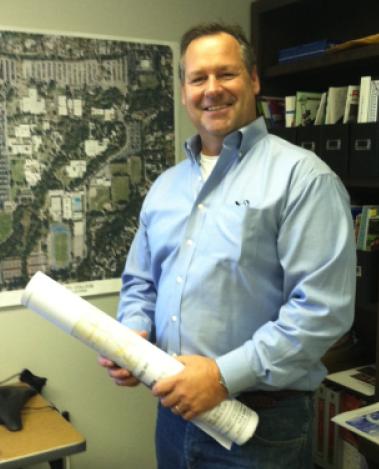 Bill Taylor is the West Valley College Facilities Manager spearheading the Vasona Creek Restoration, Stormwater and Trails projects. Since starting work at West Valley College, Bill has been a leader in Sustainability, Stormwater and Energy programs on campus and throughout the California Community College system.
"Vasona Creek is an untapped resource for the college, it just needs a little love," says Mr. Taylor. "The grant and bond funds have provided such a wonderful opportunity for us to restore and develop the Vasona Creek to its highest and best use… making it an integral part of the campus and community."
A third generation resident of the Los Gatos - Saratoga area, Bill attended West Valley College in the late 1970s. He is a licensed General Contractor for over 23 years and has built dozens of luxury homes and commercial buildings in the Silicon Valley. Bill was selected by Sunset Magazine as one of the "West's Best Builders", earned the first "Green Builder's Award" from the Town of Atherton, and constructed the first "GreenPoint Rated" home in Los Altos.
Mr. Taylor is a Certified Green Building Professional and GreenPoint Rater by BuildIt Green. He is a trained leader in the Boy Scouts of America, Cubmaster for Pack 509 in the Santa Cruz mountains, and third year Board Member of the Loma Public Education Fund, benefiting Loma Prieta Joint Union School District in Los Gatos. He is also a member of the Summit CERT, Community Emergency Response Team, serving the Los Gatos Santa Cruz mountains.
Karen Schneider Brodine
Stream Team Project Coordinator, Engineer, LEED AP BD+C, Student
West Valley College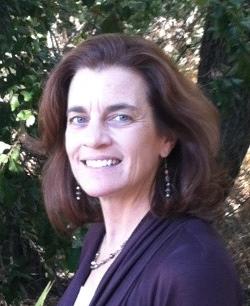 Karen Schneider Brodine is an integral part of the sustainability team at West Valley College striving to establish a sustainable environment and culture on campus. Employed by the District in the Facilities Department, her focus is on the Vasona Creek Restoration and development of a Sustainable Landscape Master Plan for the entire campus.
Passionate about continuous learning, Karen is currently a student at West Valley College sharpening her sustainable design skills and proficiency in GIS technology. She is also an educator for grades K-8, and a coach for creative problem solving teams.
Karen has a diverse background in design and structural engineering, computer animation, film production, school district budget and facilities planning, and designing and building community playgrounds and trails. She holds a B.S. in Mechanical Engineering from Michigan Technological University and a M.S. in Engineering from Stanford University.
Michelle Geary
Plant Biologist, Faculty (Biology, Park Management)
West Valley College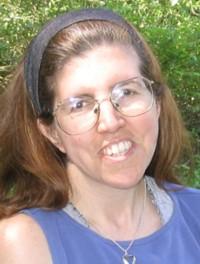 Michelle Geary has been interested in river and stream ecology since high school. For several years, she was a member of the board of the Guadalupe-Coyote Resource Conservation District. She earned her Ph.D. in Plant Biology from UC Davis in 1999 and has been teaching at West Valley since 2000. Soon after being hired, she began working on projects to increase native plant landscaping on campus. Michelle is a member of the West Valley Sustainability Committee as well as the Stream Team. She teaches in both the Biology and the Park Management departments. She likes pie better than cake, baseball more than football, and has been a Giants fan almost her entire life.
Chris Cruz
Faculty (Park Management, Geospatial Technology), Park Management and Geospatial Technology Department Chair
West Valley College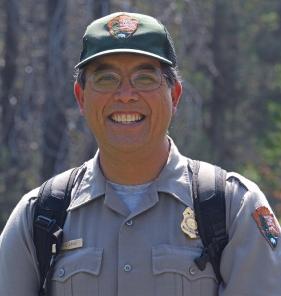 For 16 years, Chris has taught at West Valley College in the Park Management and Geospatial Technology Programs. He currently serves as the Department Chair of both programs. He has led projects with students ranging from trail alignment, mapping and construction, fence building, various construction projects, invasive plant removal, creek restoration (Aubry Creek in Sanborn Skyline County Park), development of a BioBog, and Koi fishery management at Japanese Friendship Gardens. These projects span several agencies to include; National Park Service, California State Parks, Santa Clara County Parks, Midpeninsula Regional Openspace District, City of San Jose Regional Parks, Santa Clara Open Space Authority, City of Saratoga, and Santa Clara Open Space Authority. He served on the Sanborn Skyline County Park Master Plan Trail Advisory Committee and is currently a member of the Midpeninsula Regional Openspace District Community Advisory Committee.
Chris started the Geospatial Program at West Valley College in 2000. He has participated in the IGETT (NSF Grant) and been the PI for the CalGETT Remote Sensing Grant in California as well as a CO-PI on the iGETT Remote Sensing NSF Grant Due 0703185. Chris has written and received two Perkins Grants over the last two years.
Chris has 28 years working for the National Park Service in 11 different National Parks. This time was spent working as a ranger with responsibilities in the areas of interpretation, resource management, emergency services, administration, research and maintenance. He currently volunteers with the Golden Gate Raptor Observatory in their Hawkwatch Program.
Chris received his B.A. ;in Spanish Culture and Civilization from Indiana University at Bloomington, Indiana and completed a M.A. in Environmental Studies at Prescott College in Prescott Arizona. He has additional graduate studies in Public Administration at Florida International University in Miami, Florida.
Scott Ludwig
Director, Communications and Instructional Technology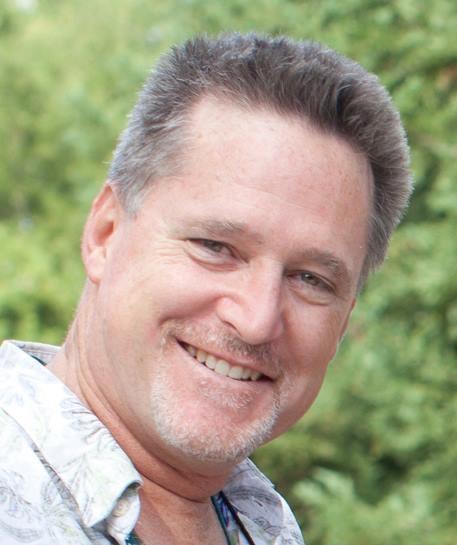 West Valley College
Scott Ludwig is the Director of Communications and Instructional Technology, and a member of the Sustainability Committee at West Valley College. Scott believes the creek is a valuable resource for the campus community. "To have this amazing creek system run right through the middle of campus is a major asset for the college community. The creek is often used as a resource in teaching and learning, from Biology and Park Management discussions and activities to Art classes using elements of the creek as a subject or backdrop. Restoring and maintaining the creek sets a good example of environmental stewardship for our students and the community."
Mitchell Swanson
Geomorphologist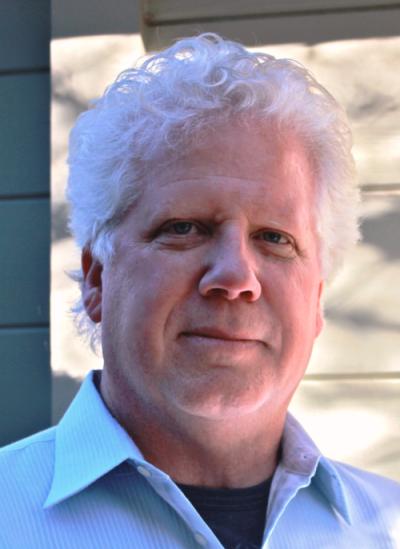 Mr. Mitchell Swanson has over 24 years of professional experience in hydrology, hydraulic studies, geologic hazards, and geomorphology. His expertise is focused upon the implications of human modification and their impacts to natural geomorphic systems. This information is used to develop effective actions necessary to manage and restore elements necessary to restore water resources and ecosystem functions to watersheds, streams, estuaries, and wetlands. He has also been recognized for expertise in water quality and stream restoration throughout California including the Lake Tahoe and Russian River Basins and Monterey Bay.
Mr. Swanson specializes in the development of technically and environmentally sound management and restoration plans for rivers, estuaries and watersheds. These studies often involve the coordination of many disciplines by including biological sciences, hydraulic and flood control engineering, land use planning, economics, landscape architecture, legal issues and environmental regulation planning. In the present era of conflict between environmental regulation and society's need for flood control and utilization of water resources, Mr. Swanson has become a recognized expert in conflict resolution between governmental agencies, and public and private interests.
Mr. Swanson's technical expertise includes historical geomorphic and hydrologic assessments for historical impact studies, geologic hazards assessments (landslides, seismic, erosion, sedimentation, sediment transport and flooding) and in determining the causes and effects of human modification on hydrologic and geomorphic systems. He has extensive field experience in hydrologic and sediment transport measurement, geomorphic mapping and surveying in rivers, watersheds and estuaries. Mr. Swanson has conducted hydraulic, hydrologic and sediment transport analyses using the HEC-RAS and various 2D models.
Frederick "Fritz" Geier
Principal, Geier & Geier Consulting, Inc.
CEQA and NEPA Documentation
Fritz Geier has managed or contributed to hundreds of Environmental Impact Reports, Initial Studies, Environmental Impact Statements, and Environmental Assessments in compliance with the environmental review requirements for the California Environmental Quality Act (CEQA) and the National Environmental Policy Act (NEPA). Project experience has included general plans, specific plans, area-wide studies, and environmental planning studies for counties, cities and other local jurisdictions in Northern California. His experience with private development includes environmental analyses for projects in Belmont, Danville, Los Gatos, Morgan Hill, Mountain View, Palo Alto, Pleasanton, Sacramento, Santa Clara, Saratoga, and Sunnyvale. Projects in these communities are located adjacent to or included creek channels or storm drainage facilities that would be directly affected by residential, commercial, or industrial development proposals. Fritz managed the preparation of initial studies and environmental impact reports that addressed hydrological and water quality impacts associated with these public and private development projects.
For the West Valley – Mission Community College District, Fritz was responsible for the preparation of the environmental impact reports for the master plans of both West Valley College and Mission College. Additionally, he has assisted West Valley College in the preparation of environmental documents to satisfy CEQA and permitting requirements for a variety of other projects on the campus.