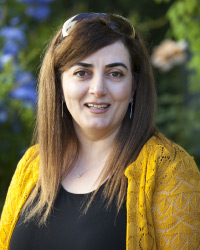 ---
Schedule an Appointment
Course
COUN 5: College Success Strategies
Languages Spoken
English, Farsi, Assyrian, and German
Favorite Quote
A failure is not always a mistake. It may simply be the best one can do under the circumstances. The real mistake is to stop trying. -- B.F. Skinner
First Year at West Valley
2010
Most Memorable Campus Experience
Watching and helping students get ready for the commencement ceremony is one of the most memorable and rewarding events I have experienced.
Favorite Place on Campus
Flight Deck – Backyard patio for veterans special events
Affinity Words/ At-Promise Factors
I had so many doubts and questions in mind when I started taking lower-division courses at West Valley and Mission College. My dream was made with numerous obstacles and one passion. However, I was fortunate to meet with good counselors and teachers. Their inspiration and support helped me to overcome the challenges and to hold on to my academic goal. I was an immigrant, first-generation, adult re-entry, and ESL student.
Biography
As an embedded counselor at West Valley College, I aim to offer support and guidance to students throughout their academic journey. With a diverse community, each student brings unique talents and needs, and I am dedicated to helping them overcome any obstacles and celebrate their achievements.
Academic Service
Classified Senate, Vice President
DSPS Counseling
ESL Counseling
Guided Pathways Pillars II & III, Co-Chair
South Bay Consortium for Adult Education, Co-Chair
Strategic Planning Steering Committee Member
Student Equity Office for Middle Eastern Students Faculty Fellow
Student Equity Planning Institution
Education
Master of Arts (M.A.) in Counselor Education with extended education for Licensed Professional Clinical Counseling (LPCC)
San Jose State University
Bachelor of Arts (B.A.) in Communicative Disorders and Sciences (CDS)
San Jose State University