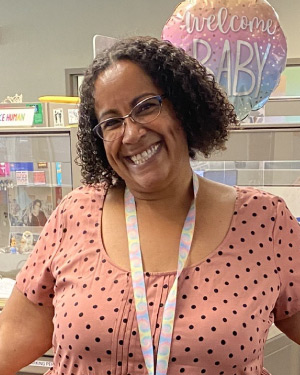 ---
Languages Spoken
English
Favorite Activities
I love Michael Jackson, Janis Joplin and Elvis! They are my triumvirate. I also enjoy watching true crime shows, the ID channel, playing mobile games, and taking care of my menagerie at home with my fiance.
First Year at West Valley
2015
Most Memorable Campus Experience
Joining the Commission on Diversity, Equity and Inclusion
Favorite Place on Campus
Fox Center
Affinity Words/ At-Promise Factors
BIPOC, Queer, First-Generation College Graduate
Biography
I was born and raised in NYC to multiracial couple. I attended Catholic school from grades 1-12. I attended my first college, Marymount Manhattan College on scholarship, but flunked out due to it being a wrong fit for me. I found redemption at a CA community college, Bakersfield, attended 2 1/2 years, the transferred to SFSU, where I changed majors in my junior year and was able to graduate with my degree in Developmental Psychology within three semesters. I started working at my alma mater, and have been working in the educational field for the last 23 years. I graduated from Argosy University after surviving a brain injury in 2012, with an MA in Forensic Psychology. I started working at West Valley at 2015, and enjoy interactions between myself and students the most. I was built to work in education; when I was a student at Bakersfield College, I used to help my dormies select their classes based on GE requirements and scheduling. I found it to be fun, so I decided to forgo a job at the post office upon graduation, and chose education instead.
My interests include binge watching on Netflix/Hulu/YouTube, reading, road trips, playing with my menagerie at home, reading, and connecting with friends. One cool fact about me is that I have never seen any Star Wars movie, and don't intend to, since I'm not a sci-fi fan. But I do enjoy documentaries, comedy stand-up, and anything related to true crime.
Academic Service
Commission on Diversity, Equity and Inclusion, 2018 – present
CSEA EBoard Member at Large, 2019 – present
African American Affinity Group, 2020 – present
Anti-Racism Working Team A3, 2021 – present
Education
BA, Developmental Psychology
San Francisco State University
MA, Forensic Psychology
Argosy University, Bay Area