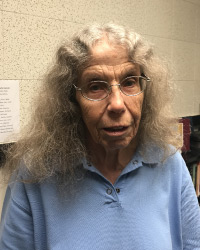 Yoka Drion
Music
Class Piano
---
Courses
MUSC 30A: Beginning Piano
MUSC 30B: Beginning Piano
MUSC 31A: Intermediate Piano
Biography
Yoka Drion emigrated to the United States from The Netherlands in 1963 and has been a faculty member in both the Music and Visuals Arts Departments of West Valley College and Mission College since 1974. As an immigrant, Ms. Drion prides herself on having first-hand experience learning English as a second language and in adapting to the cultural differences of a new society. These experiences continue to help her establish rapport and to communicate effectively with diverse student populations.
Ms. Drion's educational philosophy towards teaching the piano is based on the adage, "to succeed in anything you need inspiration, preparation, and perspiration." As an instructor, she believes that her primary role is that of motivator and coach and she works to inspire and encourage her students to succeed, through providing a framework to help them with their learning preparation. This framework consists of carefully selected assignments and exercises with weekly feedback on each student's progress. We work on scales, technical exercises, sight reading, piano compositions in different styles as well as a touch of musical theory.
Ms. Drion earned her Associate of Arts Degree, with highest honors from San José City College in 1966, her Bachelor of Arts in Visual Arts, with highest honors from San José State University in 1968, her Master of Arts Degree in Painting from San José State University in 1970, and a second Bachelor of Arts Degree in Musical Composition from Santa Clara University in 1979.