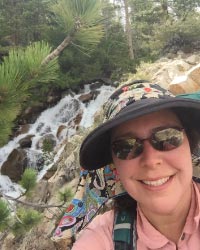 ---
Courses
PMGT 10: Introduction to Park Management
PMGT 11: Park Communications
PMGT 12A: Basic Outdoor Skills
PMGT 14: Conservation of Natural Resources
PMGT 15B: Natural and Cultural Resource Interpretation
PMGT 15C: Introduction to Park Maintenance
Biography
Heidi is a seasoned park professional, environmental educator and an interpreter, she also has extensive experience in volunteer management. She is currently a professor at West Valley College in the Park Management Program. She previously worked for 3 years at the Santa Clara Valley Water District as the Education Outreach Coordinator and also served a short time (6 months) as a Water Conservation Specialist. Prior to that, Heidi spent over 16 years with Santa Clara County Parks and Recreation. In her tenure, she served in increasingly responsible positions: from Park Maintenance Worker, Parks Volunteer Program Coordinator, Park Interpreter, to Outdoor Recreation Program Coordinator, and finally Park Interpretive Program Coordinator. In her role with County Parks, she grew the county parks volunteer program, as well as contributed to a variety of new interpretive programs, educational curriculum and other materials and media to the parks department collections. Heidi also helped to develop the on-line Past Perfect archive program at the New Almaden Quicksilver Mining Museum and helped coordinate a number of special events for the parks interpretive program. Heidi contributed to a few GIS projects throughout her career including development of the Trail Assessment Program as a GIS layer, mapping the use of IPM practices, and updating the county parks vegetation layer.
Heidi also serves as a trainer and mentor for other field staff and agencies providing quality interpretive instruction, volunteer management, as well as CPR/1st Aid training. She develops collaborative community-based relationships with schools, partnerships, professional guiding outfitters, and other community-based organizations. While she was the Education Outreach Coordinator at Santa Clara Valley Water District, she provided quality instruction to all grade levels, PreK-College and hosted the State Water Educators Committee meeting.
Until recently being hired as full-time faculty for the Park Management Program in Fall of 2018, Heidi was a long-time adjunct faculty course instructor at West Valley College, since 2004. She currently provides quality instruction, leadership and education for park management related courses such as: 12A Basic Outdoor Skills and 15B Interpretation of Natural and Cultural Resources, 10 Introduction to Park Management,15C Park Maintenance, 14 Conservation of Natural Resources, and 11 Park Communications courses and active on the Park Management Advisory Board. The program will soon be celebrating its 50th anniversary in 2020!
In addition to her 20+ years of career experience in Parks and Natural Resources, Heidi holds a bachelor's degree in Environmental Studies with an emphasis in Environmental Education from San Jose State University, and Associate's degrees in Park Management and Communications from West Valley College. She is also a Certified Interpretive Trainer (CIT) from the National Association of Interpretation (NAI), Certified CPR/First Aid Instructor with the American Red Cross, as well as a certified Leave No Trace Instructor, California Naturalist Instructor, Project WET and Project Learning Tree Instructor, certificate in the Forestry Institute for Teachers program and a Wilderness First Responder.
When not at work, Heidi enjoys spending time with her family (and dog), gardening, hiking, biking, climbing, swimming, backpacking and traveling near and abroad whenever the opportunity presents itself.