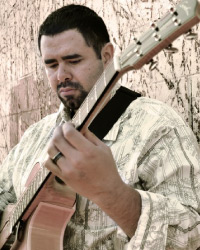 Mason Razavi
Music
Applied Jazz Guitar
---
Biography
Mason Razavi is a jazz guitarist, composer/arranger, educator, and recording artist in the San Francisco Bay Area. His albums have garnered praise from critics and have received airplay internationally. Razavi has been described as a "thoughtful player and composer that offers the listener an introspective experience of deeper meaning" by Jazz Times.
Razavi began studying jazz and playing in working rock bands as a teenager before attending the Berklee College of Music. There he studied jazz composition, commercial arranging, music production, and various guitar styles, while off campus he played in a hard-charging blues-rock band that would win a competition to record in a professional studio for the first time. After graduation he changed directions dramatically and devoted himself to the classical guitar for several years, but ultimately he returned to focus on jazz guitar and composition. His diverse background has led him to a number of musical settings including solo classical recitals, supporting roles with orchestras and concert choirs, musical theater, and backing up pop singers of different stripes. Today he is a working jazz artist/educator who has channelled these experiences into a unique voice as a player and composer. In addition to countless club dates, performance credits include the San Jose Jazz Festival, Bodhi Tree Concerts, South Bay Guitar Society, Sunnyvale Jazz and Beyond, Modesto Symphony Orchestra, San Jose Repertory Theater, and many others.
Razavi's albums include a catalog of ambitious compositions for classical guitar as well as jazz compositions for his quartet and nonet. He has also written music for various classical/orchestral settings and has worked as a freelance arranger and producer.
Razavi is the newest director of the Daddios big band, a group with a decades-long history in the Bay Area that was started by the late trumpeter and teacher Dr. Herb Patnoe at De Anza College.
An avid educator, Razavi is the jazz guitar instructor at West Valley College and Chabot College and directs jazz ensembles at De Anza College. He has taught jazz guitar for Mission College, maintains a busy private teaching schedule, and has been a clinician and participant in music education outreach programs in the Bay Area. Razavi holds holds a M.A. in Jazz Studies from San Jose State University and a B.M. from the Berklee College of Music where he majored in Contemporary Writing and Production.