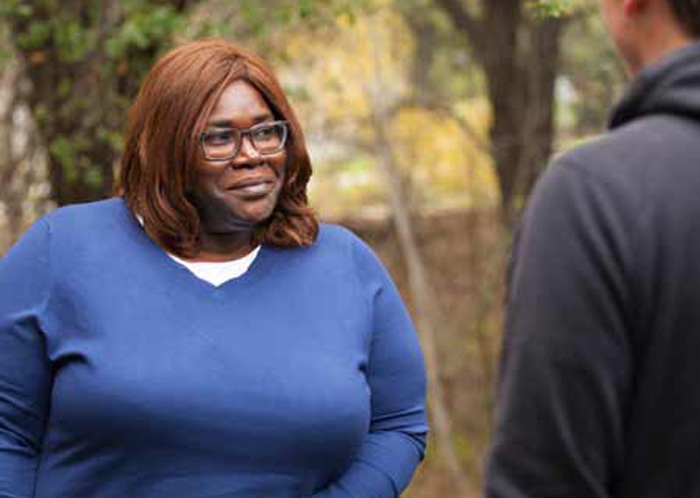 By Margarita Kompelmakher
Dr. Debra Griffith is appointed to a newly created position, Dean of Student Equity and Success. She has some advice on how to get involved in diversity and social justice programming on campus.
Dr. Debra Griffith is completing her first semester at West Valley College. The new Dean of Student Equity and Success has spent the past three months doing her homework on the college. "I'm an introvert, so I learn by watching," says Griffith. "My style is to get to know as many people as I can, and gain a perspective on what is working and what is not." These insights are informing her plan to strengthen the culture of belonging on campus.
Griffith is encouraging students and faculty to get involved in programming that will bring diversity and social justice concerns to the forefront of campus life. "I don't plan to do this alone," says Griffith, who was Associate Vice President at San Jose State University prior to coming to West Valley in August 2018. "It is very important for me to develop ongoing training for everyone. I'm thinking about the long term."
She has already established a President's Commission on Diversity and Social Justice for faculty and staff, and plans to host a series of open forums where students can share their perspectives in the Spring.
One of the major projects on her plate is a Multicultural Center that will serve as a hub for community-building initiatives. The center will be housed in the Campus Center in the former Art Gallery space and will alter the campus landscape to visually and programmatically register the diversity of student experiences. Initially, it will support eight major groups: Native, African American/Black, Chicano, Latinx, Asian, American Pacific Islander, Persian, and LGBTQ.
"It's a start," mentions Griffith, who wants to see more cultural programming, celebrations and thoughtful events on campus that engage students in their communities and the world at large.
Collaboration is key to Griffith's vision of getting students, faculty, and staff working together on projects in an integrated way. "We need to meet students where they are," says Griffith, who is recruiting faculty fellows to work in the Multicultural Center alongside student ambassadors. "Rather than saying 'go to office hours', the point of faculty fellows is to get students comfortable working directly with faculty."
In part, Griffith's motivation for creating strong mentorship channels is informed by her own journey. Growing up in a small town in Canada, college was never spoken of at her home. When she eventually found her way to college in New York City, she was guided by two role models, the Dean of Students and Provost. "They were the first African-American women I had ever seen in leadership positions and they really took a liking to me, " says Griffith, a dual citizen of Canada and the U.S.
In college, she was extremely active in student government and, as a result, neglected her studies. "I was academically dismissed and my mentors were pretty pissed off. That hurt me and changed the trajectory of my college life," recalls Griffith. "Even though the Dean and Provost said 'get your life together,' they cared. They were giving me tough love." Griffith returned to college and graduated with a degree in Sociology and minor in cultural anthropology (and later earned a M.A. in counseling education from San Jose State University and a Ed.D. in organizational leadership from Argosy University).
In addition to a new Multicultural Center, Griffith is overseeing Success programs and furthering college initiatives that comply with the 77-page West Valley College Equity Plan, revised in December 2015. While at San Jose State, she rebuilt the Equal Opportunity Program (EOP) and, drawing on this experience, she hopes to create more wrap-around services and opportunities for first generation students to work on projects with WVC organizations, such as starting a business or promoting a new product with the Entrepreneurship Center.
Her plans also include hiring a Director of Student Needs that will specifically serve foster, undocumented, and homeless students.
"I think that West Valley College is an open canvas to change a lot of things," adds Griffith, who investigated child neglect for the City of New York before pursuing a career in higher education. "I like the smaller feel of a community college and the lower cost of education. I get to have conversations that are important to me rather than trying to push against the requirements of getting students out in four years."
Griffith, a self-identified introvert, wants to encourage introverts on campus to get involved in equity and diversity measures on campus. Too often the voices heard at campus meetings and forums are biased toward extroverted personalities. Her advice: "Come and be a fly on the wall until something has impacted you enough to make your voice heard," says Griffith."For me, the action is to go."
Students and faculty interested in working with Dean Griffith should contact her directly.
January 18, 2019