Thursday, May 25, 2023 at 6:30 PM | San Jose Civic Auditorium

Event Day Details
Student check-in begins at 5:00 PM.
Doors open at 5:00 PM for general seating.
Tickets are not required. First come, first seated.
Due to space limitations, each participant may invite between 6-10 guests.
There is a bag check about entering the venue.
Balloons and signs larger than 8.5 X 11 are not allowed in the venue.
Light refreshments for graduates and their families to follow the ceremony.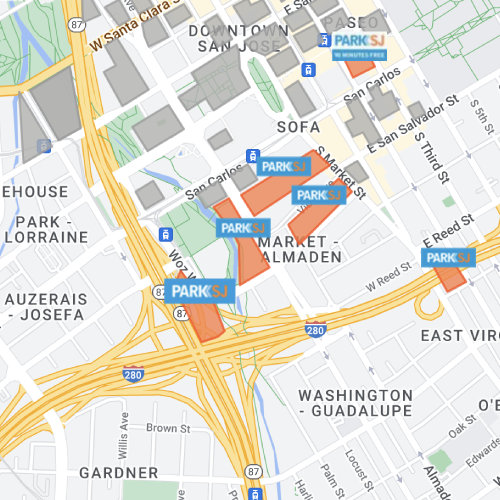 Event Parking
Graduates and guests can park for free during the ceremony using the coupon code WV23 or WVS22 at the machines listed below.
Elderly and disabled guests can be dropped off at a designated drop-off area outside the venue on W San Carlos St.
Stay Connected
Tag West Valley College at this year's Commencement Ceremony: #wvcgrad | #gowest
Grads and Transfer Students
Online sign ups for Commencement are now closed. If you have not signed up and would like to attend the ceremony, please arrive at the venue at 5:00 PM on Thursday, May 25.
Frequently Asked Questions
When is Commencement?
Commencement will be on Thursday, May 25. The student processional begins at 6:00 PM and the ceremony will begin at 6:30 PM.
Where will Commencement be held?
When will guests be allowed entry into the venue?
When can I check in at Commencement?
Check-in begins at 5:00 PM.
What if I have a final scheduled during Commencement?
Please work with your instructor if you need to reschedule a final to attend Commencement.
Where can I sign up for Commencement?
When is the last day to sign up for Commencement?
You can sign up for Commencement up until the last day before the ceremony. You can also sign up for the ceremony at the venue during check-in on Thursday, May 25, but we recommend that you sign up earlier.
How do I get tickets for my guests?
We will not be having tickets this year for Commencement. All guests will be allowed entry, and seating is based on a first-come, first-seated basis. A good estimate for number of guests per student would be 6-10. Please refrain from saving seats out of respect for guests who arrive on time.
Will parking be free on the day of Commencement?
Street parking in Downtown San Jose is free after 6:00 PM on weekdays. Students will receive a parking code and a map via email for specific parking lots that West Valley College has reserved for Commencement. Parking information will also be available on the Commencement event webpage.
I have elderly and/or disabled guests coming. How can I receive accommodations for them?
How do I purchase my cap, gown, and tassel?
You can purchase your graduation regalia (including cap, gown, and tassel) at the Bookstore in the Campus Center. They are available for purchase up until Commencement, but we strongly recommend that you purchase them sooner to ensure you are able to get the right size.
How much does the cap and gown cost?
The package which includes the cap, gown, and tassel is priced at $50.
Do I have to wear a cap and gown?
Students receiving degrees or certificates are expected to wear the cap and gown. Students who are transferring ONLY and not receiving a degree can but do not need to wear a cap and gown. If you choose not to wear a cap and gown, the required attire is "dressy casual" in all black.
Can I use an old cap & gown or do I have to purchase a West Valley one?
As long as your cap and gown are black, you can wear them to the ceremony.
I already have a gown. Can I purchase a cap only?
Yes. The graduation cap costs $10.
Where can I get a tassel and/or honors cord? How much do they cost?
Tassels will be available for purchase at the Bookstore. They cost $8 if purchased separately from the cap and gown package. The bookstore has a list of students that qualify for the golden tassel and honor cords based on GPA – these are both FREE
If you are a transfer student not receiving a degree, please reach out to Fatima Kamil at fatima.kamilFREEWEST_VALLEY to obtain the appropriate regalia.
Where can I get a stole?
If you marked that you are transferring on the RSVP card, you will receive a white transfer stole on the day of graduation, while supplies last. The blue and orange WVC stoles are available for purchase at the Bookstore for $35.
Will there be any opportunity to take graduation pictures, or was that only at Grad Fair?
The portraits were only available at Grad Fair. However, on the day of Commencement, a photographer will be taking a picture of you receiving your diploma holder and shaking hands with President Stephanie Kashima. Samples will be sent to you after Commencement with the opportunity to purchase prints.
Will there be food at Commencement?
Light refreshments will be provided for students at check-in and after the ceremony.
Will the event be livestreamed?
Yes, the event will be livestreamed on our Commencement event webpage.