Meet Online with a Professional Studies Counselor
Preparing Students for Professional Success
Business administration focuses on business management and prepares you to work in the world of commerce. Business administration course work includes the principles and application of economics, marketing and planning.
Business Administration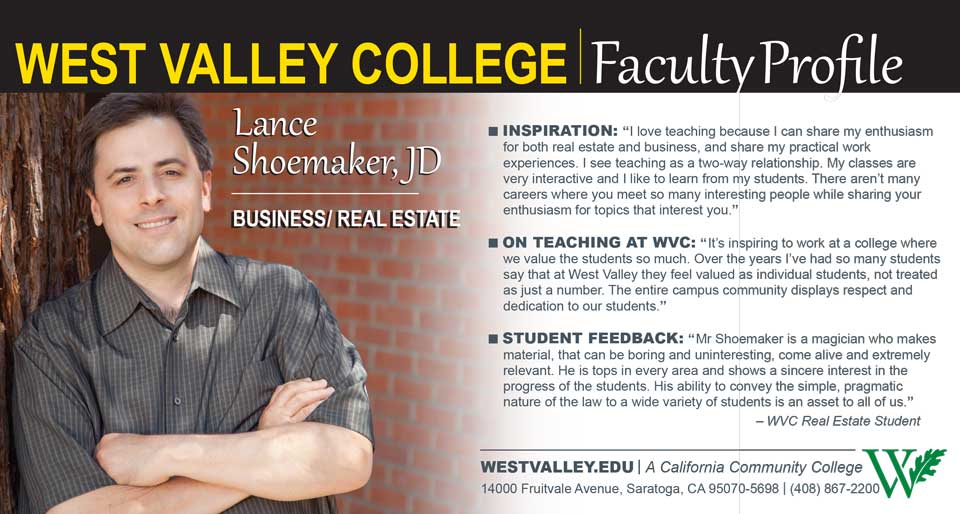 An Associate of Science Degree in Business Administration will give you a well-rounded business education. You can become one of those people employers are looking for -- people who can go beyond their immediate area of specialization, people who are able to grasp "the big picture," people who care about the company and its success.
West Valley College offers an excellent two-year program preparing you to get started in a variety of careers. Core courses in the Business major include units in accounting, business, and computer science.
In addition to these courses, you will also complete requirements for one of the certificate programs:
Administrative Management
Business Administration
Business Communication
Business Leadership Skills
Business Management
Human Relations in Business
Marketing
Professional Selling
Retail Management
Retail Selling
Small Business Start Up
Real Estate
The Real Estate program at West Valley College equips you with the tools you need to represent buyers or sellers in the real estate transaction process. You can also learn about appraisal, property management, lending and other career options in real estate. By mastering the skills needed to succeed in the real estate field, you can enjoy the flexibility of a versatile schedule, while also helping other realize their dream of property ownership.
Flexible Schedule Options
The Department of Business Administration and Real Estate offers students a variety of schedule options so that classes can be taken at optimal times for students' busy lives.
Traditional courses: A majority of our courses are offered during the day in regular classroom or computer labs. For students who are able to attend daytime classes,this is an ideal situation that ensures easy access to our faculty, the library, labs, and other campus resources and activities.
Evening and weekend courses: Some of our courses are scheduled on week nights or weekend days in order to accommodate the hectic schedules of working professionals.
Online courses: Our faculty members offer some of our classes in a distance learning format via our college's course management tool Canvas. As a part of their virtual classrooms, students are able to read lessons, participate in discussions, and submit homework assignments. Our Instructors can also be reached by phone or during their office hours.
Hybrid courses: (traditional and online) For many students, hybrid courses offer the best of both worlds. Students attend classroom sessions in a traditional classroom for part of the semester, and they also work with their Instructor and other students via Canvas for additional computer based work.
Alumni
Haleh Aboofazeli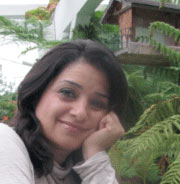 Haleh Aboofazeli is the Founder and Executive of Pino, Del-Savo Inc. Haleh received her bachelors in Computer Science from Tehran University in Iran. For a time, Haleh examined notions of faith, loss and transformation through paintings, assemblage and sculptural works. Since coming to the USA in 1999 Haleh has dedicated her life to her husband and two beautiful children. In 2005, Haleh and her husband, Michael started Pino, Del-Savo, a leading home small appliance company, is an innovative and growing American company that specialized in high quality tea brewing sets. Pino established itself through retail, online and distribution. Del-Savo Inc. shows the innovation line of Pino Tea Sets at World Tea Expo and best seller in Amazon. Now Pino has more than 200 vendors all over the USA and Canada. Haleh brings a marvelous mix of energy, compassion and joy to the people with whom and for whom she works.


Andrew Davidge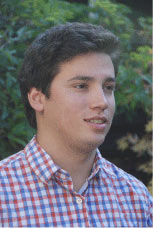 Andrew Davidge is the founder of Vintage Electric. Vintage Electric provides individuals with high performance electric bikes for their everyday commuter and recreational use. The electronic bikes, or e-bikes, help the customers get to their destinations at speeds exceeding forty miles per hour. Customers can also pedal on their bikes if they choose, but with a flick of a switch, the lithium battery powered engines will propel them to higher and more efficient speeds.
Crystal Tran
Crystal grew up in an entrepreneurial family. Her parents were forced to flee their native country of Vietnam during the war. First relocated to Canada, and later to America, Crystal's family had to rebuild from scratch. They bought, sold and successfully managed a number of small businesses ranging from service stations to grocery stores. Crystal began helping with her family's enterprises at the age of 11. She learned to thrive on the challenges associated with running small businesses. It's no surprise then that she aspires to be the future owner of a small business: a spa, because Crystal says, "What I find most rewarding is to help others to feel good about themselves."
Early in life, Crystal made a decision to earn a college degree. After graduation from high school, she decided on West Valley, at the recommendation of her cousin, and because of West Valley's excellent reputation and beautiful campus. From the start of her college career, Crystal worked closely with her counselors to plan her classes so she would meet her UC General Ed requirements and also satisfy the major requirements for an AA Degree in Business Administration. Crystal's dream has always been to attend UC Santa Barbara. Crystal's dream has come true! Crystal plans to complete a BA degree in Business Economics and then earn an MA degree in Marketing.
"My two years at West Valley College have been an extremely positive experience. The instructors here are great and have amazing backgrounds. The giant campus oaks, with their spreading branches, are like a symbol of me and how I've expanded and blossomed during my time here." Crystal's advise to fellow students: "Be optimistic about your future and let nothing stand in your way. Be confident, disciplined and ready to make certain sacrifices. Your future is what you make it."
In addition to her studies, Crystal is employed as an Assistant Real Estate Agent and a WVC Outreach Ambassador. Crystal serves on the WVC Marketing Committee, volunteers with "Contract Cares" as a crisis hotline counselor and is a member of the Alpha Gamma Sigma and Psi-Beta Honor Societies.