NOTE: When searching by the instructional methods Online Asynchronous Lecture or Online Asynchronous Lab, not all classes list are 100% asynchronous. The search includes classes that are either 100% asynchronous or classes that are a mix of asynchronous and synchronous instruction.
Summer/Fall 2021 Schedule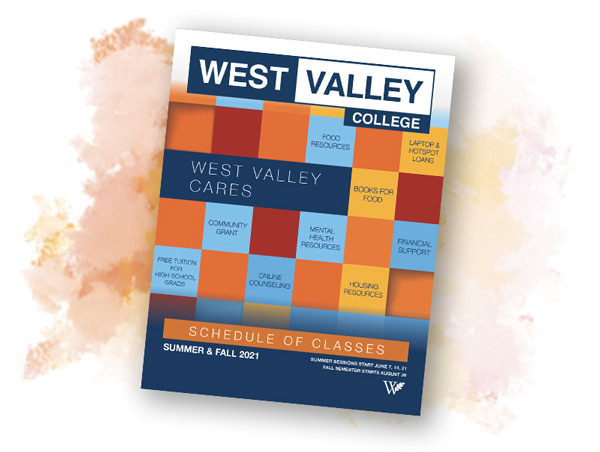 Summer Sessions begin June 7, June 14, and June 21
Fall Semester begins August 30
Summer/Fall 2021 Class Schedule (28 MB)
Posted: April 8, 2021
This schedule was the original published schedule and does not include any updated changes. This schedule does contain admission, registration, fee, program, and other information.
Schedule by Section
Last updated: April 15, 2021

Last updated: April 15, 2021

Last updated: April 15, 2021

Last updated: May 28, 2021

Last updated: May 28, 2021

Last updated: April 15, 2021

Last updated: April 15, 2021

Please note: The use of "R" in the online class schedules refers to classes that are offered on Thursdays. For example TR is a Tuesday/Thursday class, MTWR is Monday, Tuesday, Wednesday, Thursday.
The Summer/Fall 2021 Schedule of Classes is composed of face-to-face, synchronous online, asynchronous online, hybrid, and hyflex classes. Please view the Online Searchable Class Schedule above for the most recent updates to the Summer/Fall 2021 schedule.
Face-to-face classes meet at a physical location.
Synchronous online courses have mandatory scheduled meetings in an online environment.
Asynchronous online courses do not have scheduled meetings.
Hybrid classes are online classes that have at least one meeting that is face-to-face.
Hyflex courses are held on specific days/times, but offer students with the option of participating in the class via face-to-face or online in any given session.
If you have any questions about the format of your class, please email your instructor.
The college is offering a subset of face-to-face classes this summer and fall. At West Valley College, your safety is important to us. The college will continue to follow any state and county stay-at-home orders as well as directions from the CDC, California Department of Public Health, and the Chancellor's Office in its decisions to resume in-person operations.
Family Courses List
Listing of courses with repeatability limitations. Students are limited to a maximum of four enrollments within each of the course groupings, also known as course families, included in the Family Courses List, regardless of the number of courses included in each family. This limitation applies retroactively to all prior enrollments in courses now included in a family; applies even if students receive substandard grades or withdrawals for one or more of the enrollments; and applies to re-enrollments due to extenuating circumstances.
Out-of-State Disclaimer
The United States Department of Education requires that West Valley College obtain approval from each out-of-state student's state of residency before he/she may enroll in an online course. Therefore, out-of-state students not residing in California will not be allowed to enroll in online courses. Active military personnel are exempt.