The Success Center will be closed until Monday, August 29, 2022.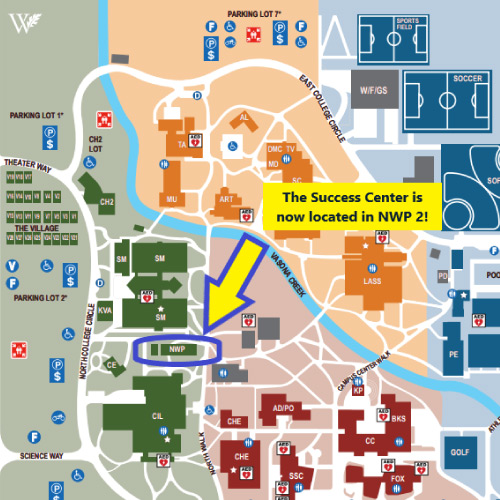 General Information
Free tutoring and materials are available to help students develop study skills and plans, manage their time, stay organized, learn and review course material, develop written and critical thinking skills, practice problem-solving, and learn how to study "smarter" (not harder) in a differentiated, engaged, and active manner. Tutors are available online and in person during the Summer 2022 sessions. In-person services can be found in North Walk Pavilion 2.
ALL Success Center Tutors can help students navigate Canvas and several can help with Google Docs/Forms/Sheets, Microsoft Office, Zoom and with Basic I.T. assistance. Details on when drop-in help is available can be found on the Tutor Schedule page, accessible via the left column menu on this page. If you need help understanding the basics of Canvas, please refer to the Student QuickGuide.
Contact Information
Free Tutoring for All WVC Students
Get Help Online 7 Days a Week
Click on the Success Center Support shell on your Canvas Dashboard
Read the "Welcome to Tutoring" Announcement
Click on Modules for daily tutoring schedules with links to tutors
Drop in on a Tutor's Zoom meeting and request help
In-Person Tutoring Now Available
See schedule for updated tutor hours in North Walk Pavilion 2.