We Merged and Moved!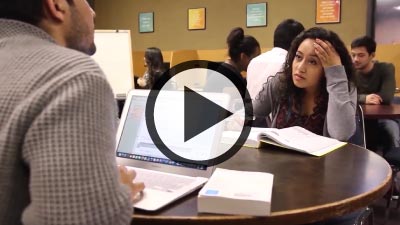 In August 2018, the Success Center moved to a new location inside the Library, and merged with the Writing Center. Now, students can get help for all supported subjects on campus and writing in the same place! We've also integrated the ESL Skills Lab into the new space to better serve all students on campus.
General Information
Free tutoring is available to help students develop study skills, manage their time, stay organized, learn and review course material, develop written and critical thinking skills, practice problem-solving, and learn ways to study "smarter" (not harder) in a differentiated way that's best suited to their preferred learning style(s). Our entrance is located inside the Library just past the Printing/Books for Food area. We can be reached at 408-741-2038 if you have any questions (not answered by our website).
To be eligible for tutoring, you must be currently enrolled at West Valley College in the subject in which you wish to be tutored, and your class must have started to meet.
Canvas help now available. Ask any peer tutor if you need help navigating through your course(s).
Enroll in Tutoring
Come in to the Success Center and complete a registration form.
Go to the Portal and enroll in the zero-unit, zero-cost lab LRSV 110 (instructions available on registration form; add code provided at the front desk during the registration process).
Check the "Schedules" tab for available drop–in times; check back regularly, as the schedule expands through mid-semester.
If needed, inquire about scheduling individual or group appointments, available on a limited basis.
Important Information About Tutoring: Please Read!
When you come in to sign up for tutoring services we will automatically enroll you in the zero unit tutoring course, Learning Services 110 (LRSV 110), "Supervised Tutoring". There is no charge and the course does not appear on a student's transcript.
You must be enrolled in the class for which you receive tutoring. We verify the following: whether or not the class is current, the student is enrolled, and the course is taken at West Valley, not Mission. If any of the above criteria are not verifiable, tutoring may be suspended or denied.
We will assist you in improving your skills, gaining confidence in your abilities, and getting your questions answered. Our goal for you is to become empowered in your own abilities and to strengthen them as you work with others.
You must attend all of your classes. A tutor will not read the textbook for you, nor do your homework for you. Remember that your instructor is the final authority, and that the tutors are not instructors.
Register early and get help frequently. Studies show that students who get regular assistance throughout the semester–rather than at the last minute–can significantly improve their grades.
Individual weekly appointments are available on a limited basis and for students who qualify for additional accommodations (through DESP, EOP&S, and TRIO). If you have an appointment, you must be on time! If you arrive more than 15 minutes late or fail to cancel an appointment at least 24 hours in advance, it can count as a "NO-SHOW" (un-excused absence); after two no–shows, your weekly appointment may be cancelled. Please call 408.741.2038 at least 24 hours ahead if you cannot make it to your appointment, or if you are running late.

Study Groups are an excellent way to improve comprehension of the class materials, test one's knowledge, and effectively collaborate with classmates, but are sometimes hard to create and/or run: let us help! Tutors know how to get groups focused on the material, use each other as resources, create review materials, and effectively study and learn course material in an engaging, meaningful, and fun way! If at least three students from a class need assistance, we can work with you to schedule a weekly appointment. Once your group is formed and you have mutually available times in mind, please contact Jen Wagner at 408-741-2615 or jennifer.wagnerFREEWEST_VALLEY or Vida Sabouri at 408-741-2602 or vida.sabouriFREEWEST_VALLEY to inquire about scheduling an appointment.
Please come prepared for your tutoring session. Adequate preparation includes regular class attendance and bringing your textbook (along with handouts and questions) to the tutoring session.
We strive to meet as many students' needs as possible. Oftentimes, this means that the center will be busy. We ask that you tolerate the needs of the students around you, including some "white noise" of students and tutors working together. If you have a complaint, please speak to Jen Wagner or Vida Sabouri.
Other Tutoring Centers on Campus
Supported Classes: Spring 2020--SNEAK PEEK!!
The following classes will be supported by peer tutors this Fall, and will grow as new tutors are hired. A weekly schedule is posted under the "Schedules" tab, and will "grow"/evolve for the first 10-11 weeks of the semester. Following are the classes for which support will be available:
Anthropology—2
Arts—1D, 4, 55
Biology—11, 42, 47
Business—46, 51
Canvas—General Support/Help
Chemistry—1A,1B, 2, 12A, 30A, 30B, 50
Communication Studies—1, 12
Computer Information Systems—2, 4A, 4A1, 4B, 4B1, 5A
Computing—General Support/Help
Digital Media—1, 3, 14C, 21A
Economics—1A/2A,1B/2B
English—1A, 1B, 1C, 99X, 903, 905/X
Humanities—1B
Japanese—1A, 1B
Math—D, 1, 1C, 2, 3A, 3B, 4A, 4B, 10, 10C, 19, 104, 105, 106/C/R, 903/R
NC Math—10C, 104, 106, 107
Physics—1, 2A, 4A, 4C, 10
Political Science—1
Sociology—1, 2, 20
Theater Arts—14B
Women & Gender Studies—2
Writing—General Support/Help in Any Subject
Become a Tutor
Do you like helping others in a meaningful way? Can you communicate effectively? If your GPA is 3.0 or above and you have a B or better in the subject you wish to tutor, we invite you to apply.
What will you get out of it?
Help others.
Earn money.
Enhance your knowledge of the subject. (The jury is still out on whether or not tutees learn more than tutors during a tutoring session.)
Develop and improve your communication skills.
Learn how to become a more organized student.
Increase your confidence by facing and working through challenges.
Gain experience in a leadership role.
Develop your resume and on–the–job skills, applicable in most modern work environments.
Work on campus, close to classes.
How do I become a tutor?
Register for Interdisciplinary Studies (ISTU 40), the 1/2-unit, hybrid-format Tutor Training course

and

ISTU 40E for those interested in tutoring Writing/English--successful completion of ISTU 40 is a prerequisite for a general tutoring job, and ISTU 40E must also be completed for a writing tutoring job: students may only apply after this requirement has been met.
After successfully completing ISTU 40 (and 40E),complete a Peer Tutor Application. Request all Faculty Recommendations, too, but feel free to submit your application before they're done.
Submit a completed application to Jen Wagner, the Success Center Coordinator.
After applying, you may be asked to interview; if not, you may follow–up with Jen Wagner, and ask why an interview was not granted.
If hired, you will need to complete an employment packet with the West Valley College Personnel office.
NOTE: the hiring process can take a while from start to finish, so please apply early, especially if you're hoping to work during the current semester.

Any other questions? Come in to the Success Center and ask: we really need good tutors and will help you through the process. Or, email%20Jen%20Wagner.
Final Exam Prep/Review Sessions
Sessions will be scheduled for classes with 3+ students enrolled in tutoring AND an available tutor to run the session(s). The schedule is created around week 10, is posted online and on flyers in the Center and around campus. If you have any questions about these sessions or want to request one, please speak with the Success Center Coordinator, Jen Wagner, or email her at jennifer.wagnerFREEWEST_VALLEY.
Prep Sessions
Prep Sessions are designed to help students prepare for their exam by clarifying confusing concepts, focusing on what to study, discussing good study strategies, doing an initial review of the material, and creating a "study plan," if needed.
Subject
Thursday, 12/5
Friday, 12/6
CHEM 1A/30
Prep with Reagan
10:00 AM – 11:00 AM
CHEM 2
Prep with Reagan
11:00 AM – 12:00 PM
CIST 4A
Prep with Sofie
11:00 AM – 12:00 PM
CIST 4A1
Prep with Rocky
9:00 AM – 10:00 AM
MATH 1
Prep with Bryson
1:00 PM – 2:00 PM
MATH 2
Prep with Kyle
3:30 PM – 4:30 PM
MATH 3A
Prep with Bryson
12:00 PM – 1:00 PM
MATH 10
Prep with Andre
10:00 AM – 12:00 PM
MATH 106
Prep with Kyle
2:00 PM – 3:00 PM
Review Sessions
Review Sessions are intended to help students review for the exam, clarify confusing concepts, and feel empowered to do their best. They are NOT intended to catch-up students who fell too far behind or who didn't study prior to the session. Please study prior to the session, write down specific questions you have beforehand, and bring your study materials with you.


Subject
Monday, 12/9
Tuesday, 12/10
Wednesday,12/11
Thursday, 12/2
BIOL 47
Review with Kristina
12:00 PM – 2:00 PM
Review with Kristina
8:00 AM – 9:30 AM
12:00 PM – 2:00 PM
CHEM 1A/30A
Review with Reagan
10:00 AM – 12:00 PM
CHEM 2
Review with Reagan
12:00 PM – 2:00 PM
CIST 4A
Review with Mia
10:00 AM – 11:30 AM
ECON 1B
Review with Malkiat Sandhu
5:30 PM – 7:00 PM
MATH 1
Review with Kyle
8:00 AM – 9:30 AM
Review with Mia
8:00 AM – 10:00 AM
Review with Mia
10:00 AM – 11:30 AM
MATH 2
Review with Kyle
8:00 AM – 9:30 AM
MATH 3A
Review with Andre
4:30 PM – 6:00 PM
Review with Rocky
8:00 AM – 9:30 AM
MATH 10
Review with Andre
8:00 AM – 9:30 AM
2:30 PM – 5:00 PM
Review with Andre
8:00 AM – 9:30 AM
10:00 AM – 11:30 AM
Review with Andre
8:30 AM – 9:30 AM
PHYS 4A
Review with Kashi Nath
8:00 AM – 9:30 AM
Off–Site Tutoring
Free online tutoring via NetTutor
In order to access this free, outsourced, online service, please click on the link marked "NetTutor 24/7" on the left column menu of your Canvas course shell. If your instructor has not activated his/her course in Canvas, please request it so this feature (only) will be enabled for your class.
Off–Site Tutoring
If you're not a current West Valley College student, or if you need private, face-to-face tutoring outside of the Tutorial Center, we recommended the following sources, not affiliated with WVC:
Tutree.com: an online resource (and app) that allows you to connect with tutors near you who have been vetted by Tutree; payment can also be made securely through their site and/or app.
"The 10 Best Tutoring Centers in Saratoga" is an online listing of Yelp's top-rated tutorial centers close to West Valley. Many focus on K-12 education, but some may offer higher-level help as well.
Craigslist: many private tutors advertise via Craigslist, but you need to search for and vet them yourself. It's a good resource to see who's available, their level of expertise (from high school students to PhDs), and the going hourly rate for private tutors in the Bay Area. Of course, as with any Craigslist ad, please meet in a public place and be safe.
NOTE: The Success/Tutorial Center does NOT hire out our tutors for private, off-site tutoring. Additionally, we will NOT provide a tutor's private contact information to those who request it. We highly value the safety and privacy of our staff, and thank you for understanding.
Workshops
During Fall and Spring semesters, workshops are held in the Success Center's computer classroom, are run by faculty members, and have tutoring available afterwards for that area of focus. More workshops (for various subjects and study skills) are being developed now and will be implemented in the future. If you have any questions about them or want to request one, please speak with the Success Center Coordinator, Jen Wagner, or email her at jennifer.wagnerFREEWEST_VALLEY
NetTutor 24/7
Resources
New NetTutor User Experience for 2018 Introduction
NetTutor Best Practices (2015)
Welcome to NetTutor (an ad for the service)
Uploading a Paper in NetTutor
Note: NetTutor is an off-site resource paid for by the West Valley College Success Center and is available for use to all currently registered WVC students for free.