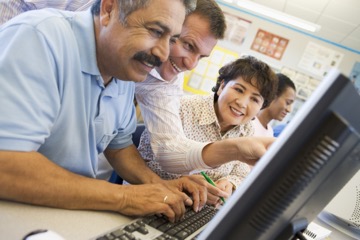 Microsoft Office Basics
Microsoft Office is the most widely used productivity software on the market. The Microsoft Office Skills Certificate gives students a basic knowledge of the software programs most commonly used in work and school related environments. Students will receive a basic introduction to primary software, create documents using Word, create spreadsheets in Excel, and create PowerPoint presentations.
Introductory Courses (Optional)
Students have the opportunity to learn the touch system of keyboarding, and improve their basic keyboarding techniques to develop speed and accuracy.
The software program MS Word is introduced in this course. Students have the opportunity to learn the syntax and structure of the software and basic operating procedures. Specific topics to be included are: an overview of function key commands, cursor movement, basic input and editing procedures, file handling, line and page format features, basic file management, and simple document formatting.
Microsoft Basic Skills Certificate
Required Courses
| Course Number | Course Title | Hours |
| --- | --- | --- |
| NCWP 210 | Microsoft Word | 18 hours |
| NCWP 212 | Beginning Microsoft Excel | 18 hours |
| NCWP 216 | Microsoft PowerPoint | 18 hours |
Elective Courses (Choose at least one)
| Course Number | Course Title | Hours |
| --- | --- | --- |
| NCWP 214 | Advanced Microsoft Excel | 18 hours |
| NCWP 220 | Introduction to Google Workspace | 36 hours |
| Course Number | Section | Course Title | Start Date | End Date | Days | Time | Location |
| --- | --- | --- | --- | --- | --- | --- | --- |
| NCWP 200 | 71037 | Computer Keyboard and Mouse Overview | 8/27/22 | 9/11/22 | Sat | 9:00-12:00 PM | West Valley |
| NCWP 202 | 71038 | Computers for Beginners | 8/29/22 | 9/15/22 | MWTh | 6:00-8:05 PM | West Valley |
| NCWP 204 | 71039 | Intro: Windows Operating System | 9/19/22 | 10/12/22 | MW | 6:00-8:05 PM | West Valley |
| NCWP 206 | | Intro to Mac OS | Spring 2023 | | | | |
| NCWP 210 | 71040 | Microsoft Word | 10/17/22 | 11/9/22 | MW | 6:00-8:05 PM | West Valley |
| NCWP 212 | 71042 | Beginning Microsoft Excel | 11/14/22 | 12/7/22 | MW | 6:00-8:05 PM | West Valley |
| NCWP 214 | | Advanced Microsoft Excel | Spring 2023 | | | | West Valley |
| NCWP 216 | | Microsoft PowerPoint | Spring 2023 | | | | West Valley |
| NCWP 220 | 71044 | Introduction to Google Workspace | 10/18/22 | 12/13/22 | TTh | 6:00-8:00 PM | West Valley |
Get Started Now
Select Term
Subject: Noncredit Computer Skills